Fiorentina winger Juan Manuel Vargas 'an option' for Liverpool claims agent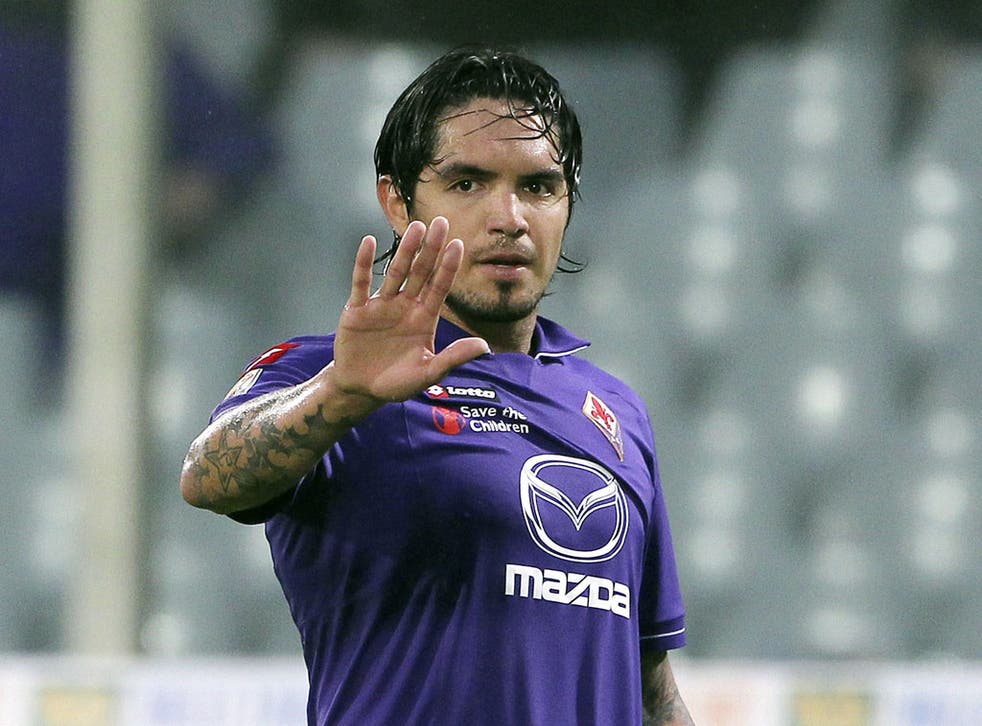 Juan Manuel Vargas' agent has claimed that his client is being pursued by Liverpool and that he could leave Fiorentina this summer.
The 28-year-old has one year left on his contract and is willing to look at options elsewhere.
The Peru international joined Fiorentina from Catania in 2008 for 12million euros (£9.6m) and was reportedly an Arsenal target last summer.
Spanish side Malaga are also believed to want to make the winger part of their ambitious plans and can offer him Champions League football.
But according to his agent Jorge Cyterszpiler the keenest interest is coming from Brendan Rodgers at Anfield.
While any such links are just rumours at the moment, Cyterszpiler has been keen to make it clear that his client is open to a move.
"There is the possibility that he (Vargas) will leave Fiorentina," Cyterszpiler said to www.tuttomercatoweb.com. "But at this time it's just a rumour and there is nothing official.
"He didn't have the best of seasons and he needs to make up for it next season.
"Liverpool is an option, but there is also Malaga that has the fascination of playing in next season's Champions League.
"Does he have a preference with regards to playing the Premier League or the Primera Liga? Vargas likes both leagues as well as the Serie A."
"Have there been offers from in Italy? In the past, we spoke with Inter Milan and they were interested in him."
PA
Register for free to continue reading
Registration is a free and easy way to support our truly independent journalism
By registering, you will also enjoy limited access to Premium articles, exclusive newsletters, commenting, and virtual events with our leading journalists
Already have an account? sign in
Register for free to continue reading
Registration is a free and easy way to support our truly independent journalism
By registering, you will also enjoy limited access to Premium articles, exclusive newsletters, commenting, and virtual events with our leading journalists
Already have an account? sign in
Join our new commenting forum
Join thought-provoking conversations, follow other Independent readers and see their replies