The complex morality of football clubs placing staff on furlough
The coronavirus pandemic has crippled football, just like every other industry, writes Miguel Delaney. But should the richest clubs in the world really be using government money to pay their staff?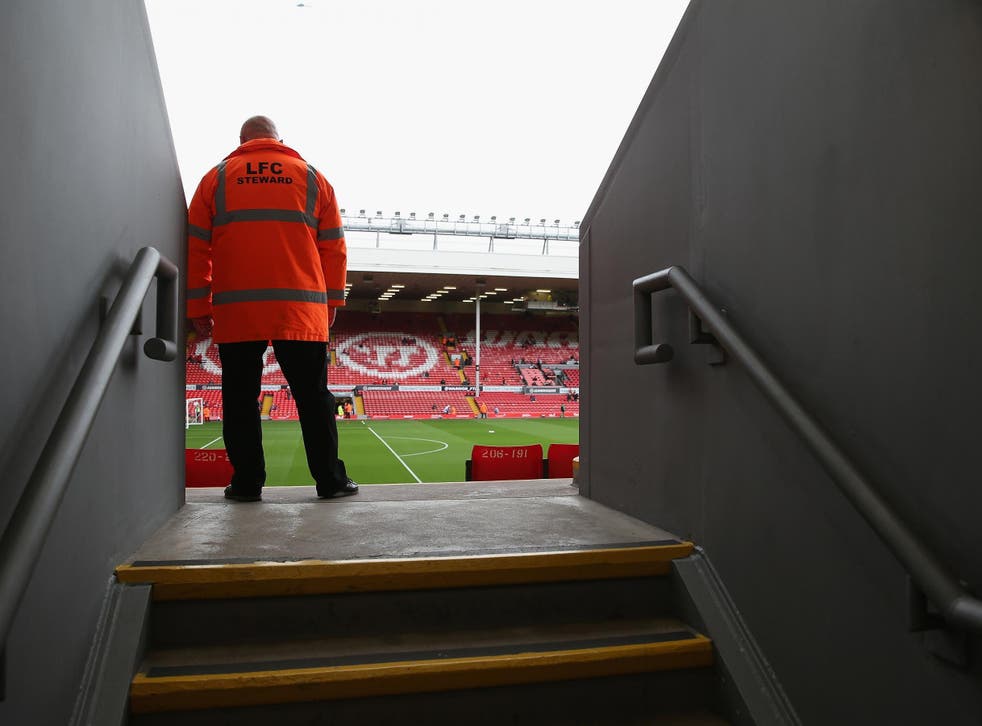 For many who work with Liverpool, Monday's U-turn was no surprise. A fair few senior figures predicted it as soon as the announcement on furloughing staff was made.
The backlash against it was too great. The arguments against were too clear.
That isn't the case, however, once you get beyond clubs like Liverpool. That's when the arguments about furloughing staff become very unclear.
After Liverpool's backtrack, there are now two Premier League clubs who have availed of the scheme, in Tottenham Hotspur and Newcastle United, but many more are set to follow.
The major question revolves around which clubs should be using the scheme, and how small a club you have to be.
The major complication is how vague the wording of the scheme is – something that was understandably always going to be the case with an unprecedented and necessarily rushed plan.
Government guidance does not require businesses to be considered "essential" or to show they are suffering financial hardship. It merely necessitates companies to prove jobs cannot be done due to coronavirus measures.
All of this is obviously to safeguard the economy, and the most optimistic perspective is that it is to proactively protect jobs that would otherwise be made redundant in the circumstances.
The most pessimistic perspective is that it is to pre-empt the basic cynicism of companies, who will use the situation for opportunistic cost-cutting.
It is the latter interpretation that has influenced player wage negotiations, as they fear this is precisely the case, and is one reason the issue has become so wrapped up – sometimes unhelpfully – with what they should be giving up.
Another major question is where the clubs fall between those perspectives.
The circumstances, to be fair, are perfectly football. Coronavirus has, to as great a degree as in any other industry, just stopped football. Jobs can't be done due to measures. Teams can't play games, there is currently no matchday income, TV money is the source of great debate, they have no idea when they can resume operations and there is thereby just a whole lot of uncertainty.
It could even be argued that football – at all levels – is precisely the kind of business that is meant to be using the scheme.
And whatever about those broader arguments, the brutal reality is many clubs are going to need it – maybe the majority. It is estimated that 45 lower-league clubs could go tp the wall if they don't keep the TV money. At least four in the Premier League could go into administration.
There is also the base issue that this isn't anything like, say, benefit fraud. It is not quite taking tax payers' money, despite the widespread perception. It is effectively money created by the state, for an emergency.
A contrasting question put forward is that if this money is made available, why shouldn't you avail of it?
It is this issue of 'should', however, that has put such focus on clubs like Liverpool and Spurs. Even printed state money, after all, is finite. Someone will eventually have to foot the bill. And there is a considerable difference between technical/legal eligibility and moral eligibility.
Government sources say they may yet look unfavourably at certain applications.
A fundamental fact is that clubs haven't yet lost the broadcasting money. They are still due to keep a collective £1.2bn, and Uefa have specifically relaxed Financial Fair Play (FFP) regulations to get through all this.
The clubs are meanwhile negotiating with players over wage deferrals to save even more money. It has been impressed upon them that their pay makes up the greatest expenditure. What has specifically irritated the players, though, is clubs saying that as they also take government money.
"Putting it all on the players and then just take government money," in the words of one source.
The actions of clubs like Spurs, then, can best be described as hasty. It feels tone deaf, especially when not accompanied by announcements of wage cuts for senior figures – as Brighton and Hove Albion has done. Graham Potter and executives have taken reductions.
There is a way to do all this, although it probably involves waiting. That is precisely what Arsenal are doing. They are making no decision on furloughing staff until after the player pay dispute is settled.
It also raises another question: If clubs like Liverpool were able to so easily go back on the decision, it surely indicates it wasn't that essential? There was no immediate financial need to put jobs to furlough.
We of course know this.
There's first of all the money both Spurs and Liverpool made from reaching the Champions League final last season. It catapulted Spurs into the Deloitte top 10.
Liverpool, meanwhile, announced less than two months ago that they had made pre-tax profits of £42m. It was similarly revealed they had spent £43.8m on agents' fees between February 2018 and January 2019.
Against that, some estimations have it that furloughing these non-playing jobs would have saved around £800,000. That would have been, at most, about five weeks' wages for one major signing – of which they have many. As regards that, how much has been earmarked by clubs for future transfer funds? This is another issue that has irritated players.
It is also why clubs like Manchester City should not get any praise for doing the bare minimum and paying staff. They are, after all, willing to spend huge amounts on legal battles surrounding their owner putting more money into the club, and would want FFP done away with, so it stands to reason some money can merely go to staff.
The same applies to Liverpool. There should be no extra praise for taking what was obviously the right decision. In that context, moves like that taken by Spurs merely feel like cold business decisions right now; Liverpool's U-turn has proved them to be exactly that.
That is important because they are not just businesses like Virgin Atlantic, Easyjet or Mothercare. Despite modern perceptions, and legal structures, they are more than that. They are still social institutions, with social responsibilities. We expect more of them in a moral sense because they are so ingrained in the community. They aren't McDonald's. They are much more than that.
Even Milan's Ivan Gazidis argued this.
"Clubs are not just companies that play football, they have a role in the community. We will be remembered for how we behave."
That very much felt the case this weekend. There is no doubt more debate to come.
Other clubs will try this. Many other clubs are going to genuinely need it.
Thereafter, someone is going to have to foot the bill. It has even been suggested there will be a return to austerity once this all clears.
Wealthy clubs who went in before anyone will be remembered, and it's a bad look. But this is about much more than PR.
It's about – as ever with football – what clubs are supposed to be. Liverpool have eventually done the right thing.
The right decision for others, however, is going to be using that scheme. That much will certainly become clear.
Join our new commenting forum
Join thought-provoking conversations, follow other Independent readers and see their replies