Football is as meritocratic as any industry in Britain so why are there so few black managers, assistant managers and coaches?
Not one of the 32 coaches in the Champions League is black
Glenn Moore
Saturday 09 November 2013 01:00 Comments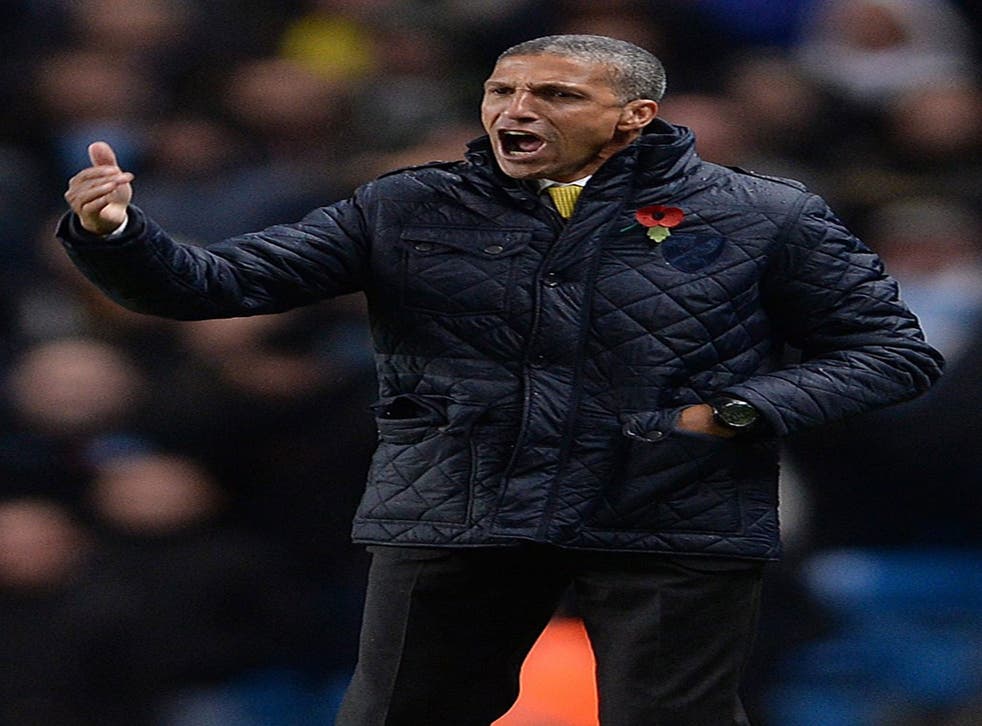 Ashley Williams is a man apart. The Swansea City defender is the only United Kingdom-born black captain of a Premier League football team. Which is surprising, given 13 of the 20 clubs have a UK-born captain, and around a third of UK-born Premier League players are black.
Or maybe it is not surprising, maybe it provides a clue as to why so few managers are black. At present only one Premier League manager is black, and that may be soon reduced to zero, given the rumours swirling around Chris Hughton's employment at Norwich City. Which would leave Paul Ince, at Blackpool, and Charlton Athletic's Chris Powell as the only black managers at the 92 Premier League and Football League clubs.
This level of representation may be on a par with the wider community (the 2011 census recorded 5 per cent of British people as black or mixed race) but as a third of British footballers are black or mixed race such a low level is shocking. Nor is it just a British problem. Not one of the 32 coaches in the Champions League is black.
Does this mean the game is racist? Not necessarily, not consciously anyway. Football is as meritocratic as any industry in Britain. It does not matter what country a player comes from, what school he went to, who his father knows, what colour he is. If he will make the team better, he plays. But of the 20 top-flight clubs only Swansea and Manchester City have black captains: Williams and Belgium's Vincent Kompany (Curtis Davies is currently captaining Hull, but only because Robert Koren is not starting, and French-born Cameroonian international Sebastien Bassong is Norwichs team captain but Russell Martin is club captain). Might it be that black players are, subconsciously, not seen to have leadership qualities by the managers and chairmen who choose leaders?
There is a parallel across the Atlantic where, despite two-thirds of NFL players being black, at least two-thirds of the quarterbacks, the on-field leaders, are white. The situation is even worse off-field where only four of the 32 head coaches are black. This despite the much-heralded Rooney Rule, named not after Wayne, but after the Pittsburgh Steelers owner Dan Rooney. It stipulates every team with a vacancy for head coach or general manager should interview a minority (African-American or Latino) candidate.
This has worked to the extent that 14 minority coaches have been hired in its 10 years' existence compared to six in the previous 36 years since the Super Bowl began. The hirers, incidentally, include Aston Villa chairman Randy Lerner, when he owned the Cleveland Browns, and the Glazer family, owners of Manchester United, who have twice hired black head coaches at the Tampa Bay Buccaneers. However, all of the 14 coaches hired in the last two years are white, prompting a debate over whether the rule needs strengthening.
The lack of black managers in England has prompted calls for a Rooney Rule to be introduced here but, as the US experience shows, it is not that simple. Opinion is divided, even among the minority community. Some of those who have taken the qualifications argue too few of their peers have been prepared to do the same.
There may once have been an element of truth in this, but there were reasons for it. "My uncle, [former England striker] Cyrille Regis, did his badges but did not even get an interview," said Jason Roberts, the Reading striker and an influential voice for the current generation of black players. "People think 'why do it?' if no one is getting jobs."
That may explain why only 29 of the 574 coaches qualified at B, A and Pro Licence level since 2012 are from a black and minority ethnic background (as ethnicity is self-declared the number may be higher, but probably not much higher). The Football Association are actively trying to raise this figure, in part through the coach initiative overseen by Brendon Batson, one of the game's few black administrators. This provides bursaries resulting in 40 coaches taking B licences and 80 doing youth development courses. In addition around 20 per cent of the 150-odd students who have taken Warwick Business School's well-regarded certificate in applied management, backed by the Professional Footballers' Association and League Managers Association, are black. Dr Sue Bridgewater, one of the course's architects, believes there are now sufficient qualified candidates that it can no longer be argued the talent pool is not there.
But converting qualifications into jobs remains tough. Michael Johnson began acquiring coaching qualifications towards the end of a 600-match career played at all levels for Birmingham, Derby and Notts County. He went all the way to Pro Licence, and supplemented this with the Warwick qualification. He then had two years as youth-team manager at Notts County only to be sacked after one of the club's many managerial changes. He has since applied for 30 jobs and been offered two interviews, one at non-league level, one at an academy. Neither resulted in a job offer. While he waits for an opening, he coaches part-time at Birmingham's academy and is taking a course in governance and another in business.
"It demoralises you," he said. "I don't want favours. I want a level playing field. I've earned my qualifications, but I feel I am not getting the rewards. I don't want to suggest it is because of the colour of my skin but I don't feel we are getting the opportunities we are given as players."
This is why men like Ricky Hill and Brian Deane ply their trade overseas while other highly qualified coaches, such as Iffy Onuora and Leroy Rosenior, work in administration and the media respectively. Even black coaches and assistant managers are rare.
Johnson and Roberts both back a Rooney Rule. They accept in the short term it may not make much difference, and may involve many fruitless interviews, but believe it will ultimately count. "A chairman will probably have someone in mind, but by being interviewed I may change his perception of me," said Johnson, "then the next time he is looking for a manager he may think of me." Or, notes Roberts, a job may arise for a coach, or academy manager, and the chairman will recall the interviewee. "It will give people the chance to pitch themselves, and even if a club already has an appointment in mind what is the worst thing that can happen: they find someone better?"
Bridgewater, who has researched the lack of diversity in dug-outs for the LMA and FA, is less convinced that a Rooney Rule will work. She believes the answer lies in more transparency in the appointment processes, and observance of existing equality laws. "You wouldn't want it to be tokenism, or for clubs to appoint someone who is not the right fit, because if they do not succeed it won't help us get to where we want to get to."
However the process works the interviewer will, almost certainly, be white. In 1993 Batson told this paper, "There still aren't many black people in boardrooms. That's the next step." Twenty years on that step is still to be taken, and it is probably the main reason for the lack of black managers.
"We have a cohort of people who don't believe black people can lead an organisation," observed Johnson, sadly. This is despite the examples of Barack Obama and Nelson Mandela. The Rooney Rule may not be perfect, but an English version of it is necessary.
Five Asides
1. Don't write off Lampard
It was suggested, in the wake of Chelsea's defeat at Newcastle last week, that Frank Lampard is showing his age. This is the fate of the thirtysomething player. They do not suffer dips in form, they suddenly become "past it". We'll see. The way Lampard has responded to previous challenges it would be foolish to write him off.
2. Support the grass roots
The petition to force the Government to impose a windfall tax on Premier League TV income to fund better grass-roots facilities reached 20,000 signatures this week, triggering an unsatisfactory response from the Coalition. Keep up the pressure and sign here: epetitions.direct.gov.uk/petitions/46134
3. Timo's howler is a leveller
Timo Hildebrand's blunder against Chelsea in midweek beggars belief however many times it is viewed. He has, though, done a service to every parks and youth keeper in the country. If they commit a howler this weekend they can console themselves that at least they are not playing in the Champions League.
4. Warnock tied up in Notts
The ghost of Neil Warnock still stalks Meadow Lane 22 years after he took Notts County into the top flight. In turn they have appointed his ex-coach (Keith Curle), ex-assistant manager (Mick Jones, as assistant to Chris Kiwomya) and, this week, ex-captain, Shaun Derry. Why not just ask the man himself to return?
5. Media's diversity problem
It is not just in the dugout and the boardroom that the football industry lacks black faces. All 27 of the print reporters at Roy Hodgson's press conference to discuss his England squad were white males. As were 18 of the 20 electronic media personnel.
Register for free to continue reading
Registration is a free and easy way to support our truly independent journalism
By registering, you will also enjoy limited access to Premium articles, exclusive newsletters, commenting, and virtual events with our leading journalists
Already have an account? sign in
Join our new commenting forum
Join thought-provoking conversations, follow other Independent readers and see their replies