Football's emphatic rejection of racists must continue and be expanded on a greater scale
​The DFLA come through the same turnstiles as other fans and share their toxicity with a following. As Melissa Reddy writes, they must be called out
Monday 15 June 2020 11:38 Comments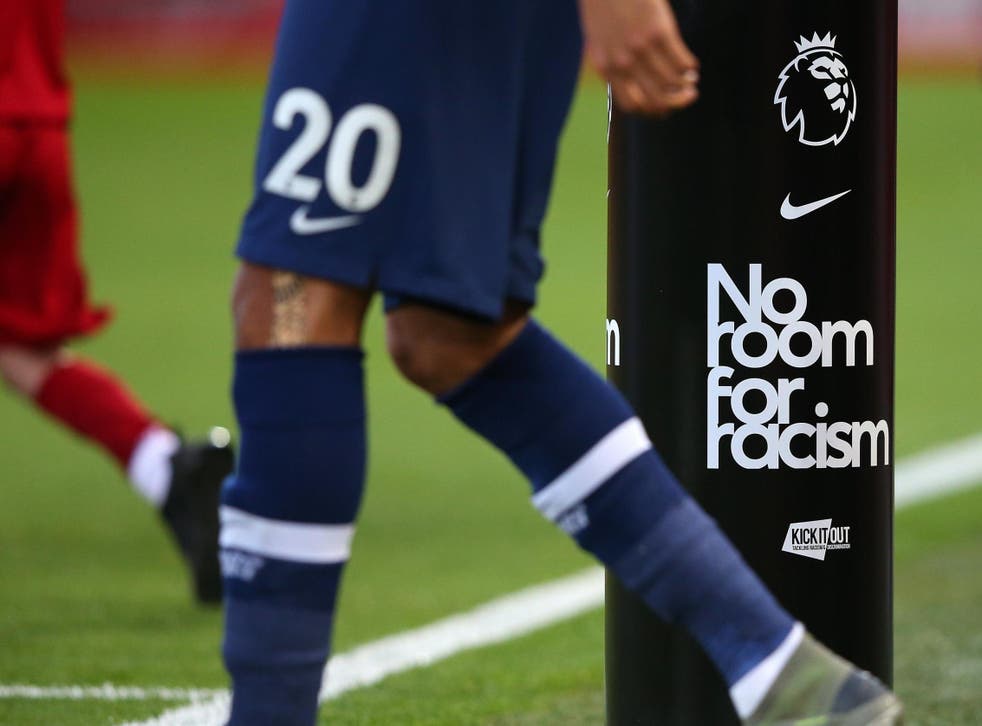 What a fortnight it has been for the racists, who have unsurprisingly social distanced from any smidge of intelligence. They engaged in Nazi salutes while defending the Winston Churchill statue in Parliament Square on Saturday, all while glorifying the former Prime Minister for, erm, killing Adolf Hilter.
They turned up to "protect Britain's monuments to heroes," but allowed one of their own to urinate unchallenged alongside a memorial commemorating PC Keith Palmer, who died while thwarting terrorist Khalid Masood in 2017.
To be fair, I suppose it's hard to actually remember your cause or the facts of the history you're guarding when the mind is a mesh of far-right nonsense and floods of warm beer.
Exhibit A:
A sizeable chunk of people that comprehensively embarrassed themselves this weekend are part of the Democratic Football Lads Alliance. While it is uncomfortable and repulsive to acknowledge that they list following the game alongside their other hobbies of overt hatred, discrimination and violence, it is important to do so. They are morons, yes. They are also match-going morons.
They fundamentally use football to further their network, infiltrating new minds as they sweep through terraces like the smell of a horrendous fart.
We do not want to associate with them, because football fans have been pillars of their communities during the coronavirus lockdown, keeping foodbanks alive and delivering PPE to key workers around the country.
These are our people. The DFLA dimwits may not represent you or I, but they do come through the same turnstiles and share their toxicity with a following.
One call to arms last week encouraged supporters of "Charlton, Millwall, Palace, West Ham, Chelsea, Spurs, Arsenal, Portsmouth, Newcastle, Plymouth, Exeter, Stoke, Birmingham, Coventry, Colchester, Southend, Bristol, Swindon" to join in their demonstration.
A man with large England and Middlesborough tattoos on his back can be seen alternating between shouting bile and bulldozing through cans of Stella in one piece of footage from Saturday. In another, one wearing a West Bromwich Albion shirt wants to have it out with the riot police. In a more alarming video, a young lad in a Rangers jacket lights a Black Lives Matter placard on fire to a cry of 'burn the black c**ts with petrol.'
And that's only a snapshot. Nearly every image or recording from the far-right stand this weekend contained a reference to football.
Before that, as clubs posted in solidarity with the BLM movement, some fans threatened to cancel their season tickets. On June 2, West Brom's support of Black Out Tuesday received one such response on Twitter, wonderfully snapping back: "You won't be missed."
Bournemouth's head of media and communications, Anthony Marshall, was targeted with similar five days later. "If you are responsible for the @afcbournemouth Twitter feed, you should stop virtue signalling the racist black lives matters violence and stick to matters that affect ALL Cherries fans," he was warned by a fan. "You are losing the club a lot of good will amongst true supporters."
Marshall replied: "I make no apology for the club or our players supporting Black Lives Matter. This club prides itself on equality, diversion and inclusion. We want to see change. We can do more and will do more."
Another two days had passed and Tottenham began investigating an incident in the Hertfordshire town of Hoddesdon, in which a group of mostly white men, some of whom purported to support them, abused Black Lives Matter protesters.
"These are no fans of ours," Spurs tweeted. "This club does not tolerate racist, discriminatory or hateful behaviour of any kind. We are looking into this and will take the necessary action against any so-called 'fan' involved."
A further 48 hours later, Liverpool's official help account responded to a female supporter that pleaded with the Merseysiders not to have Black Lives Matter on the back of players shirts and "bow down to thugs" or she would cancel her season ticket.
"Black Lives Matter is not merely a slogan, it is a principle that our players and the club as a whole support unequivocally," it said and offered her a chance at education and guidance on the cancellation process.
Earlier this month, Liverpool's CEO Peter Moore slammed a fan that was sending a barrage of racially abusive messages to the club's accounts and tagging him in as well as the owners.
This emphatic rejection of the racists amongst us has been welcome and needs to continue and be expanded to a greater scale.
They need to be cut at the knees from using the game as a vehicle to spread their detestable venom. They need to know they are explicitly not one of us.
We have to call them out and let them know they are not welcome. On the timeline, on tubes, on terraces. Wherever. Ignoring them or insisting they are not football fans is akin to responding "not all men" in response to eradicating gender-based violence – it is more harmful than helpful.
The Democratic Football Lads Alliance are not trained in the art of ninjutsu, they are numbskulls that are quite easy to identify and ban from stadia.
It is no secret that a portion of England's away support has been disgraceful for decades, regularly flaming violence while doused in xenophobia, racism and a romanticised idea of war.
The FA handed out life suspensions for the first time in 2017 after seeing footage of fans making Nazi salutes and slit-throat gestures during a friendly against Germany in Dortmund.
These bans need to become the norm for intolerable behaviour even at club level.
Positive messaging – like players replacing their names on the back of their shirts with Black Lives Matter – is crucial for awareness, but it needs to be aligned with strong action from authorities.
Weak fines and small stand closures won't fly anymore. Every governing body in the game can do better. No room for racism needs to be more than just a hashtag.
There needs to be pressure on social companies to be more punitive too. Twitter changed its header, display picture and created a Black Lives Matter emoji, but the platform is still a sea of vile discrimination. Reporting trolls often leads to the flagged posts being removed, but the accounts are allowed to continue airing their abuse.
After a virtual walkout from Facebook employees over the hands-off approach to monitoring violent rhetoric, Mark Zuckerberg would not interfere with Donald Trump's "when the looting starts, the shooting starts" message, but pledged $10million to groups working on racial justice in the US.
We need to hold these platforms to a higher account and demand more.
The buffoons on Saturday may have not known their cause or their history, but this is an opportunity for football to be crystalline: racists are not welcome.
Register for free to continue reading
Registration is a free and easy way to support our truly independent journalism
By registering, you will also enjoy limited access to Premium articles, exclusive newsletters, commenting, and virtual events with our leading journalists
Already have an account? sign in
Join our new commenting forum
Join thought-provoking conversations, follow other Independent readers and see their replies