Frank de Boer on Jose Mourinho, Crystal Palace, being stabbed in the back and starting again
Exclusive interview: Infamously described as the worst manager in the history of the Premier League the Dutchman instead looks back on his 11 weeks at Palace with his confidence still intact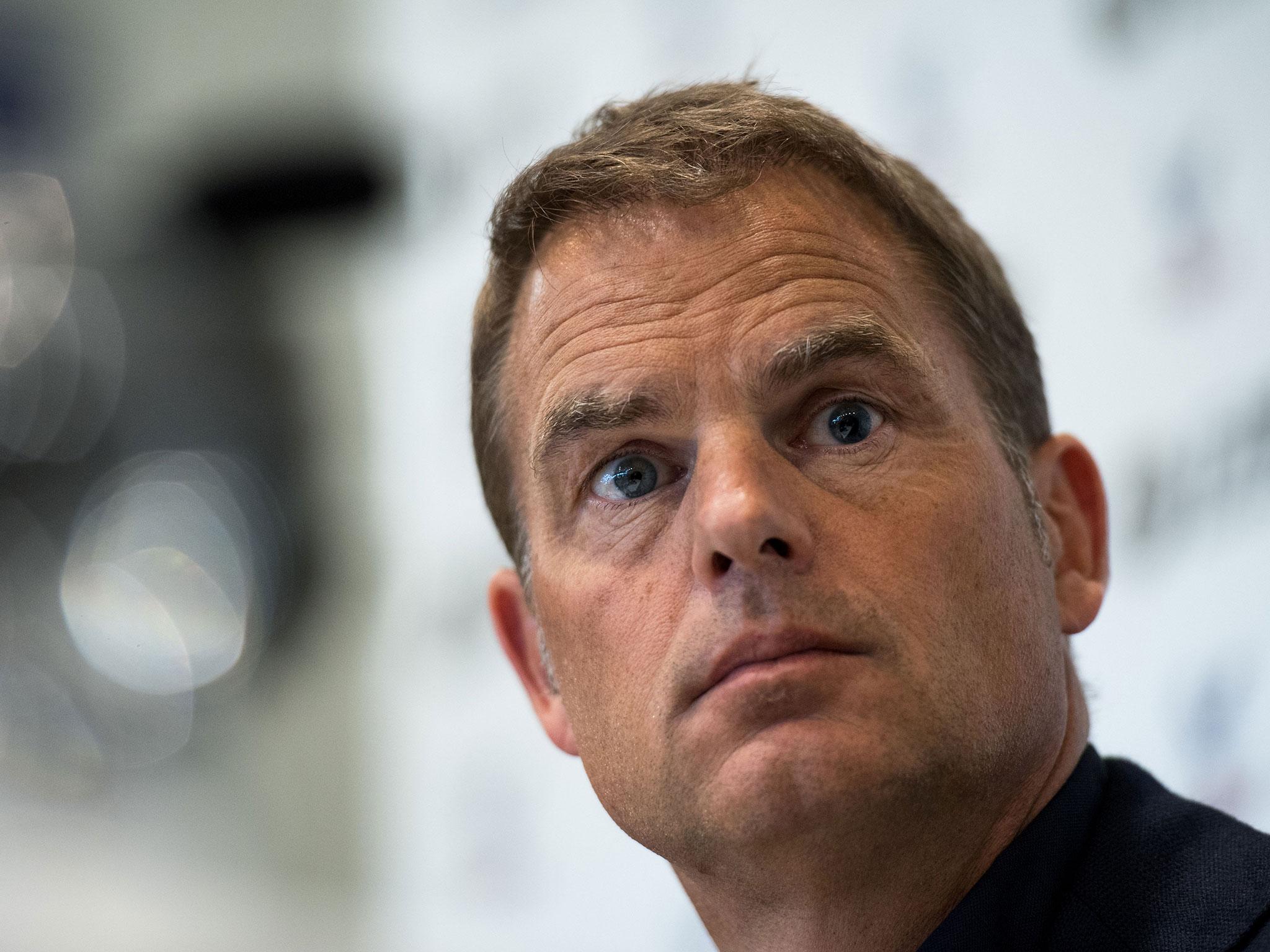 The interview over, Frank de Boer gets to his feet and drifts towards the hotel bar, drawn by the irresistible, unmistakeable sound of football. There: a single flickering television, the picture not quite straight, the score cropped from the screen, a single portly punter in a baseball cap watching the first half of Manchester United v Liverpool.
"Two-nil United," he announces, not recognising the former Champions League winner and Dutch record caps holder in his midst. "Both Rashford." De Boer turns to me. "You see?" he exclaims. "This is typical Mourinho. Rashford is the biggest talent you have in England. He needs games. He should be playing every week. Instead, he buys Lukaku, he buys Sanchez." A few hours later, on BT Sport, De Boer will utter similar sentiments, although these will find a much wider audience. The following Monday, Mourinho himself responds to De Boer's comments by describing him as "the worst manager in the history of the Premier League", while defending his use of Rashford. "If he was coached by Frank," Mourinho snorted, "he would lose."
It was a characteristically low blow from football's master of the rabbit punch, and following De Boer's unhappy spells at Inter Milan and Crystal Palace, where he lasted a grand total of 162 days, you could scarcely accuse Mourinho of kicking a man when he's up. But for all his recent tribulations, perhaps there was one element of this debate that was overlooked: when it comes to nurturing young players, De Boer knows what he's talking about.
His four straight Eredivisie titles at Ajax, a feat that not even Cruyff, van Gaal or Rinus Michels managed, were powered by an explosion of youthful talent that De Boer brought to full flower. The graduates of that side - Toby Alderweireld, Jan Vertonghen, Daley Blind, Arkadiusz Milik, Christian Eriksen - now populate some of Europe's top clubs. And as he plots his return to front-line management, what becomes abundantly clear over the course of an illuminating hour is that De Boer still has the ideas - and the vision - to leave his imprint at the top level of European management.
For example, his thoughts on English football's youth development conundrum are well worth hearing. "They don't get the time to play at the highest level," he argues. "I always think that from 17 until 22, you have to play every week, 30, 40 games in a year. That's the philosophy of Ajax. If you don't play, you play in the second team, in the second division. Here in the Premier League, it's so difficult.
"That's why I would say to young players from Ajax: just get 100 games under your belt in the first division. From there, you can make the next step, like Eriksen did. A lot of players leave at 15, 16 years old. They come back, they didn't play one game in the first team. They promised everything, but at the end their career goes down, because they lost so much in that period from 17 until 21. The agents are to blame, I think, because they only see their money. A few care about players. The rest only think about the dollar signs."
For De Boer at Ajax, an untested coach working with largely untested players, the key was giving them time. "I think 70 or 80 per cent were from the youth academy, so they have the DNA of Ajax," he remembers. "I said: 'I want to see that back again. You can make mistakes, no problem at all, but I want to see you play with confidence, with the Ajax philosophy."
That precious commodity - time - is one that De Boer himself has found hard to come by in management. It is the way of the world these days, of course, and to De Boer's chagrin even Ajax have gone down a similar route, getting through three coaches in a year. But for those clubs willing to persevere, he says, the rewards can be manifold.
"You see Guardiola in his first year," he says. "[Gio] Van Bronckhorst at Feyenoord, when he lost seven games in a row. Everybody said he's got to be fired. Next year he was champion." There are regrets on his own part. With hindsight, for example, he would have swerved the Inter Milan job when it came up at short notice in August 2016. "I had one friendly game against Celtic, and then I had to do my pre-season in the season," he says. "That's so difficult, especially at a club like Inter. Not only from the president you get some trouble, but also the press. Agents have a lot of influence. You have to really be prepared. And I wasn't that well-prepared, at that moment, for Inter."
And so last summer, seeking a new challenge, De Boer rode into south London and Crystal Palace: a club aspiring to more than what Sam Allardyce had been able to offer them. Yet after an indifferent pre-season, results quickly began to take a downward turn. Four games in, Palace were bottom of the Premier League with no points and no goals. With eight months of the season still to run, chairman Steve Parish pushed the button. De Boer looks back now on his 11 weeks at Palace with his confidence intact, but with lessons to ponder.
"Maybe I'm too naïve in that kind of thing," he says. "To trust too many people. I'm always thinking of the good in every player, but it's not like that. If they can stab you in the back, they stab you in the back." The main problem, as De Boer sees it, was an entrenched group of players, resistant to the sort of attractive possession football he was demanded, and who he was desperate to shift. "A lot of times when you go to a club, the chemistry is not really there," he says. "Maybe at first, everybody's excited. Then, suddenly, the team gets in shape, and then you get the storm phase.
"You have three groups. One who is happy. Then players who are doubtful, but still feel they have a chance. And then, you have the losers at that moment, who will go to the second group and try to influence them. They are poison for your team. At Inter, and also at Crystal Palace, you've got to get rid of those players. And that's sometimes difficult, because you say, 'I want him out', but then the president says, 'Yeah, but that costs me money.' And in the end, you're stuck with all the same players."
The wholesale reinvention of the squad that De Boer had envisaged did not materialise. Just two new players arrived on permanent deals: his former Ajax charge Jairo Riedewald, and Mamadou Sakho on the last day of the transfer window, by which point De Boer had already decided to knuckle down and focus his attentions on a creaking defence.
"That's why I played five in the back, 5-4-1, very defensive," he says. "Not my kind of idea, but necessary with the players that I had at that moment. You can say, why didn't you start with 4-3-3? No. For example, [Wilfried] Zaha is the most important player at the club. You want him at his strength, not always running after his wing-back. And defensively we were very vulnerable, so OK, we'll put one extra. Because it was Frank De Boer, everybody thought it was 3-4-3 and too offensive, but it wasn't Frank De Boer at all."
Palace's start to the season, though abject, wasn't always as nightmarish as subsequently portrayed. They came close to getting a point at Anfield, and despite going down 1-0 to Burnley at Turf Moor in De Boer's last game, there were signs that the team was finally beginning to gel. "We were really dominating Burnley at their ground," De Boer says. "Scott Dann had a big chance at the end. Unbelievable."
Does he ever wonder whether, if Dann had scored and earned Palace a point, he might just have... "No, I don't think so." You think it was already decided? "Yeah. Maybe I had to be harder in the beginning to really make my point. In the beginning, you're new, so you don't want to go, as we say in Holland, like an elephant in a porcelain closet, when you bump into everything. But they wanted to be a stable club, and you're not going to get that with relegation football."
Now, having taken a short break from the game, De Boer is ready, as he puts it, "to start up the engine again" next season. "I now have two clubs that didn't succeed," he admits. "So of course, the next one needs to be good. It's important that I choose a club where you can build something. I've had offers, but it's better to start in the new season. And I needed also to clear up my mind a little."
Which is why De Boer is happy to bide his time. He certainly has enough to be keeping him busy: TV punditry, the occasional masters game, visiting his daughter at Cambridge University where she has been studying English, a holiday in Dubai. "Since I started as a professional football player," he says, "I never had one period, I think, to really relax and enjoy myself."
Being a football manager can be a brutal and occasionally dispiriting existence: egotistical players, unscrupulous agents, trigger-happy owners, a voracious media, long days at work, long nights of anxiety, Jose Mourinho generally. But what about the upsides? Why does he do this? Why does anybody do this?
"What do I love about the job?" he asks. "To get that unity: not only in the team, but the whole club. Of course, you want to go to the next step. But first, you need to have some images. And after six months, thinking: 'Hey, this is what I had in mind.' For me, as a manager, that's the nicest thing."
Join our commenting forum
Join thought-provoking conversations, follow other Independent readers and see their replies