Fulham manager Martin Jol willing to offer Chelsea midfielder Frank Lampard a home at Craven Cottage
The veteran midfielder looks set to leave Stamford Bridge this summer
Jack Pitt-Brooke
Wednesday 17 April 2013 12:17 Comments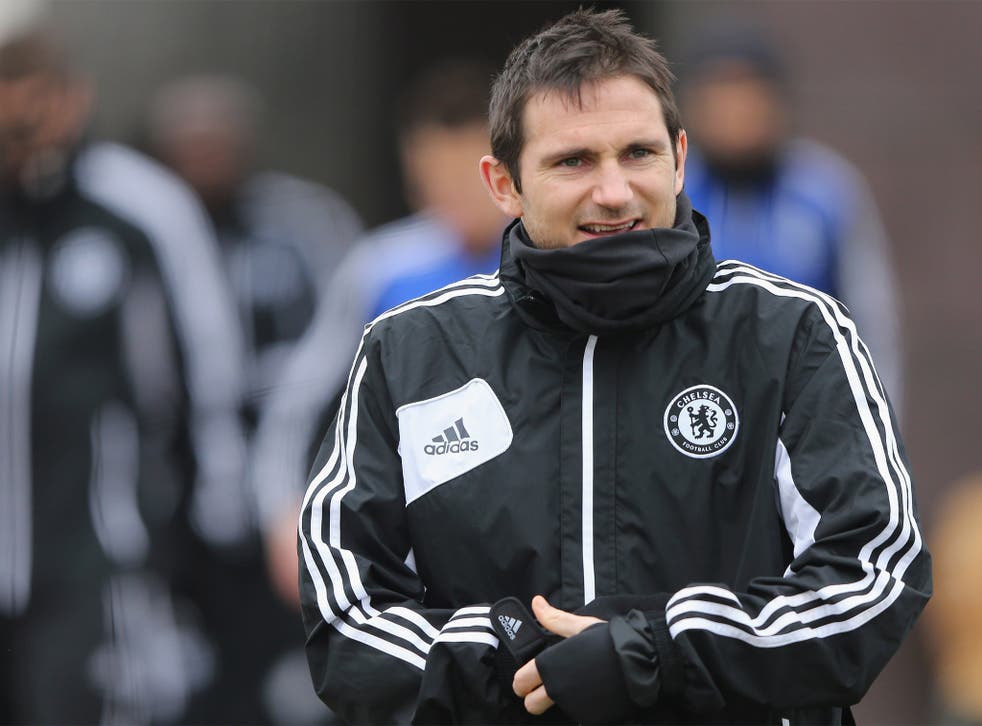 Frank Lampard would be more than welcome next season at Craven Cottage, where he may make his 600th Chelsea appearance.
The veteran midfielder looks set to leave Stamford Bridge this summer, at the end of his 12th season, and Fulham's manager, Martin Jol, admitted that he would be delighted to have the 34-year-old in his team next year, but is not holding out much hope.
"He is the most productive midfield player in England in the last 30 or 40 years," Jol said. "Everyone would love to have him. He's fit and is a good character.
"He will have a smile on his face if he listens to Fulham, I would love to have him. But it's hypothetical as he will never play for Fulham. I'm not sure he will play for a top 10 team. He's a living legend over there. In the end I have a feeling they will keep him."
Now that Chelsea are out of the FA Cup they have two priorities left, winning the Europa League and qualifying for next season's Champions League. Victory tonight would move them three points clear of Tottenham Hotspur, their Premier League match against whom has been rearranged for Wednesday 8 May. This means that if Chelsea reach the Europa League final they will have had weekend and midweek games during the last seven weeks of the season.
The Chelsea manager, Rafael Benitez, insisted that he would continue with his rotation policy. "We've had a lot of games and still have nine or 10 to play, so all the squad and players are important. It has to be the same until the end. We have to manage the squad, and will do so until the end."
Lampard is just two goals away from equalling Bobby Tambling's record as Chelsea's all-time leading goalscorer but Benitez said he would not be given any special treatment. "The main thing is the team. I would like to see Frank breaking the record. If I pick him it's because he's a good player. I'm sure he will score goals, I think he will do it."
Benitez argued that Juan Mata should be among the contenders for player of the season, after an excellent second year at Stamford Bridge. "He should be considered for sure," Benitez said. "To have played two games every week for months, he's been so good."
He compared Mata to club legend Gianfranco Zola. "Game intelligence is the key. Mata is very clever, he finds space and has quality, he has the vision. Zola was this type of player."
Kick-off 8pm
Odds Fulham 15-4 Draw 14-5 Chelsea 4-5
Referee M Dean (Wirral)
Register for free to continue reading
Registration is a free and easy way to support our truly independent journalism
By registering, you will also enjoy limited access to Premium articles, exclusive newsletters, commenting, and virtual events with our leading journalists
Already have an account? sign in
Join our new commenting forum
Join thought-provoking conversations, follow other Independent readers and see their replies