Fulham vs Arsenal: Alexandre Lacazette inspires five-star Gunners to continue resurgence under Unai Emery
Fulham 1-5 Arsenal: Aaron Ramsey scores a contender for goal of the season as Unai Emery's transformation gathers pace to lift Arsenal into third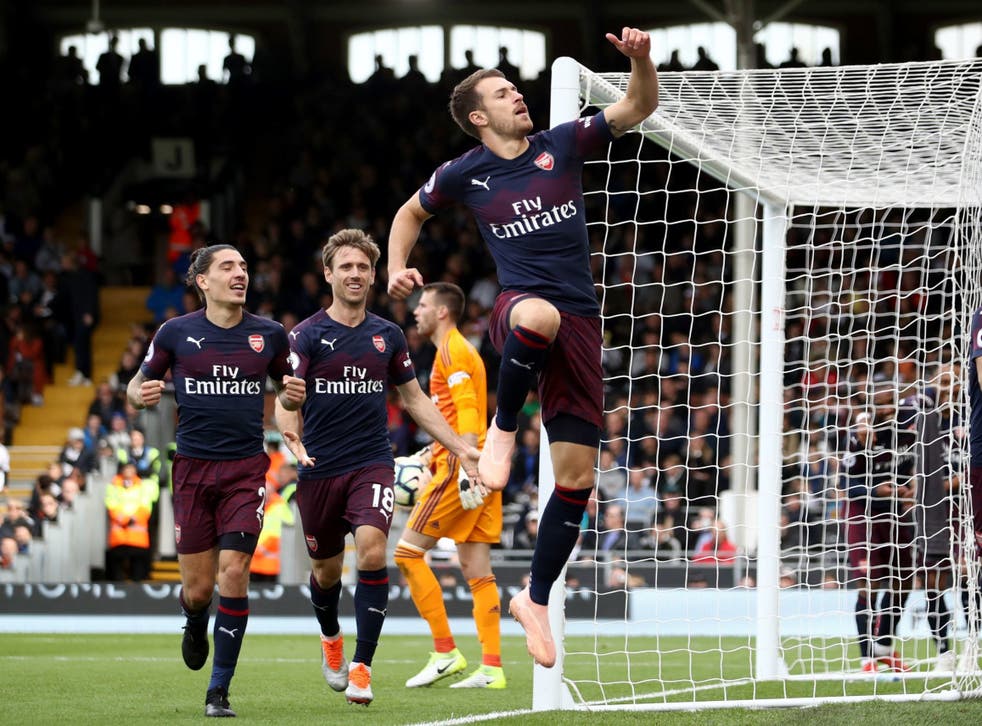 With a one-touch move taking in half of their team, a combination of instinct, imagination, team-work and technical skill, Arsenal scored the best goal of the Unai Emery era here at Fulham this afternoon, the third in their 5-1 win.
The goal was more remarkable than the win itself, because it was a goal that could only be scored by a team that is heading in the right direction.
This was Arsenal's ninth win in a row, a run that has seen Emery's team start to look as if they are picking up on his instructions. And while they have not always impressed, and did not always impress here, the way they raised the level in the second half and took the game away from Fulham suggested that they may well grow into this season.
Fulham vs Arsenal player ratings

Show all 22
Arsenal won this game thanks to their individual quality, with two sharp goals from Alexandre Lacazette before Aaron Ramsey's backheel, and two more from Pierre-Emerick Aubameyang afterwards. But they also looked to have trust, enthusiasm, a plan and above all confidence, the things that had drifted out of the club over recent years, but which Emery is trying to restore.
Fulham can only be deeply frustrated to have been beaten this badly at home, especially given that they had the better of the first half. Yes they were beaten by quality, and by goals that only the top sides would score. But they put up no resistance at all after going 2-1 down, and never looked especially fussed as Arsenal picked up their third, fourth and fifth goals. That is not something you want to see in any football team, especially one which is going to be fighting to stay in the Premier League this season. They will have to be tougher, tighter and more resilient than this if they are going to stay up.
The problem with Fulham – or one of amongst many – is that they can play half an hour of the most stylish, impressive, enjoyable football, get nowhere, and then concede with the first attack they face. So it was here. Fulham had been dominating from the start, pinning Arsenal back with their new 3-4-3 formation.
It briefly felt, at the start of the game, as if it might work. Fulham began assertively, high up the pitch, ready to pounce on any Arsenal mistake. So when Hector Bellerin passed the ball straight to Luciano Vietto, he forced a save from Bernd Leno. When Vietto crossed to Aleksandar Mitrovic soon after, only a Shkodran Mustafi tackle could save Arsenal.
Even when Fulham are on top, though, they never look secure. Not when the whole team looks more interested in attacking than defending, as if they have never seen a risk that they did not take. And with Cyrus Christie and Ryan Sessegnon pushed so far up the pitch, they were always going to leave space in behind. And their new back three was asked to bear more weight than they can handle. All it took was one quick break for that to be exposed.
Alex Iwobi broke down the left, in the space behind Christie. He rolled in the overlapping Nacho Monreal, who crossed to Lacazette. Holding off Tim Ream with casual ease, Lacazette spun inside and put the ball in the bottom corner. That penalty box precision, operating in restricted space, made it a classic Lacazette goal.
A more mature Arsenal side would have seen out their lead until half-time, but this is still a side in development, which still leaves gaps to attack. Just before the break Ryan Sessegnon charged down the left and found Andre Schurrle, who should have done better than blazing his shot high into the crowd. If Arsenal thought they had been let off the hook, they were wrong. Because at the end of the half they gave the ball away again, and this time they paid: Jean Michael Seri to Vietto to Schurrle, running in behind, who chipped Leno with his first touch.
The game was set for a big second half for Fulham. They had scored at the perfect moment, reawakening the fans, undoing Arsenal's good work, ready to exploit those tired legs in the second half. But sometimes games can turn on one nugget of individual quality, one moment of ambition.
That is exactly what happened four minutes after the restart here. The ball was loose, 35 yards from goal. Lacazette, with the intuitive instincts of an in-form striker, realised before anyone else in the ground that the shot was on. Holding off Ream again, he struck the ball first time into the bottom corner from distance. By the time Marcus Bettinelli started diving to his right, it was too late.
If that goal was all about individual quality, the brilliant third was a dream of a team move, all off-the-cuff cooperative fluency. The move went briskly through Lacazette, Bellerin, Ramsey – his first touch since coming on – Mkhitaryan and Aubameyang, who crossed from the left. It fell to Ramsey who, with his second touch since coming on, flicked the ball with the inside of his left heel gently into the bottom corner of the net. It was a testament to what good players can achieve when they try to play together, and it was enough to get the vocal away fans singing that they have their Arsenal back.
That was the game and what was so striking was how little resistance Fulham put up once they were behind. There was space all over the pitch and all that mattered was how many more goals Arsenal wanted to score. The fourth was no surprise. Mkhitaryan hit the ball down the right to Bellerin, who had far more room than he had any right to expect. He crossed to Aubameyang, who held off Maxime Le Marchand, spun and finished, just as Lacazette had done to Ream at the other end earlier on.
Just as the board went up for added time, Aubameyang, having got the taste for goals, added a second. Again, Fulham were defensively disastrous, far too high up the pitch with no pressure on the ball. It was easy enough for Ramsey to roll a little pass through to Aubameyang, running in behind Le Marchand, and he beat Bettinelli with the ease of a man who wished he had come on earlier. Still, two goals in 28 minutes is not a bad return. And nor is a 5-1 win for an Arsenal team who had an uneasy first half. The fact that there is clearly so much more to come from this Arsenal team and these players, is what makes this so impressive.
Join our new commenting forum
Join thought-provoking conversations, follow other Independent readers and see their replies