The new Ronaldo: Gabriel Jesus, Manchester City's own Fenômeno, on why he's doing things his way
Exclusive interview: Brazil have been looking for an heir to their greatest No 9 for over a decade and City's boy wonder could finally be it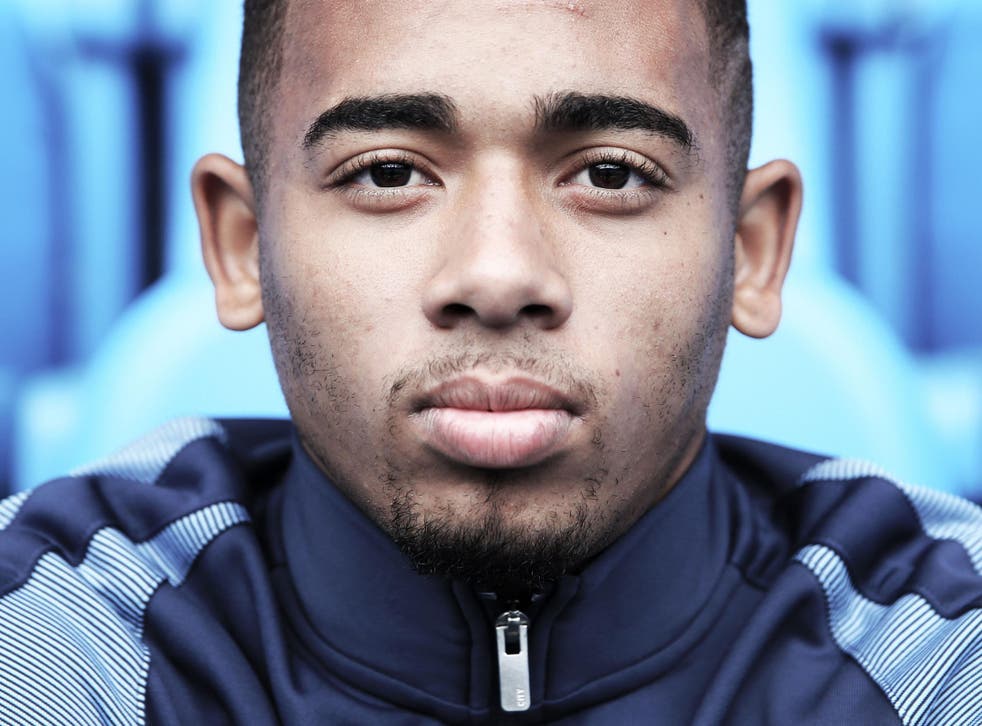 It passed under the radar in an enjoyably demob-happy round of Champions League games, but one of the year's most cherished unbeaten runs came to end on Wednesday night.
It belonged not to Manchester City – although the curtain did indeed fall on their 22-game autumnal romp – but to one of their players. Finally, some 403 days and 47 games after Palmeiras lost 1-0 to Santos at the cosy Vila Belmiro stadium, Gabriel Jesus ended a competitive football match on the losing side. He had probably forgotten what it felt like.
Correlation always aspires to causation, of course, and it bears noting that those games were played in the colours of, variously, the runaway Brazilian champions (for whom he played four more times after that last reversal in October 2016), a resurgent Brazil national team and, yes, probably the best side in Europe at the moment. But Jesus has been protagonist rather than passenger in that sequence, contributing far more than anyone could reasonably expect of a 20-year-old.
Combined XI: Manchester derby

Show all 12
You will struggle to name a young player who has had a better 2017. Much was expected of the zippy, wide-eyed forward who left Palmeiras for Manchester, but not this much: the speed of his adaptation to the Premier League was extraordinary – Pep Guardiola's go-to quote on Jesus in those opening months of the year was often a simple "wow" – and while he has found league starts harder to come by since Benjamin Mendy's injury ushered City's 3-5-2 experiment into cold storage, he remains a compellingly polyvalent threat.
His 15 Premier League goals so far have come from 18 starts, at a rate of one every 98 minutes. (Sergio Agüero, the oil to his water as far as selection goes, has scored 19, four of them penalties.) But his value is not just weighed in goals and assists; it's in the darting runs that go unnoticed by the TV cameras but open up space for team-mates, in his desire to track back and in the constant harrying of opposition defenders.
"He helps us with the first line of pressure like no one else can," Guardiola has said – a view to which José Fonte, whose West Ham side were put to the sword by a Jesus-inspired City back in February, subscribes. "It's not just in attack that he contributes, by scoring goals and making good runs," the centre-back explained to The Independent. "What most impresses me is his attitude and willingness to defend.
"He's a hard worker, which helps his team a lot defensively, and his movement is good: he's a player who is constantly on the move. It's hard to control someone like that over 90 minutes. He's a good young player with big potential."
For Brazil, too, he has made a startling impact: he netted five times in his first six starts after being drafted into the senior set-up by Tite, doing as much as anyone to drag the Seleção out of the doldrums and into their shiny new present. Barring injury, he will lead the line for one of the favourites for the World Cup next summer, which, given his tender years, is nothing short of phenomenal.
Little wonder, then, that some have sought to draw comparisons with the last great Brazil No.9 to make that adjective his own. "He's the new Ronaldo," claimed Daniel Alves before the Seleção's game against England last month. "They have similar qualities, a similar drive. He's going to be one of the greats."
But while that soundbite no doubt pleased subeditors the world over, Alves has not been the only one to invoke the name of O Fenômeno. "Physically, he's so strong. He's explosive," said Fernando Prass, the veteran Palmeiras goalkeeper and some-time mentor for Jesus, last year. "Often, he reminds me of Ronaldo, in his movements and his acceleration. When he gets clear, nobody can stop him."
Chelsea midfielder Willian also sees the resemblance. "I think Gabriel has similar qualities to Ronaldo," he told The Independent. "Their movement is similar. Gabriel is a great player and he's only 20 years old, so he's just getting started. He can reach greater heights, definitely."
All three have a point. The darting runs, the physical durability, the bravery, the sangfroid in front of goal... there's definitely something of Ronaldo – particularly the young, lithe, coltish Ronaldo of the PSV Eindhoven or Barcelona years – about the young pretender. And it is a comparison welcomed by Jesus, for whom Brazil's greatest World Cup goalscorer is a reference point.
"I'm always happy to hear things like that," Jesus told The Independent. "People will always make comparisons and I'm happy with that one, especially coming from Daniel Alves. I'm happy and I thank him.
"Ronaldo was a childhood idol of mine. Now, having met him and having seen how he treats everyone, he's even more of a hero. He will always be an idol and a role model. That's what I'm working towards."
It is not a perfect fit, of course: the youngster gets through more work outside of the penalty area than Ronaldo did, but at the expense of some of the concussive, stop-at-nothing single-mindedness that defined O Fenômeno's goalscoring in his pomp. Indeed, Guardiola currently sees more similarities with the more selfless Samuel Eto'o, insisting that his young charge has some way to go before taking on Ronaldo's mantle.
"He has absolutely everything to be one of the best strikers in the world, but he's so young still and has a lot of things to improve," the City manager said. "He's a fantastic kid. He never leaves you alone. He's one of the biggest fighters I've seen in my career. He reminds me a bit of Samuel Eto'o.
"In the box he is a finisher, but but there's room for improvement with his first touch. I think he runs with the ball too much. When he learns to keep running without it, and with it stays a little bit more calm so he can see what to do next, he will be a player like Ronaldo."
Fonte, too, believes patience is required. "He's a player with a lot of quality, no doubt about that," the Portuguese added. "But to compare him to O Fenômeno already... I think that's a bit much."
Time is on Jesus's side, of course, and among his many attributes is a level-headedness that should serve him well as he progresses and expectation levels rise further. Brazil, after all, have been looking for a proper Ronaldo replacement for a decade, the No.9 jersey having done a magical misery tour of Vágner Love, Luís Fabiano, Alexandre Pato, Fred, Diego Tardelli and Jonas in the six major tournaments since the 2006 World Cup.
It's a big task, so Jesus is probably wise not to weigh himself down with extra layers of history. "Ronaldo was unique and always will be," he concluded. "He's the best player I've seen in my life. I don't think anyone will get near him."
Manchester City's boy wonder just might, but for now he's going to keep on doing things his own way.
Join our new commenting forum
Join thought-provoking conversations, follow other Independent readers and see their replies