Gervinho convinced Arsenal will win trophies next season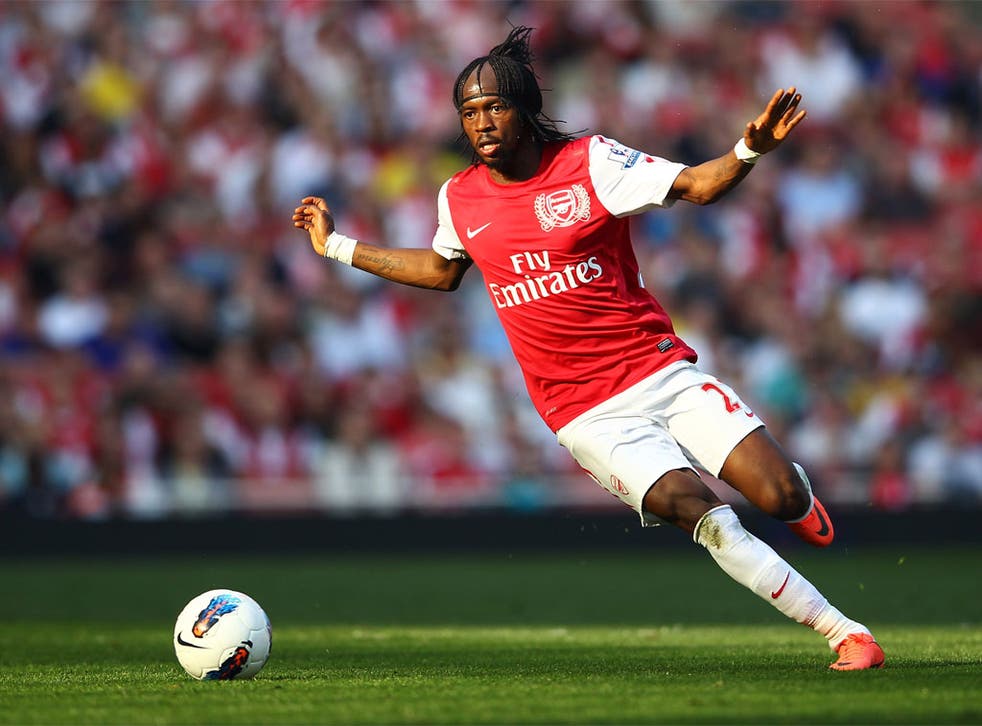 Gervinho is convinced Arsenal's long wait for a trophy can come to an end next season, but admits the club will be in a much weaker position to do so if they lose captain Robin van Persie.
The Londoners, who have not lifted a trophy since 2005, started horribly, winning just once in their opening five games at the start of the season – a sequence that included a humiliating 8-2 thrashing at Manchester United in August.
An inconsistent spell at the turn of the year gave more fuel to the argument the Gunners were a spent force, but seven straight Premier League wins have quashed that theory and Arsène Wenger's team now sit three points ahead of fourth-placed Tottenham with eight games remaining.
Gervinho, a £10.5m summer signing from Lille, admits he found it tough to adapt to the team following the departures of Cesc Fabregas and Samir Nasri, but is now settled within the Arsenal squad and is brimming with confidence.
He said: "We can still win lots of trophies and we can do great things in the future. We have a bright future because this is a good club. We are all still young, we have got some good players here, a good group.
"We have been through a lot of difficult times this season, lots of people have wavered in their belief of us.
Wenger had to sell Nasri to Manchester City last summer after the player made it clear he would not extend his contract beyond 2012. Arsenal may face a similar predicament at the end of this season with Robin van Persie, whose deal expires next year.
The Dutchman has been in sensational form this year, scoring 26 league goals.
"The standout player for me this year has been Robin van Persie," Gervinho said. "You can see his class with his finishing, how he leads the group, and with his experience. He is a player who has grown in to the role of captain and is the sort of player you need during the hard times."
Gervinho slotted in to the Arsenal team well, but he has found starts hard to come by recentlydue to the form of Alex Oxlade-Chamberlain. Nevertheless, the24-year-old happy with his progress as a player.
"I think I have come on a lot," he said. "The English game is different in many ways to what I experienced before in the Ivory Coast and in France and Belgium.
"It's something I am really pleased with. So much has improved. Being here in England can only be good for my game and my career."
Liverpool set for us summer tour
Liverpool have announced plans for a pre-season tour of North America which will include a friendly against Roma in Boston.
The Reds will play the Italian club on 25 July at Fenway Park, home of the Boston Red Sox, who share owners with the Anfield club. The match will form part of the baseball stadium's 100th anniversary celebrations.
Manager Kenny Dalglish said: "We had a great time playing in front of our supporters in Asia last year and it will be good to give our fans in North America the chance to watch us live this summer."
The schedule for the tour will be announced shortly but Liverpool's will train at Harvard University in Boston County.
Register for free to continue reading
Registration is a free and easy way to support our truly independent journalism
By registering, you will also enjoy limited access to Premium articles, exclusive newsletters, commenting, and virtual events with our leading journalists
Already have an account? sign in
Register for free to continue reading
Registration is a free and easy way to support our truly independent journalism
By registering, you will also enjoy limited access to Premium articles, exclusive newsletters, commenting, and virtual events with our leading journalists
Already have an account? sign in
Join our new commenting forum
Join thought-provoking conversations, follow other Independent readers and see their replies