Arsenal midfielder Granit Xhaka faces police racial abuse probe over claim he called BA worker 'f****** white b****'
Exclusive: The 24-year-old attended a police station and was interviewed under caution on Monday night after being accused of hurling racist abuse at airline staff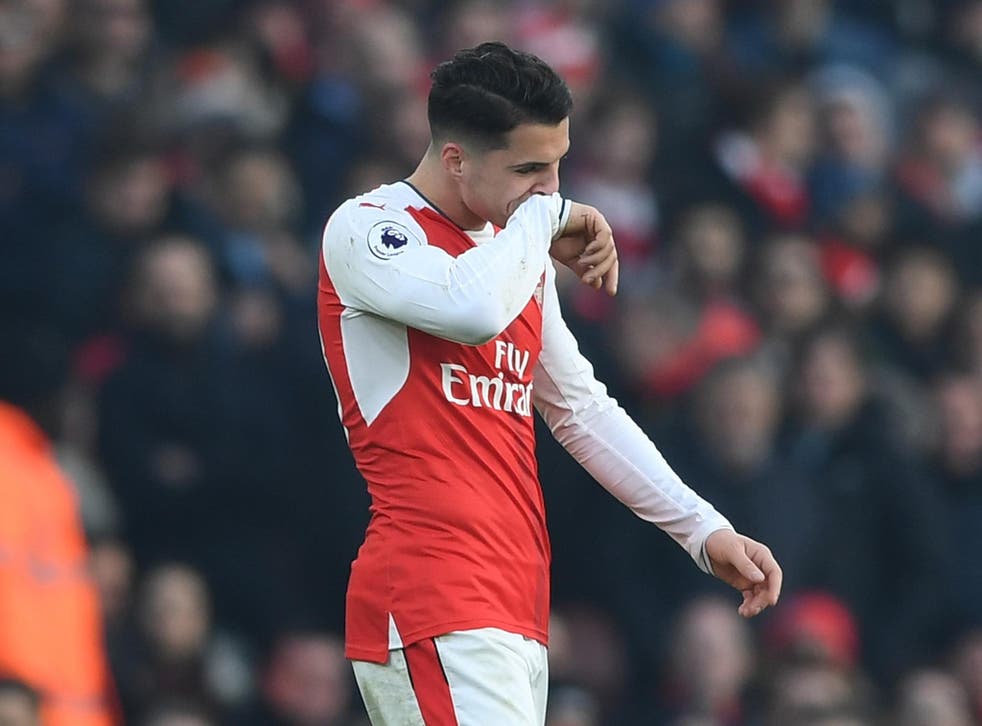 Troubled Arsenal star Granit Xhaka has been interviewed by police over claims of racial abuse after a furious row with British Airways check-in staff at Heathrow, The Independent has learned.
The 24-year-old midfielder, who is already set for showdown talks with Arsenal manager Arsene Wenger over his dire disciplinary record, attended a police station and was interviewed under caution on Monday night after being accused of hurling racist abuse at airline staff.
Xhaka, a Swiss international, is believed to have been at Heathrow's Terminal 5 to see off a friend, fellow footballer Leonard Lekaj, 26, who plays for German sixth division team FC Mönchengladbach and is thought to be related to Xhaka's fiancée, Leonita Lekaj. No allegations have been made against Mr Lekaj.
It is understood Mr Lekaj was stopped from boarding his flight after missing the deadline for checking in. On hearing this, Xhaka allegedly became angry and began verbally abusing British Airways staff.
He is alleged to have called a staff member a "f***ing white bitch" – a comment that another member of staff claims to have overheard. Xhaka disputes the claim that he used this language.
Metropolitan Police officers were called to the scene and took witness statements, including details of the alleged racial abuse.
A Met spokesperson told The Independent: "Police were called at 19:29hrs on Monday, 23 January following an allegation that a member of staff had been racially abused at Heathrow Airport, Terminal Five.
"The allegation was made by a third party.
"Officers attended and spoke with a man in his 20s. He was not arrested. He voluntarily attended a west London police station where he was interviewed under caution. Enquires continue."
A British Airways spokesperson declined to comment, saying the issue was now a police matter.
Xhaka, who is of Albanian heritage but grew up in Switzerland, has been heavily criticised for his disciplinary record since arriving in England last summer.
He was sent off once again during Arsenal's win over Burnley on Sunday for an dangerous two-footed lunge on Stefan Defour – his second red card in just 20 appearances for the North London club.
He was also dismissed during his last international fixture, Switzerland's 2-0 victory over Portugal last September, and has now accumulated nine red cards in just three years.
Media reports on Tuesday suggested Wenger is losing patience and is to hold showdown talks with the midfielder over his lack of discipline, having already warned him about his temper
Speaking after Xhaka's latest dismissal, the Arsenal manager accused the star of "punishing" the team with his reckless tackling and demanded the player learn to "control his game".
Xhaka joined Arsenal last May from Borussia Mönchengladbach for a fee reported to be in the region of £30 million.
Arsenal have told The Independent that "this is a private and police matter."
Register for free to continue reading
Registration is a free and easy way to support our truly independent journalism
By registering, you will also enjoy limited access to Premium articles, exclusive newsletters, commenting, and virtual events with our leading journalists
Already have an account? sign in
Register for free to continue reading
Registration is a free and easy way to support our truly independent journalism
By registering, you will also enjoy limited access to Premium articles, exclusive newsletters, commenting, and virtual events with our leading journalists
Already have an account? sign in
Join our new commenting forum
Join thought-provoking conversations, follow other Independent readers and see their replies