Grant Holt & Rickie Lambert: Rise of the Rochdale diamonds
Grant Holt and Rickie Lambert played in League Two together. Tonight they meet in the Premier League, proving you can still climb from the bottom to the very top
Jack Pitt-Brooke
Wednesday 28 November 2012 00:00 Comments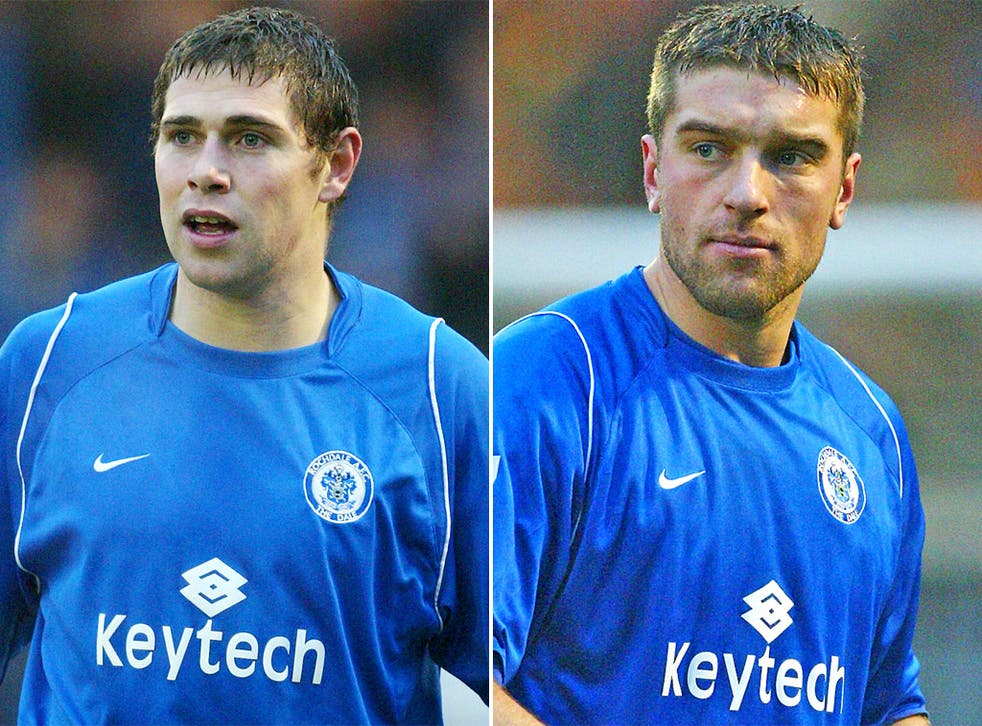 Grant Holt cost Rochdale £10,000 but he was so bad on his debut at Darlington one team-mate asked the manager if he had kept the receipt.
That was February 2004 in the Third Division. Nearly nine years on Holt is at Norwich City playing Premier League football and has been mentioned as a candidate for England. Rickie Lambert, his old Rochdale strike-partner, is in the top flight, too, with Southampton and tonight they meet at St Mary's.
Sergio Aguero and Wayne Rooney were branded from boyhood as elite strikers of the future. It is safe to say Holt and Lambert were not. But their stories show that even the billion-pound glamour factor of the Premier League is still accessible from beneath. There are many paths a football career can take but one of them still leads from the bottom to the top.
When Holt and Lambert arrived at Spotland, within one year of each other, neither looked like they would one day be scoring against Manchester United, as they have each done. Both joined Rochdale as 22-year-olds with some ability, but yet to find themselves as players.
Lambert signed after mixed spells at Macclesfield Town and Stockport County. Holt had played in the Northern League and in Singapore before joining Barrow and then Sheffield Wednesday, from where then-Rochdale manager Steve Parkin signed him.
"He was a rough diamond, really," Parkin told The Independent. "Without any disrespect to him, he was rough around the edges. He definitely had an eye for goal. All we had to do was tidy his professionalism up a little bit, tidy some of his work up in the middle third of the pitch.
"I was once questioned at a fans' forum by a supporter, who said: 'I think Mr Parkin you have made a grave mistake bringing Grant Holt to our football club.' I said: 'Don't always judge a book by its cover too early. Let's just see how it goes'."
And, in time, Holt's goals started to flow. He scored three in the remainder of 2003-04, helping to keep Dale out of the bottom two. The next year, he scored 17, and 14 after that. It was eventually too much for him to stay.
"He didn't have the best of starts but from there he did absolutely fantastic," said Gareth Griffiths, who played in defence for that Rochdale side. "In the dressing room, he was somebody we recognised very quickly was a good player. Parkin saw something in Grant. And that was the start of his path up."
Lambert's career has followed a similar road to Holt's, before Rochdale and after, but he is not quite the same player. "Rickie was different in terms of his ability," Parkin remembered. "He has got incredible natural talent, he could see a pass, set up a goal, or score a goal, with his left foot, his right foot, or his head. He was blessed with natural ability that not many players are given. That is what set him apart from the rest."
Lambert arrived at Rochdale one year after Holt, but as a gifted young midfielder who could not quite settle at Macclesfield or Stockport. "He started off as a midfield player but I had no intention of playing him in midfield," Parkin said. "He had a calmness and a coolness to his play."
Holt has always torn around the pitch with bullish enthusiasm. "Rickie was no less committed," added Parkin, "but in a different kind of way."
Lambert's relaxed attitude continued off the pitch. "I would never say he was ambitious," Griffiths recalled. "With Rickie, he's so laid-back he's horizontal. He was always late. He was one of those lads who was very aware and very sharp on the pitch. But he was so laid-back, he'd forget when we were meeting.
"Perhaps Rickie didn't realise what he had under the bonnet. I think that's why he took so long to mature. It really took him a bit of self-realisation for the steps he made toward the highest level."
In Lambert's first season, 2004-05, he provided the ammunition for Holt. Rochdale started well and might have made the League Two play-offs but tailed off and finished ninth. The next year Lambert, growing as a mature and powerful footballer, overtook Holt. Rochdale were poor and finished 14th but Lambert was excellent, joint-top scoring in the league with 22, eight more than Holt.
Parkin said: "I just remember when we had a free-kick within 25 yards of goal. It just felt like it was a penalty." Griffiths was even more positive: "That season, every time we had a free-kick outside the box we just thought it was going in. It was ridiculous."
It was too good to last. In 2006 Holt and Lambert were sold to Nottingham Forest and Bristol Rovers respectively, Rochdale picking up a cool £500,000 in total in return. Holt moved on to Shrewsbury before settling at Norwich City, then in League One. Lambert went from Bristol Rovers to Southampton in 2009.
There still is a road from the fourth tier to the first, though as Griffiths admitted it is more difficult to travel than it once might have been. "There are all these twists and turns along a career and the decisions people make," he said. "They made good decisions, have applied themselves fully, but they have also been given an environment by those around them to flourish. The lower-league filter is harder to break through now. Holt and Lambert are a shining light for people who may feel they have missed the boat."
Odds Southampton Evens Draw 5-2 Norwich 13-5
Kick-off 7.45pm (Highlights BBC 1, 10.45pm)
Referee M Clattenburg (County Durham)
Register for free to continue reading
Registration is a free and easy way to support our truly independent journalism
By registering, you will also enjoy limited access to Premium articles, exclusive newsletters, commenting, and virtual events with our leading journalists
Already have an account? sign in
Join our new commenting forum
Join thought-provoking conversations, follow other Independent readers and see their replies