Harry Kane's Tottenham career is a refreshing reminder that great players are made and not born
The forward has been influenced by a number of unique internal and external forces that have helped turn the player into one of the game's most exciting prospects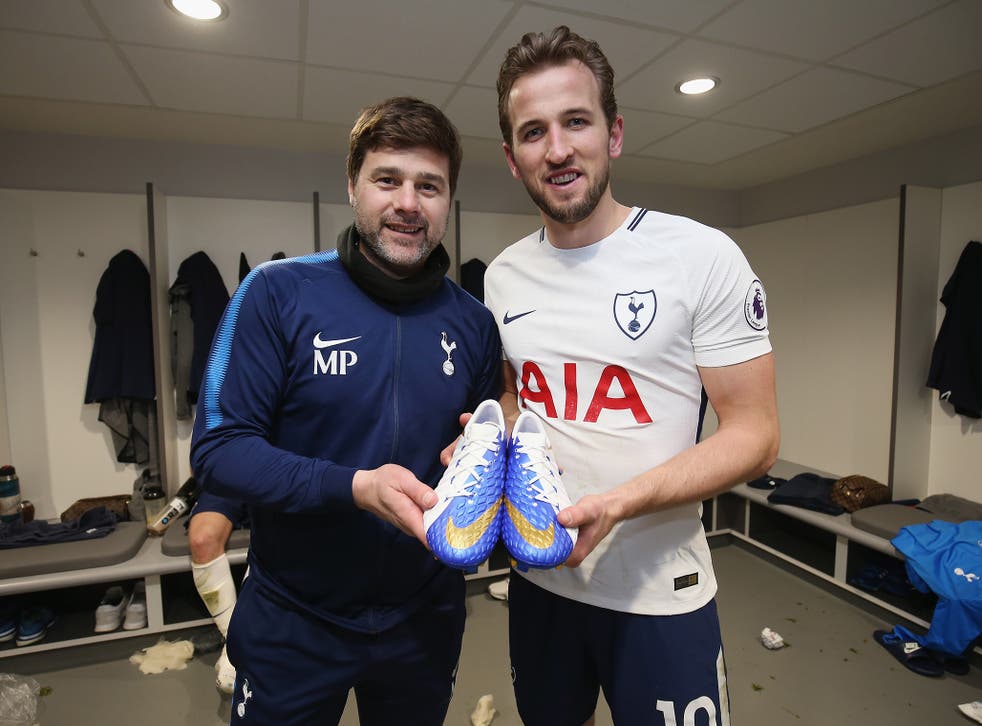 People think they know Harry Kane. And yet, if his story teaches us anything, it's to nurture a healthy scepticism for our initial instincts.
Kane scored his 100th league goal against Liverpool on Sunday, the latest chapter in a remarkable tale of self-made excellence, and a reminder that great players are made and not born. Aged just 24, Kane's unique combination of pedigree and potential could yet turn him into one of the great strikers, not just of the Premier League era, but of English football.
For Kane, though, Sunday night ended in disappointment. His favourite NFL team, the New England Patriots, were beaten in the Super Bowl in Minneapolis, and the picture Kane posted on Instagram shortly before midnight of his living room filled with red, white and blue balloons and little boxes of popcorn suggests that it was a late one. And in a revealing article published on The Players' Tribune on Monday, Kane discusses how his love of the Patriots, and their talismanic quarterback Tom Brady, was a source of inspiration to him throughout his career.
Harry Kane's best goals of 2017

Show all 11
Heavily-ghostwritten, and yet none the less insightful for that, Kane's article is a useful document on several fronts. It discusses how his early rejection by Arsenal at the age of eight inspired him to prove them wrong. How spells at Millwall and Leicester forced him to grow up and fend for himself. And how a burgeoning interest in NFL, the Patriots and Brady taught him that champion athletes don't always look like champion athletes. Brady, for example, was only the 199th pick in his year's draft.
"He reminded me of me," Kane says about Brady. And perhaps Kane's real triumph is not over records or statistics or opposition defences, but over the very idea of what an elite striker should look like. In his early days, he was neither especially quick nor especially strong, neither especially good in the air nor especially gifted on the ball. He was of average height, and average build. He looked, essentially, like an ordinary bloke off the street. But over time, what was inside gradually began to show on the outside.
On returning to Spurs in the summer of 2013, Kane refused to go out on loan again, demanding that Andre Villas-Boas give him a chance to fight for his place. And yet, it didn't immediately work out for him. Kane played a grand total of 13 Premier League minutes under Villas-Boas, and had he not been sacked and replaced by Tim Sherwood, and then Mauricio Pochettino the following summer, it is still quite possible that only Spurs fans would ever have heard of him.
But Kane was just at the start of his learning curve. He worked with religious devotion on his leg and core strength. He worked with a dedicated sprint coach on his straight-line speed. Towards the end of his first full season, goalkeepers began noticing that he favoured their left side. The following season, the bias had been almost entirely eradicated. Little by little, Kane was equipping himself with the tools needed to play as a lone striker in one of the most physical leagues in Europe.
There are two real questions now. The first is how many goals Kane can get. Alan Shearer's imposing Premier League record of 260 is still some way distant. Jimmy Greaves's all-time top-flight record of 357, meanwhile, looks well out of reach, given that Greaves was around in an era of more league games, and fewer cup and European commitments.
Kane is still only 24 years of age. And yet, the various tribulations of Wayne Rooney, Robbie Fowler and Michael Owen - the only three players to reach 100 Premier League goals at a younger age - should be a warning that the path to true greatness never runs smooth. There is no guarantee, even if he looks after himself (which he does) and continues to adapt to the relentless physical demands of the modern game, that Kane will be able maintain his current scoring rate for more than another six or seven years. If that seems a touch harsh, then it is backed up by numbers.
Statistics indicate that goalscoring rates in the modern Premier League begin to drop off alarmingly beyond the age of 30. Since the start of the decade, fifteen players have breached the 20-goal mark in a season. All but one (Yaya Toure) was in his 20s when he did it. Frank Lampard and Zlatan Ibrahimovic, meanwhile, are the only players to score more than 10 goals in a season after the age of 35.
So let's say, at an optimistic estimate, that Kane has another seven years at his peak. And let's say, allowing for the odd injury setback, that he knocks in an average of 20 goals a season during those years. That takes him to 240 without breaking a sweat. If we add in another five years at a slightly reduced rate - taking him to the age of 36 - then it is not inconceivable that Kane could finish with 300 top-flight goals, behind only Greaves on the all-time post-war list, and with an unassailable claim to being one of English football's greatest ever strikers.
But of course all this is conjecture, relying heavily on the answer to the second question: will Kane stay at Tottenham? Spurs fans get furious if you even mention the words "Real Madrid" even near his name, but even if Kane's intentions are unclear, Real's are not. They are seriously looking at Kane as an option this summer, as they begin the process of building for a post-Cristiano Ronaldo future.
Daniel Levy has a good working relationship with Florentino Perez, having collaborated on the transfers of Luka Modric and Gareth Bale, and Tottenham's protestations that Kane will not be sold at any price should be placed in the context that they could realistically say very little else at this point.
And yet, there is a sentence towards the end of Kane's article that perhaps offers a glimpse of his vision. "Now, I close my eyes and I picture myself lifting the Premier League trophy at our new stadium with my mates," he says. "I'd trade the next 100 goals for that feeling."
It's a lazy fallacy to say that footballers are motivated by money alone. Players are people, and people are driven by all sorts of different things, in varying quantities: money, fame, ambition, lifestyle, personal relationships, the desire for change, the desire to stay put. And often these decisions are emotional as much as anything else. Kane to go to Real Madrid, win four Champions Leagues, win umpteen league titles, become a fixture at the Ballon d'Or ceremony, rich beyond his wildest dreams. But would any of that compare to the feeling of winning just one league title at his boyhood club?
People think they know Harry Kane. But then, people always have.
Join our new commenting forum
Join thought-provoking conversations, follow other Independent readers and see their replies