High ticket prices for Premier League matches 'could lead to the loss of a generation of fans'
The cheapest adult season ticket at Arsenal is £1,014, a real-terms increase of 370 per cent since 1981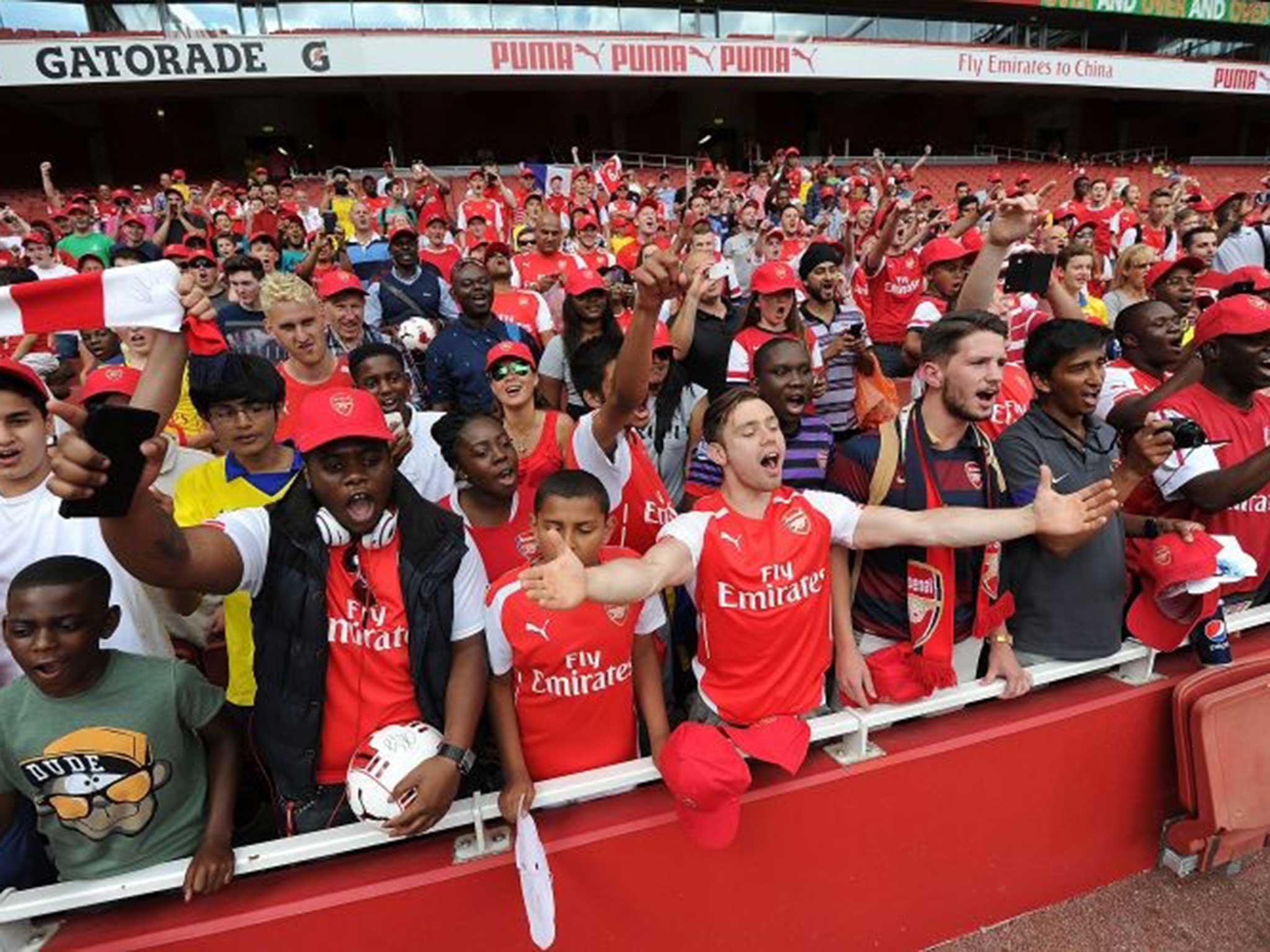 Premier League football crowds could soon "die out" if ticket prices continue to rise, the leader of Britain's biggest supporters' group has said. It warns that young, working-class fans are being priced out by inflation-busting price hikes.
Kevin Miles, chief executive of the Football Supporters' Federation, said that English football risked losing an entire generation of young fans.
The cost of top-flight football has increased every year for more than a decade. This year, Premier League supporters will pay an average of £526 for their club's lowest priced adult season ticket, an annual rise of 6.5 per cent.
On Thursday, the Football Supporters' Federation will lead fans on a march on the Football League and Premier League headquarters in London, where they will demand a cut in ticket prices.
"Being a regular football supporter is a habit that's formed at a young age," Mr Miles said.
"If you keep raising prices, what you'll get when you look around the ground isn't what you had when you started, because you've priced out the whole generation – you've broken that habit. And if the crowds keep ageing, sooner or later they will die out."
Most concessions for people end at 18 or 21, while falling wages mean that many young workers are priced out of adult tickets until they reach their thirties.
Last week, a study by budget advisers thinkmoney found that 18- to 24-year-olds have an average annual disposable income of £2,088. A season ticket could now cost them up to a third of that, with Arsenal, Tottenham, Liverpool and West Ham all charging more than £640 for their cheapest passes.
Football was more affordable when older fans first started attending matches. In 1981, an average Arsenal season ticket cost £84 – today, their cheapest adult pass costs £1,014, a real-terms increase of 370 per cent.
Clubs in other European leagues, such as Germany's Bundesliga, use their immense commercial income and cheap standing areas – outlawed in England – to subsidise tickets for young people.
German fans can watch Bundesliga champions Bayern Munich all season for only £104 – less than the price of some tickets for a single Arsenal game.
German football authorities see the support of young and working-class fans as crucial. Criticising England's pricing last month, Bayern president Uli Hoeness said: "We do not think fans are like cows who you milk. Football has got to be for everybody. That's the biggest difference between us and England."
Tickets are more affordable across the continent's top leagues. Last year, Italian champions Juventus charged £291 for their cheapest pass while Spanish giants Barcelona and Real Madrid charged £172 and £177 respectively.
A spokesman for the Football Supporters' Federation said: "The increase in Premier League media rights alone could have led to all 20 clubs letting in each and every supporter for all 38 games for free last season without being any worse off than they had been the season before. Something has to give."
Join our commenting forum
Join thought-provoking conversations, follow other Independent readers and see their replies