Hodgson's philosophy is shape of things to come
Training-ground discipline puts manager's theories into practice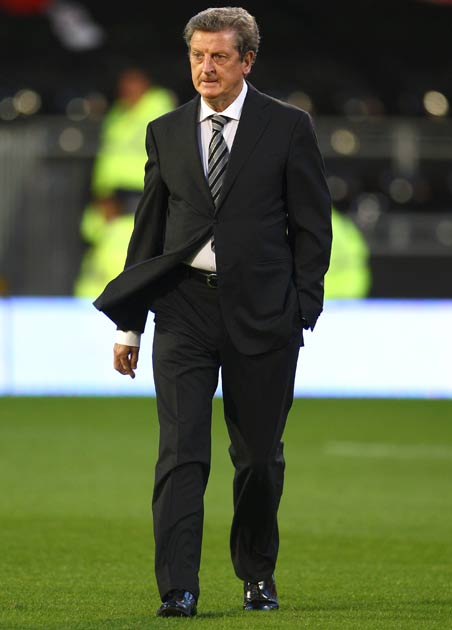 The glimmer of a smile crosses Simon Davies's face as he is asked why Fulham are so good at keeping their shape. He had used the phrase earlier to explain how Fulham withstood a battering to beat Shakhtar Donetsk 2-1 on Thursday night, and the impression he gives is that he will have heard it said a few more times since. Type "keep", "shape" and "Fulham" into Google and you get 165,000 responses: keeping their shape is what defines them.
It sounds so simple, and yet Fulham are palpably better at it than most sides in the Premier League. Watch Roy Hodgson's players and they have a tremendous ability to make the pitch appear smaller than it is; opponents seemingly never have time on the ball or, if they do, they have no passing options. Fulham close space with remarkable efficiency, which may not be glamorous but it is effective.
It is greatly to Fulham's credit – and to Birmingham's – that the League meeting of the two sides at Craven Cottage today is probably the first irrelevant game of the season. Both are in that clump of a dozen sides whose first priority each season must be to avoid relegation, and with 11 points separating Fulham from the bottom three, and Birmingham three points ahead of them, both are surely safe now. Qualification for Europe through the League remains just about conceivable, but for both the FA Cup probably represents a more realistic route.
So how do you keep your shape? There is, unfortunately, no easy solution – no mind game, no visualisation technique: it just comes from boring repetition on the training field. "We work on it every day," said Davies. "Every day in training is geared towards team shape on the match-day coming up. I've been working with the manager three years now and every day is team shape, and it shows. We have a little laugh about it now and again, but when he came in we were fighting relegation and now we're in the Europa League, so you take it.
"I don't want to give any secrets away, but he gets the 11 that he wants on a match-day and he drills everything in that he wants. It's certain drills defensive, certain drills attacking, and we work very hard at it. There are no diagrams. It's all on the pitch with the ball, nothing unopposed.
"We do a lot of work after every game on analysis, sorting the bad things out, sorting the good things out. It's nice to know what you work hard on works so well. We're two-and-a-half years down the line now, so we're all converted; it's just working on little things now and hoping we can still get better."
They have benefited from the form of Bobby Zamora, whose goal against Shakhtar was his 14th this season. "Last year, playing with him you could see what he brought to the team but maybe only playing could you appreciate that," said Davies. "This year, he's absolutely on fire." Zamora's other work, though, holding the ball up and creating space, remains the core of his job; goals seem almost a bonus.
The same basic principles which were learned at the legendary coaching course run by Allen Wade, the then technical director of the Foot-ball Association, have sustained Hodgson since his first front-line coaching role, with the Swedish side Halmstad 36 years ago. Then the approach was radical, unpalatably so to the local taste, at least until it began to bring success.
According to the Swedish academic Tomas Peterson, Hodgson "threaded together a number of principles, which could be used in a series of combinations and compositions, and moulded them into an organic totality – an indivisible project about how to play football. Every moment of the match was theorised, and placed as an object lesson for training-teaching, and was looked at in a totality." He taught players, in other words, how to keep their shape.
Sweden's national technical director, Lars Arnesson, was an implacable opponent of the "English style", saying it "stifled initiative, and turns players into robots". Peterson prefers to compare it to listening to Charlie Parker after Glenn Miller or viewing Picasso after classical landscapes. "The change does not just lie in the aesthetic assimilation," he wrote. "The actual organisation of art and music happens on a more advanced level." Naïvety is gone, and there is a second order of complexity.
Zamora probably didn't have any of that in mind as he thrashed that brilliant winner on Thursday, but Hodgson's method is still making beautiful music today.
Join our commenting forum
Join thought-provoking conversations, follow other Independent readers and see their replies