Manchester City come from behind to beat dogged Huddersfield to showcase their title-winning credentials
Huddersfield 1 Manchester City 2: City had to dig deep to win and only led for the final six minutes, taking the lead when the ball bounced off Raheem Sterling and looped up into the net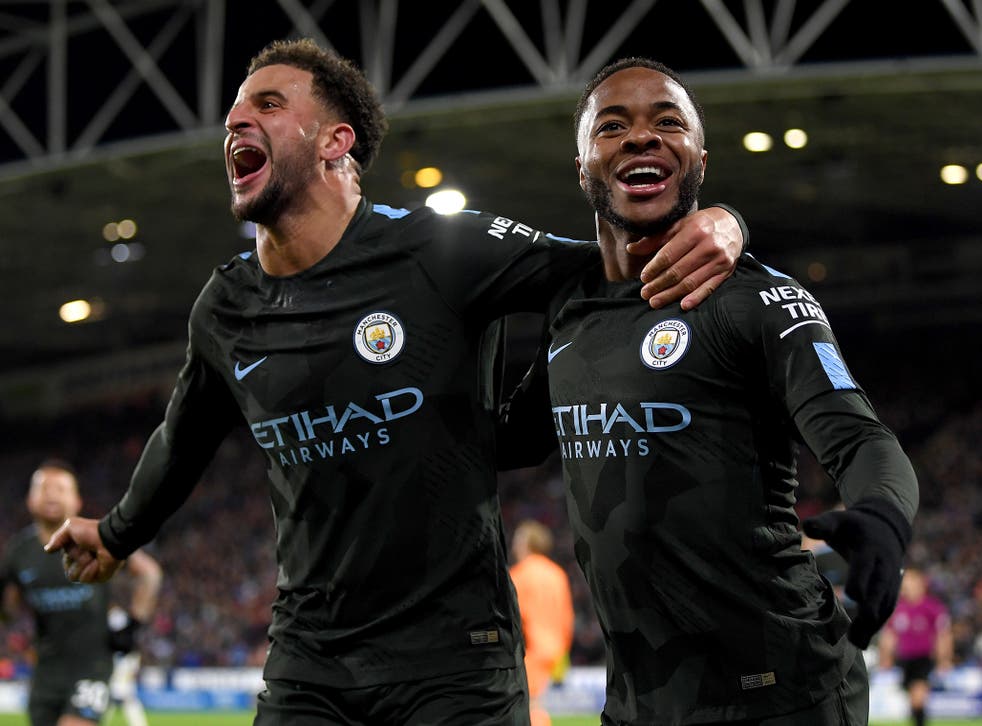 This might look to future generations like a routine win, David 1-2 Goliath, but this victory for Manchester City at Huddersfield Town showcased all the intangible elements – nerve, grit, luck – that mark out a title-winning side.
What might have been another stroll for City became their hardest match in months. Huddersfield Town, more than any other side this season, took City to a place they did not want to go. In the first half they sat deep, slowed City down and took the lead from a set piece just before half-time. In the second half they made this game a niggly scrap, so much so that Rajiv van la Parra was sent off for an incident with Leroy Sane after the final whistle.
There have been times watching City this season – Feyenoord away, Watford away, Stoke City or Crystal Palace at home – when they look like they are playing a different sport. Not here today at the John Smith's Stadium, where they were prevented from imposing their game and at times could barely string their passes together.
City struggled all afternoon to get round, through or in behind a Huddersfield team that was playing out of its skins. This was Kevin de Bruyne's quietest game all season and none of David Silva, Leroy Sane or Sergio Aguero was at his best. And yet despite all of that, with some fortune on their side, City found a way to win, with goals at the start and the end of the second half. The equaliser was a Sergio Aguero penalty after Raheem Sterling collided with Scott Malone and went down. The winner, five minutes from the end, when City were staring down the barrel of their first draw since August, bounced off Raheem Sterling's stomach and flew in.
In that sense the game it reminded you most of was City's 2-1 win at Bournemouth three months ago today: when City went to one the league's smaller grounds, did not wake up, went behind in the first half, before snatching the points with a Sterling goal at the very end. That day the winner came even later than this one, in the 97th minute, sparking celebrations that saw Sterling sent off. But both of these away wins, which will not take up too much space in YouTube compilations of City's best football this year, shows what sets this year's City team apart.
The challenge for City from the start was to pick their way through Huddersfield Town's massed ranks: a deep narrow back four, with a deep narrow midfield five just in front of them. City have blown away better teams than Huddersfield this season, but that was not going to happen here. When City tried to go round the sides, Huddersfield packed the penalty area and blocked the cross. When City tried to slice through the middle the midfield squeezed the space so Kevin de Bruyne could not get a shot off. And even when City did get through on goal, like when David Silva played in Sergio Aguero, there was Christopher Schindler to make the crucial tackle.
Huddersfield had their moments on the break too, and right at the end of the first half they pounced on City's defensive uncertainty to take the lead. Vincent Kompany nearly headed into his own net, and from the next corner, Nicolas Otamendi did what his captain could not. Schinlder flicked the ball on at the near post, Otamendi deflected it past Ederson.
At half-time the announcer at the John Smith's stadium said that he could not believe that on this planet his team were 1-0 up against the league leaders. One minute after the restart, Huddersfield were brought back down to earth. Sterling tangled with Malone, went down, and was awarded the penalty. No, it was not the most egregious foul of the weekend, but like the penalty Sterling won against Nacho Monreal earlier this month, there was enough contact to justify the decision. Aguero sent Lossl the wrong way and City were level.
What followed was almost a re-run of the first half, but faster and with an extra edge. David Wagner and Kyle Walker exchanged words after the City man clattered Rajiv van le Parra. Malone and Sterling continued their grappling. Fernandinho was booked for a ludicrous dive in the vicinity of Van la Parra, which further inflamed the crowd. He was booked.
As City got drawn into a scrap, they almost forgot to play their football. They created less in the second half than they did in the first, their best moment coming when Sane hit a free-kick against the crossbar.
So Guardiola threw on Gabriel Jesus for Kompany, switching to a formation that was closer to a 3-3-4 than anything else. That extra body up front made all the difference, although they needed a lucky bounce too: Sterling came in from the right and De Bruyne found the run of Jesus, the new man on. Lossl saved his shot and the rebound hit an unknowing Sterling on the stomach, ballooning up and in.
There were wild celebrations and Guardiola threw on Ilkay Gundogan and Eliaquim Mangala to secure the lead his team had snatched. They emerged with the three points and the confident knowledge that this team has more than one way of winning games.
Huddersfield (4-2-3-1) Lossl; Smith, Zanka, Schindler, Malone (Lowe, 75); Williams, Hogg (Mounie, 85); Ince (Quaner, 81), Mooy, van la Parra; Depoitre
City (4-3-3) Ederson; Walker, Kompany (Jesus, 79), Otamendi, Delph; Fernandinho, De Bruyne, D. Silva; Sterling, Aguero (Gundogan, 85), Sane
Register for free to continue reading
Registration is a free and easy way to support our truly independent journalism
By registering, you will also enjoy limited access to Premium articles, exclusive newsletters, commenting, and virtual events with our leading journalists
Already have an account? sign in
Register for free to continue reading
Registration is a free and easy way to support our truly independent journalism
By registering, you will also enjoy limited access to Premium articles, exclusive newsletters, commenting, and virtual events with our leading journalists
Already have an account? sign in
Join our new commenting forum
Join thought-provoking conversations, follow other Independent readers and see their replies