Inside Fletcher Moss Rangers, the Manchester United academy that developed Marcus Rashford
Tim Rich visits the junior club that's developed Rashford, Morrison and Blackett, who have gone on to play at Old Trafford, to uncover the secret to their success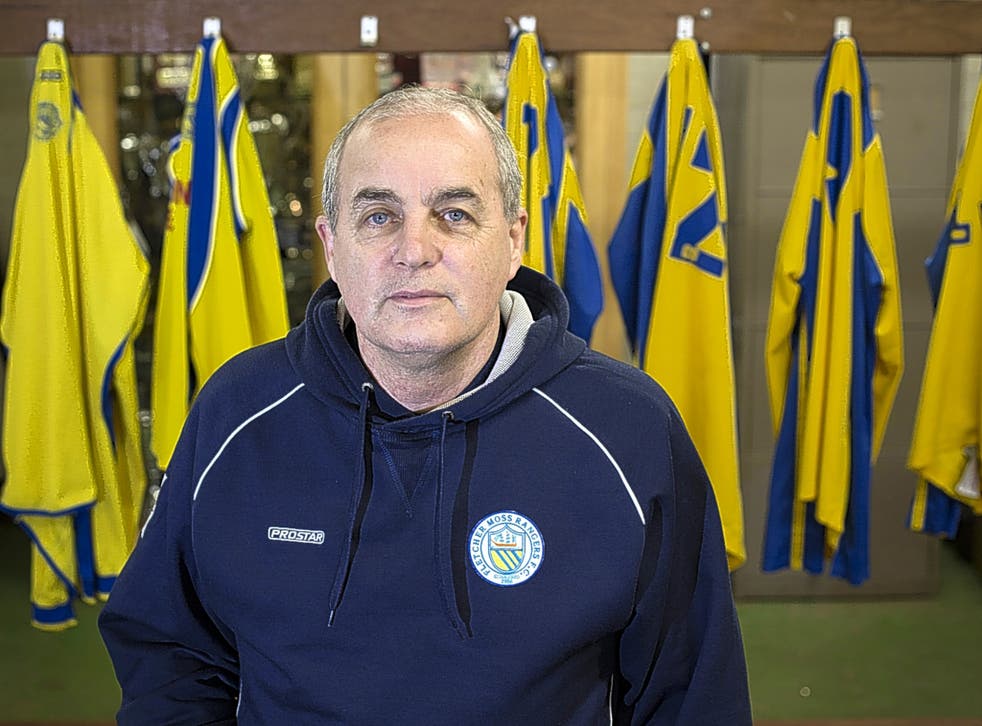 When Marcus Rashford scored his first Premier League goal for Manchester United, Dave Horrocks broke down and wept.
Horrocks is the academy development officer for Fletcher Moss Rangers, the little club tucked between a housing estate and a dual carriageway where Rashford learnt to play and which for so many was a first field of dreams. He had watched the 18-year-old score twice on his debut three days before, in the Europa League against FC Midtjylland. That was something but to score twice against Arsenal was something else.
"I have got fabulous seats a few rows back from the dugouts at Old Trafford," says Horrocks when The Independent went to meet him this week. "On the Thursday night I thought Marcus had just been in the right place at the right time. Anthony Martial gets injured in the warm-up, Marcus has no time to think about what's happening and he scores. Twice. But when he did it again against Arsenal, I was in tears, crying my eyes out while jumping up and down."
There has not been much jumping up and down at Old Trafford. Manchester United had spent the season looking old, tired and feeble. From the end of September to the beginning of February they did not manage a single first-half goal in their own stadium. They had an entire team out through injury and the lifespan of their manager, Louis van Gaal, was being measured out in days.
And then came the boys from the academy and suddenly everyone is talking about Rashford, Cameron Borthwick-Jackson and Timothy Fosu-Mensah – and everyone wants to come down to Fletcher Moss Rangers, where Rashford's career began.
Horrocks has just finished chatted to Norwegian television and there is an interview with Qatar to be scheduled in. If it leads to some Arab investment, it might be worthwhile.
You can sum up Fletcher Moss Rangers by looking around the clubhouse. In one corner there is a very full trophy cabinet, gleaming under the lights. On another wall there are photographs featuring some of the players Fletcher Moss has produced – Wes Brown, Ravel Morrison, Tyler Blackett and Marcus Rashford. Jesse Lingard, who helped provide both of Rashford's goals against Arsenal, was also, briefly, on Fletcher Moss's books. And then, in the middle of the floor, is a bucket to catch the drips from a leaking roof. It costs £10,000 a year to run and the lease of the pitches is extra. Subs are £2. If they can raise £2m, Fletcher Moss could create a facility worthy of the players they have produced.
"Marcus can reach the pinnacle of the sport," says Horrocks. "He can be where Wayne Rooney is now but there are pitfalls and it's not just the temptations that come a young footballer's way. I know one footballer who came through the ranks with us, joined Manchester United, and now, because of injury, is training to become a plumber.
"That is a tragedy because that lad had everything – skill, a supportive family and very level-headed attitude to the game. But he got badly hurt. Marcus is a lovely, level-headed kid with a strong family, a bright lad who's just taken his chemistry exams, but my fear is that there will be the most enormous backlash the moment he stops scoring."
Then Horrocks points out the photographs of all those who have broken through into big-time football. The most affecting is a young Morrison, smiling innocently for the camera. He was one of the finest talents Sir Alex Ferguson had ever been handed until he was dragged down by issues off the pitch.
Rio Ferdinand would take him aside for talks, all of which were ignored. He is at Lazio now, which given that he refused to eat any foreign food when he went abroad with United, packing a hold-all full of baked beans, is a slightly surprising destination for him.
"He looks so happy in the photo," says Horrocks. "That smile would melt a frozen heart. A lovely, lovely lad. He was like Marcus in that all he ever wanted to do was to play football. All he ever said when he was here was: 'Give me a ball'. Unfortunately, he had the attention span of a goldfish.
"And here's the next one who's going to be a star," he says, pointing at a picture of Ro-Shaun Williams, a supremely fast defender, quick enough to have beaten Darren Campbell's 100m record at Ashton on Mersey School, where Manchester United educate their academy players.
"One of our players, who has just signed for Liverpool, is called Ronaldo Brown. He's got a brother called Rivaldo, who played in the same group as Marcus, and a sister called Trezeguet. They have an absolutely brilliant mum who is football mad. She takes her boys everywhere."
All the boys who have broken through have one thing in common. They are black. "I don't know why," says Horrocks. "I have no answer to it but we are the most ethnically diverse club there is. The demographic of our soccer school membership is 48 per cent white, 52 per cent non-white."
Clubs like Fletcher Moss are bringing through footballers all over the country and yet they are taken largely for granted, left to live or die on their own thin resources during the Premier League's boom years.
"When Sir Trevor Brooking was unveiled as the face of the FA, he hosted a seminar at Pride Park," says Horrocks. "During the tea break I buttonholed him and said: 'Sir Trevor, when you talk about grassroots football, what do you mean?'
"He began talking about academies and schools of excellence and I said: 'That's not my definition. My definition of grassroots football is a dad who takes his son to the park, kicking a ball about, dodging his way through dog shit and potholes, and then takes him to his local football club'.
"I said: 'These kids don't just appear on the doorsteps of Liverpool, Manchester City and Manchester United as these little superstars. They come from somewhere.' And his eyes just glazed over. It was if I were talking a foreign language."
Join our new commenting forum
Join thought-provoking conversations, follow other Independent readers and see their replies