Ireland pulls strings as Chelsea flounder again
Chelsea 1 Aston Villa 3: Villas-Boas left with nothing but excuses as Villa's pace quickens decline
Steve Tongue
Sunday 01 January 2012 01:00 Comments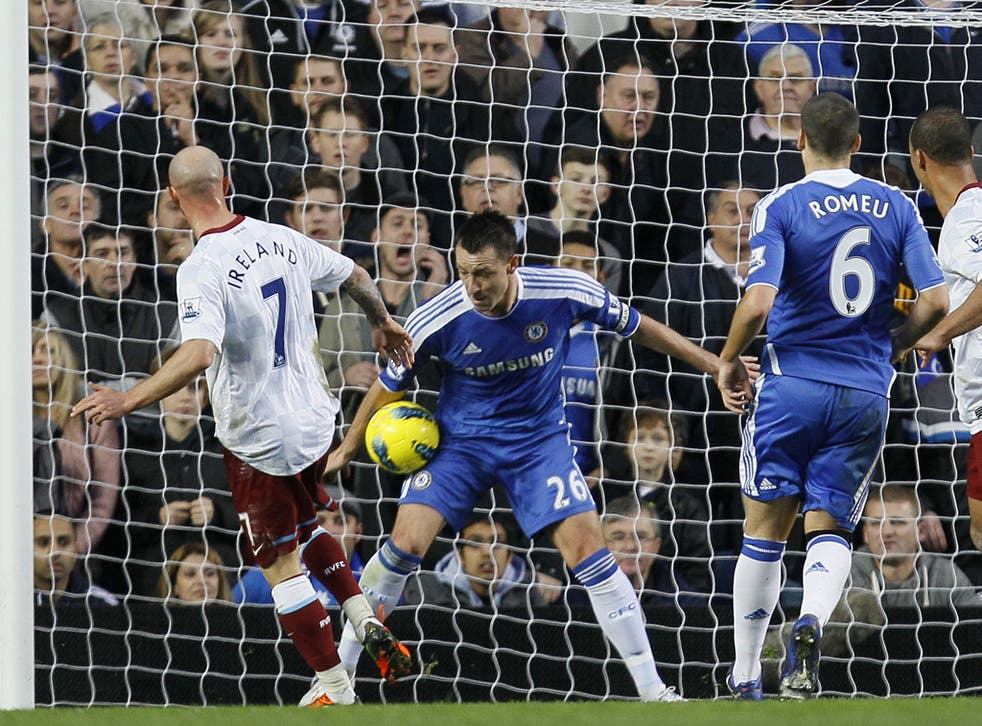 Yet another transitional year in Chelsea's modern history ended in the sort of turmoil hardly unfamiliar to this most dysfunctional of clubs. The early promise of Andre Villas-Boas's tenure having faded some time ago, a recent run of 1-1 draws had provided consistency of only the soggy sort and ended any hope of a serious challenge to regain the Premier League title; and yesterday even a fourth successive stalemate proved beyond them.
The lead provided by Didier Drogba's penalty midway through the first half lasted no more than six minutes and Aston Villa broke out to score twice more and collect their first victory in this ground since Claudio Ranieri's day. Much water and several managers have flown under the Bridge since 2002, yet Chelsea are currently swimming against the tide. An afternoon that began with jeering celebrations at news of Manchester United's defeat ended with one of their own and ejection from the top four places by Arsenal. However much patience may or may not be extended towards the latest manager, a failure to qualify for the Champions' League will hardly be tolerated.
Yesterday the defence again looked horribly vulnerable to the pace that Gabriel Agbonlahor provides, making an agreement on wages with Bolton's Gary Cahill all the more urgent. One of the year's successes, Daniel Sturridge, had possibly his worst game since establishing himself in the side and in consequence Villas-Boas was in the unhappy position of having to look to Fernando Torres for redemption. With Sturridge hauled off, Torres and Drogba spent the last half-hour in their usual uncomfortable tandem, the £50m man hitting the bar with his first touch but unable to improve on a record that reads three League goals in 11 months for Chelsea after scoring four last January before his move from Liverpool.
Meanwhile Villa, with a manager in Alex McLeish whose popularity rating has been well below that of Villas-Boas, is slowly winning friends. It was, he said, his most satisfying game since joining from Birmingham, and with good reason: "A fantastic result going into the new year." His tactics were spot on in sitting back and counter-attacking with the speed of Agbonlahor, who more than compensated for the initial absence of Darren Bent.
James Collins and Richard Dunne headed most things away and Stephen Ireland, such a disappointment since joining the club, was a revelation in between the midfield and Agbonlahor.
Once more, Villas-Boas dwelt on chances missed, although yesterday there were fewer of them than usual. Chelsea had barely created a single one before, to their good fortune, the referee Mark Halsey allowed play to continue as Collins fouled Ramires. The ball ran kindly for Drogba, who was clearly tripped by Dunne.
Drogba was a little lucky with the penalty that brought his 150th Chelsea goal, Brad Guzan almost reaching it before the Ivorian performed the sort of celebration in front of the Shed end that some might have been considered valedictory. But Villas-Boas insists he will not be sold and nor will Salomon Kalou or Florent Malouda.
The home crowd had little time to enjoy the lead. Villa broke out of their shell with a smart move down the left that ended in Charles N'Zogbia cutting a pass back for Ireland. John Terry blocked his first shot, probably with his hand, and could therefore have been sent off had Ireland not knocked the rebound into the net.
The visitors should have gone ahead early in the second half, when N'Zogbia and Marc Albrighton broke with a man spare to send Agbonlahor clear of the defence, only for Petr Cech to save. For 20 minutes as a clutch of substitutes arrived, Chelsea threatened again, with Torres striking the bar and Jose Bosingwa forcing Guzan to turn his drive for a corner. But in the last 10 minutes Ciaran Clark put Stiliyan Petrov through to beat Cech and as the crowd began to stream away, Frank Lampard, initially welcomed as a substitute, lost possession with a careless square pass allowing Ireland to play Bent in for a third goal.
Villas-Boas, who takes his squad to Wolves tomorrow, was left to bemoan having to play two games in 48 hours when others did not. He warned of "career-threatening injuries" that could result, but as Wolves played yesterday as well, it all smacked a little of getting excuses in early. He may need more of them before the season is over.
Chelsea (4-2-3-1): Cech; Ferreira (Bosingwa, 75), Luiz, Terry, Cole; Ramires, Romeu (Lampard, 57), Meireles; Sturridge (Torres, 62) , Drogba, Mata.
Aston Villa (4-4-1-1): Guzan; Cuellar, Collins, Dunne, Warnock; Albrighton (Gardner, 78), Clark, Petrov (Bannan, 84), N'Zogbia (Bent, 78); Ireland; Agbonlahor.
Referee Mark Halsey.
Man of the match Ireland (Aston Villa).
Match rating 6/10.
Register for free to continue reading
Registration is a free and easy way to support our truly independent journalism
By registering, you will also enjoy limited access to Premium articles, exclusive newsletters, commenting, and virtual events with our leading journalists
Already have an account? sign in
Join our new commenting forum
Join thought-provoking conversations, follow other Independent readers and see their replies