Stoke vs Manchester City: Jack Butland dreams of being the new Gordon Banks of England
Having arrived in the Premier League and made his competitive international debut, the 22-year-old keeper tells Simon Hart he wants to emulate a Stoke City legend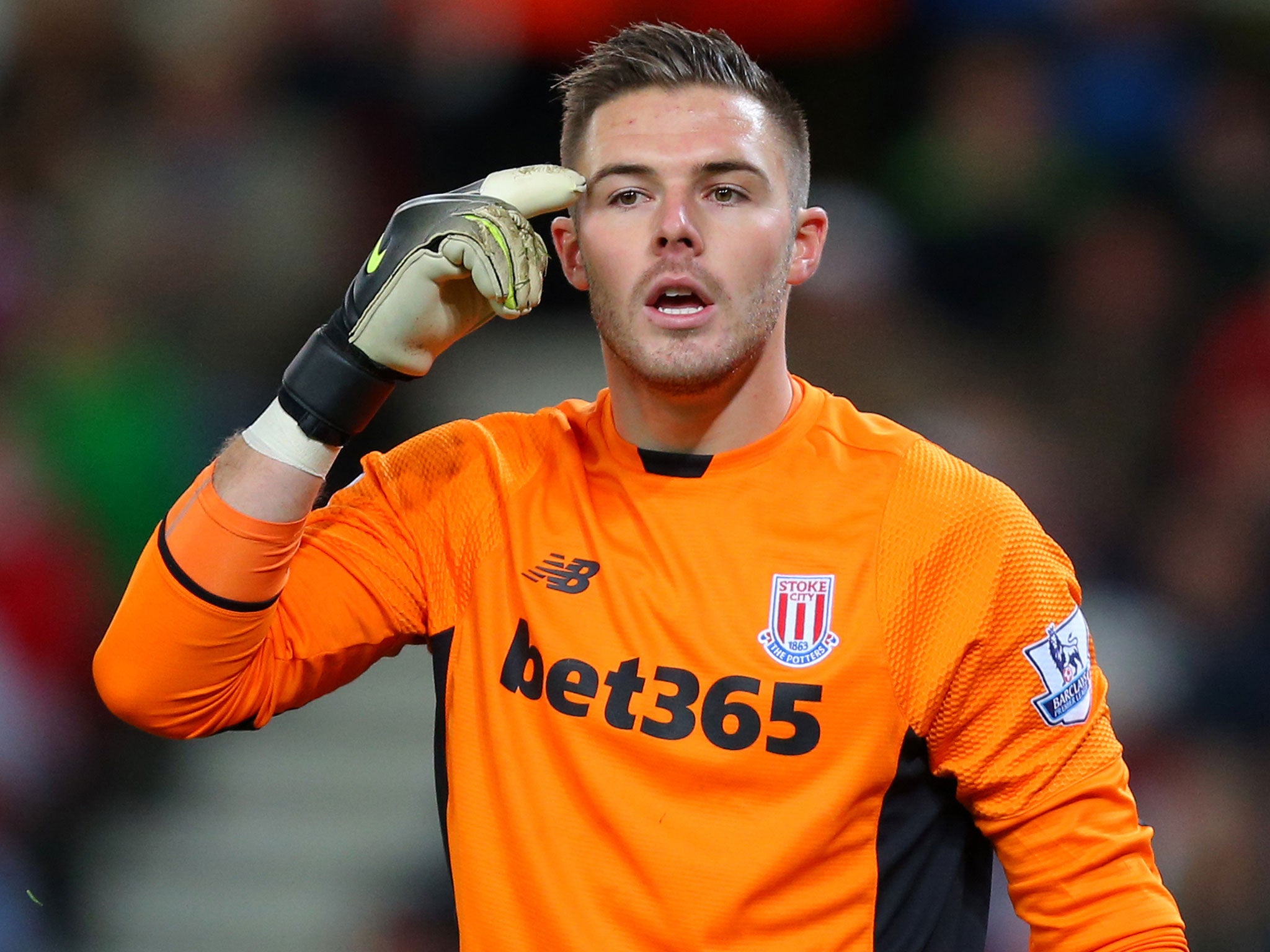 Tuesday was another good night in a season that could barely be going any better for Jack Butland. His Stoke City side progressed to their first League Cup semi-final for 43 years and for Butland, finally established as a Premier League goalkeeper, there was the bonus of a fourth clean sheet in five matches. There was just one frustration, though, as he left the home dressing room after the victory over Sheffield Wednesday.
For the second round running, Butland had missed out on a meeting with Gordon Banks. The legendary Stoke and England goalkeeper, part of the Potters' only previous League Cup-winning side, had been at the game but left early as he was feeling unwell. "I hope he's all right and, hopefully, I'll get to have a good chat with him soon," says Butland. "He's someone who's a massive part of Stoke's history and England's history. It's just an honour to be mentioned in the same sentence so if I could speak to him soon – which, hopefully, we can sort out – it would be really nice. I was actually due to meet him after the last cup game against Chelsea too, but one of the staff forgot to mention that he wanted to see me."
If Banks is a beloved figure from England's past, the 6ft 4in Butland is hoping to be its future, having become Stoke's first England goalkeeper since Peter Shilton when making his competitive debut in Lithuania in October. First, though, the present, and today's meeting with the current national team custodian, Joe Hart. Manchester City are the visitors to the Britannia at lunchtime and, with Hart expected to return to their team after a hamstring injury, Butland will be lining up for the first time in a club match against his England colleague and rival. "If he's fit it'll be great to play against him and then after, whatever the outcome, we'll have a chat and speak like friends," he says.
Butland and Hart go back a long way. They first met at Birmingham City when Hart was on loan there in the 2009-10 season and Butland a 16-year-old apprentice. Today they live in the same Cheshire town and are their country's two leading goalkeepers. "He's always been one to offer up advice or a shoulder if I need it," says Butland who cites, by way of example, the kind words Hart sent him after England's early elimination from the European Under-21 Championship last June. "One of the first texts I had after things didn't go to plan was off him and he said, 'I know how you feel, mate. We all want to win for our country just as much, but it hurts, so if you ever need anything, feel free to ask me.' It was brilliant to get that and it made me feel a lot better. He's been brilliant for me to look up to but also to speak to if I need anything."
Butland and Hart may share a mutual respect but it does not diminish the younger man's wish to usurp him as England's No 1. "If I was Joe I would completely understand if someone else wanted the shirt, it is a natural human instinct to want to be the one who's playing. It is not a lack of respect or anything, I just want to be the No 1 and that never changes training. We are all part of the same team as much as we want to play."
Butland understands well the dynamics of life as a No 2, having waited two and a half years to establish himself between the posts at Stoke, following his January 2013 arrival from Birmingham. "At the time I was 19 and I felt it was somewhere that I could develop and, in an ideal world, it would have been nice for Asmir [Begovic, now at Chelsea] to move on a little bit sooner but it still allowed me the chance to improve.
"There was talk of Asmir going to Liverpool, I think, at the time," he adds. "I never based the move on the fact Asmir was going. I was 19 so it would have been wrong of me to think I was going to go there and play. It didn't happen as quickly as I'd wanted and you have frustrations but I am 22 now and am still young for a goalkeeper. I have worked hard to be where I am and have found myself in a position where I am playing in the Premier League. It has all worked out eventually."
Butland is speaking in a classroom at the Newcastle Academy, a school in Newcastle under Lyme. It is the day after the victory over Sheffield Wednesday and he is here to promote the PlayStation Cup, which is designed to foster school football. Before our interview he takes part in a Q&A session with pupils who ask him, among other things, about Stoke's campaign so far. Mark Hughes' side have lost just two of their last 12 matches and Butland has underlined his quality with some excellent displays, notably in the league and cup victories over Chelsea. "I managed to dive out of the way of all the others so it was really good," he jokes in response to one question about his match-winning save from Eden Hazard in the Capital One Cup shoot-out. "We're in a really good position in the cup, which could potentially get us to a European spot ,which is something we are trying to grasp hold of."
He tells another pupil that he would watch Iker Casillas clips on YouTube as a schoolboy, yet it is more recently, he believes, that his development has accelerated. Speaking to him earlier in the season, he told me that in two specific areas – his starting positions and decision making – he had found a new level. "You practise the basics of goalkeeping every day – keeping the ball out, shot stopping – but it is things like your decision making and your positioning that really take you to another level that puts you in the positions to make saves. It allows you to come and get a through ball that might put you in trouble if you were somewhere else, and it takes the pressure off the defence. That is something that ultimately makes you a better goalkeeper. It looks like you are doing less, and you look like you're in more control. In the last year or so I've found that mental state where I am calm. I am not looking for anything to do. I have made the right decisions."
Butland speaks with impressive maturity for a 22-year-old. He may be dressed like the school jock, in a T-shirt and grey tracksuit bottoms, but he speaks more like the class swot as he tells the pupils of the importance of a good education: "Don't waste it. You can still have a laugh and still enjoy yourself, but if you come out and have done not as well as you'd thought you would, I guarantee you, you will regret it for the rest of your life."
He took his own studies seriously and got nine GCSEs despite having only three full days a week at his school in Bristol in his final year, owing to his training schedule with Birmingham. "When I was growing up one of my biggest things was somebody said to me, 'Three per cent of footballers make it into football'. There are a lot of people that, unfortunately, don't get to make it so if you've not got anything backing it up then you're in trouble."
This grasp of the bigger picture extends to an apparent curiosity about the world outside football. Butland wrote a blog on his website about the affecting experience of looking into the France players' eyes at Wembley in last month's friendly in the wake of the Paris terrorist attacks. "When we actually shook hands with them, I think it was just after the anthem, it was tough," he remembers. "That's when I really saw it and it really got me inside. Just looking at their eyes, they just didn't seem there."
Since his Birmingham days, meanwhile, he has been a supporter of Saving Lives, a UK charity which raises awareness about HIV. "It is something people don't like talking about and just assume is not a big issue but it is," he explains. "It is something people find difficult to talk about and I was pleased I was asked and it's something I've continued to be a part of, even if it is just posting something here and there reminding people of the facts.
"Even if it only affects one person and that one person goes and gets checked or gets some counselling, then we've done our job. If I can help with that then ultimately it is one of the benefits of being a footballer." There are many of those, of course – and hopefully for Butland, a meeting with the great Gordon Banks will be the next one.
Jack Butland was supporting the biggest grassroots football tournament in the country – the ESFA PlayStation Schools' Cup. Since its launch, over 150,000 players have been involved. Visit www.playstationschoolscup.com
Join our commenting forum
Join thought-provoking conversations, follow other Independent readers and see their replies