Jack Butland: Stoke City's goalkeeper on missing 'the rough and tumble of rugby'
As a lover of the oval-ball game, the shot-stopper is happier about his own England experience than that of Stuart Lancaster's side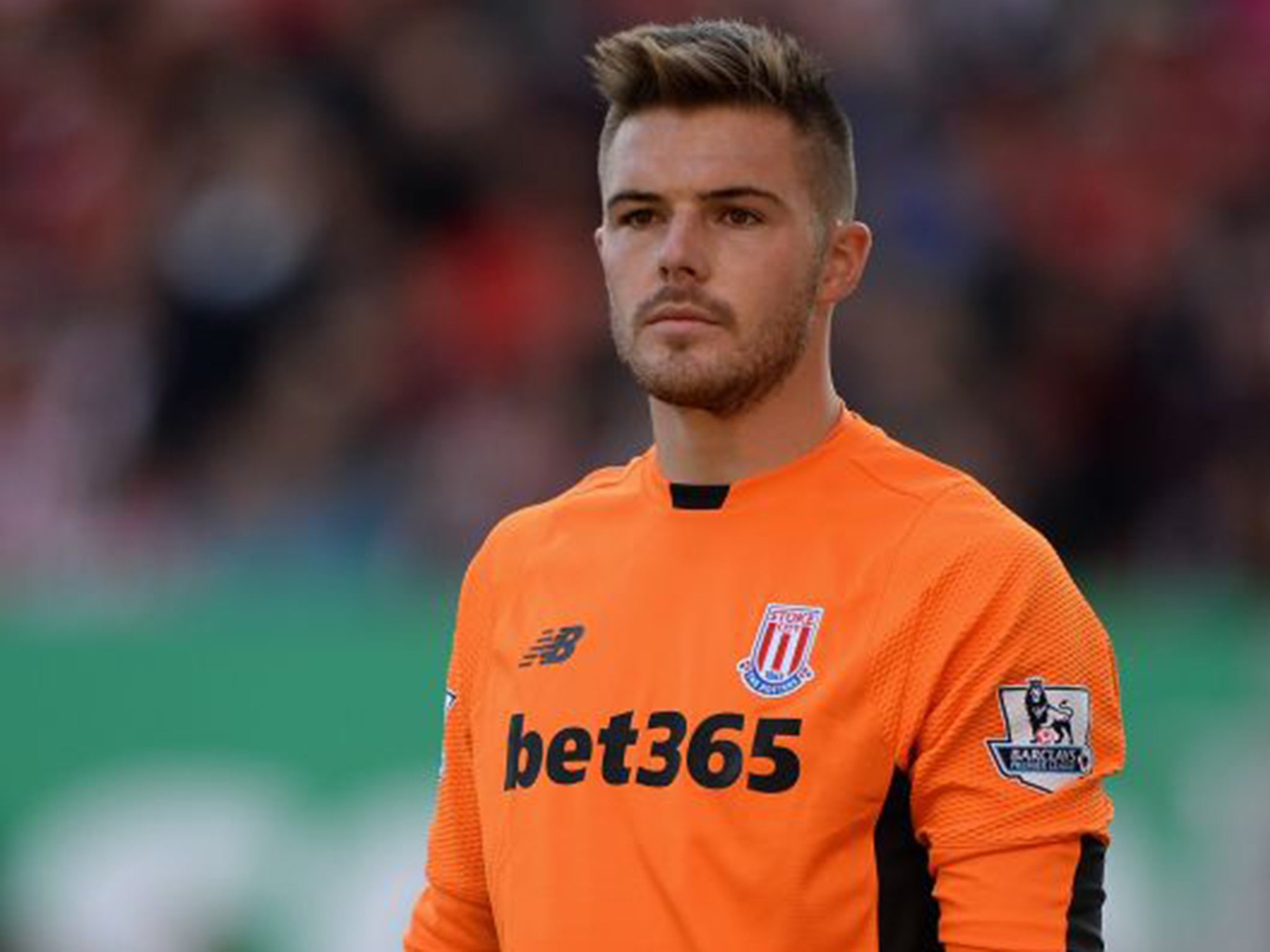 "Devastated." It is the first word Jack Butland reaches for when asked to sum up his feelings about England, but Roy Hodgson need not be alarmed.
It is not his first competitive start for the nation's football team last Monday that the Stoke City goalkeeper is discussing, but the England rugby team. Butland, you see, is that rare thing – a footballer with a deep-rooted love of rugby, and the World Cup demise of Stuart Lancaster's side hurt him as much as the next fan.
"I was devastated, angry and disappointed and everything all at the same time because I wanted England to do well," he says.
Butland, who grew up in a rugby-playing family in Bristol, took advantage of a free Saturday last weekend to attend the "brilliant" Australia v Wales pool match at Twickenham, but it is watching England that really brings out the fan in him.
"I get so into it just as much as football," he says sitting in his club training kit in an office at Stoke's Clayton Wood training ground. "I am on the edge of my seat. I suppose it is because I can't experience that any more. I miss making big tackles. I miss playing rugby. It is what I miss doing, so I get even more into it when I am watching, definitely."
Butland's grandfather and father played the game and he followed in their footsteps at Clevedon Community School. "I was a centre to begin with because I was pretty quick and quite tall, so I used to carry the ball well.
"Then I started playing for the year above and ended up at No 8, somewhere that I could still get it and run with it. I loved the tackling, the rough and tumble of it." His claim to fame, he adds with a smile, is that he once got the better of England's Billy Vunipola in a Somerset Schools' Cup final. "He was huge so we had to tackle him in numbers."
Butland believes rugby helped his development as a goalkeeper because "you are throwing yourself everywhere", but his progression as a footballer meant eventually he had to choose between the two. "I was doing really well with the rugby but then Birmingham came in and football took off. I still carried on playing rugby for a bit but then I broke my thumb playing rugby and Birmingham weren't too pleased."
It was as a schoolboy at Birmingham City that Butland, now 22, first came into contact with Joe Hart, the man whose England place he took for Monday's final Euro 2016 qualifier in Lithuania.
During Hart's season on loan at St Andrew's in 2009-2010, Butland was an admiring 15-year-old schoolboy, travelling up on the train twice a week from Bristol for training.
"Joe is someone from the time at Birmingham that I've looked up to," he says of the Manchester City keeper, six years his senior.
"He was the Under-21s' goalkeeper, he then went on to be England No 1 so he is someone I looked up to and I thought 'I want a piece of that'. I'd like to think now I've caught up with him to a certain extent."
It ensures a respectful rivalry when the pair are training together. "He is rightly England's No 1 at the minute, he has over 50 caps that he fully deserves. He knows I want it and I know he wants to keep it, so that is what the competition is.
"I want to make the best save in training and he wants to make the best save in training. It is a friendly but competitive environment. I don't want to sit here and wait till he's finished. I would like to try and get my games while he is still around."
What is certain is that England manager Hodgson now has a "much more accomplished" deputy than the young man called into the England squad as third goalkeeper for Euro 2012. When Butland made his international debut in August that year against Italy – three long years before his second cap in Lithuania – his only senior experience had been on loan at Cheltenham Town.
Today, after Championship football with Birmingham, Barnsley, Leeds and Derby, he has finally graduated to the status of a Premier League regular with Stoke, underlining his rich promise with a man-of-the-match display at Norwich three games into the season.
"I could finally show people and could finally watch Match of the Day and see my own performance."
Butland cites improved decision-making and mental approach as big factors in his development, but it is also worth noting his attitude. It is harder to imagine a more mature 22-year-old footballer – something he puts down to the support of his parents, Matt and Jill, and girlfriend Steph. It was his mother who texted him on Monday before the Lithuania match and told him to "go and take your opportunity".
"She always wants to know what is going on and is scouring the internet and finding things. From moving to Birmingham into digs at 15, I have been away a long time so she does everything to keep in contact with me. Even if I lay low, she knows – eating properly, what I am watching – what I am doing."
There seems little danger of him eating the wrong things with Steph, whom he began going out with "eight years ago" this week. "We were at the same school and she has been with me since before football took over. She helped me get where I am, having someone I can speak to. She has just finished uni and come out with a first in sport and exercise science," which means "there are not many biscuits in the house. She is on top of everything, she is good at cooking as well.
"I try and do a bit but she is brilliant. She has all the alternatives to cut out the bad stuff."
It is hard to imagine any bad stuff at all in Butland's world right now – apart from England's rugby results, obviously.
Swansea City v Stoke City: Monday, kick-off 8pm, Sky Sports 1
Join our commenting forum
Join thought-provoking conversations, follow other Independent readers and see their replies