Jack Wilshere 'can become one of the best players in the world', says Arsene Wenger
Arsenal midfielder was impressive against Brazil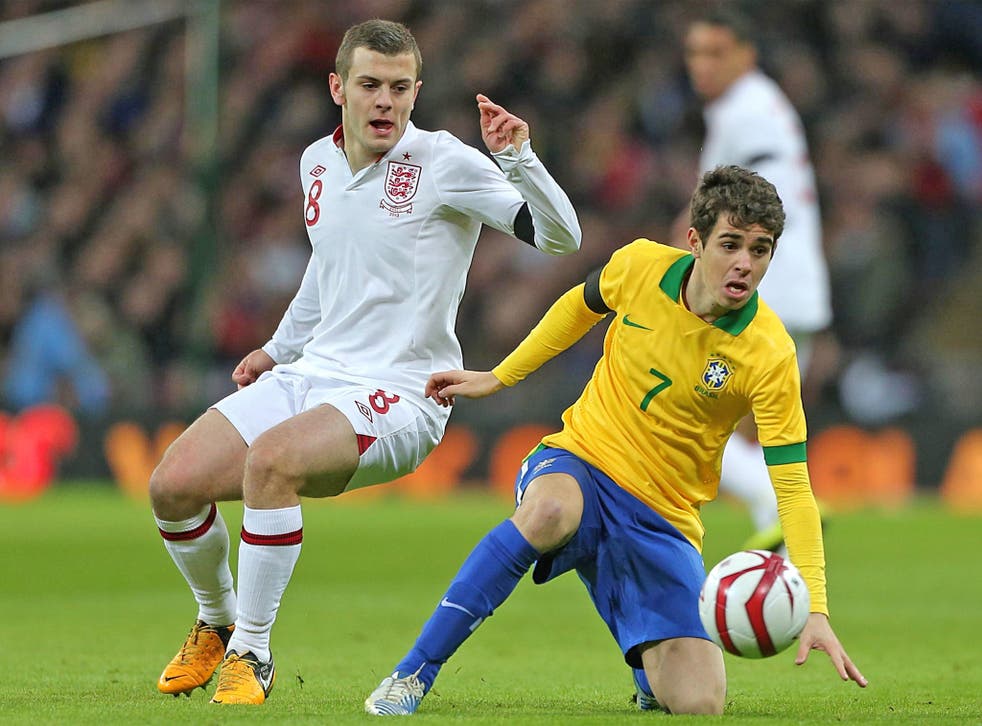 Arsene Wenger subscribes to England captain Steven Gerrard's view that Jack Wilshere can become one of the best players in the world.
Wilshere, 21, was the star of the show for England as they beat Brazil at Wembley on Wednesday night, the match marking his first start for his country since 2011 owing to a serious ankle injury.
If anything, Wilshere's stock rose during his absence, with many citing his creativity as the component England were missing at last summer's European Championships, and his performance against the South Americans suggested the hype was justified.
Wenger has never been one to get carried away, though, and while happy to laud Wilshere's progress for club and country, he this morning promised to make sure his talisman does not suffer from burnout.
"You do not want to set any limit on the development of any player, especially when he plays at that level at his age," Wenger said ahead of tomorrow's game at Sunderland.
"The most important thing for me will be to keep his passion for the game, and keep the attitude of wanting to become a better player. If he keeps these two ingredients that are not always easy, he can of course become a fantastic player. He is already one, but he can become one of the best in the world, yes."
Wenger handed Wilshere his professional debut against Blackburn in 2008 and has nurtured him from a raw teenager to the player he is today.
As a result, he is understandably keen to make sure he gets as much out of him as he can, saying he worries about the player taking on too much at such a young age.
"It is not just the physical aspect but the mental pressure every time he plays. We will have to manage him well physically to make sure he doesn't face that burnout," he said.
"I had in fact expected Jack to play only a part of the game on Wednesday but it didn't happen and because of his quality he will be exposed to that, the overuse of his quality, you can understand that. He will have to be managed like everyone else."
Wednesday's show was proof of what many have long said Wilshere can do. At a time when Paul Gascoigne is in the news - albeit not for the happiest reasons - comparisons have been drawn between England's star playmaker of the 1990s and their new hope.
"As a very young boy he had a very special talent of course. But when you see a boy at 16 years of age, you never know how he will develop," Wenger said of his discovery.
"Let's not forget that he is only 21 now, and he starts his career really because he was out for 17 months. The influence he has today on the England national team already is absolutely fantastic."
Wilshere is a product of Arsenal's much-heralded academy, although the head of it, Liam Brady, is to step down in 2014.
Former Arsenal captain Patrick Vieira, now the football development executive at Manchester City, and ex-Gunner Dennis Bergkamp have both been linked with the role, and Wenger is not counting either of them out.
"Patrick Vieira can be a candidate if he wants to do it. All the former players are of course candidates. What is the most important for me is the competence of the person and the experience in this kind of department. It's a very specific and special job," he said.
The Frenchman also confirmed that defender Thomas Vermaelen will miss tomorrow's game with an ankle injury, while Kieran Gibbs (thigh) remains sidelined. Gervinho is back from the African Nations Cup and Wenger expects Aaron Ramsey and Francis Coquelin to be available.
PA
Join our new commenting forum
Join thought-provoking conversations, follow other Independent readers and see their replies