Jay Rodriguez charged by FA after allegations he racially abused Brighton defender Gaetan Bong
The West Brom forward has until 16 February 2018 to respond to the charge
Luke Brown
Thursday 08 February 2018 18:56 Comments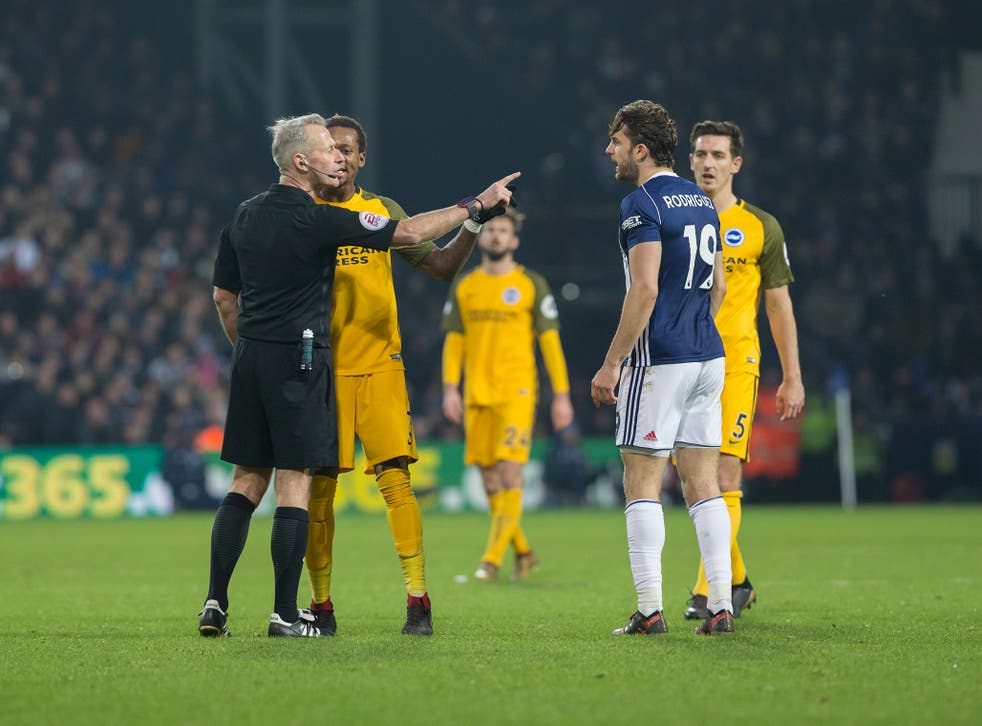 West Brom striker Jay Rodriguez has been charged by the Football Association after allegations he racially abused Gaetan Bong in last month's Premier League match against Brighton.
The pair clashed during the match and Rodriguez is alleged to have used "abusive and/or insulting words which included a reference to ethnic origin and/or colour and/or race," according to the FA.
Rodriguez has until 16 February 2018 to respond to the charge. He strongly denies any wrongdoing and West Brom immediately announced that they would contest the charge. "Absolutely gutted and in disbelief at the situation I find myself in," Rodriguez tweeted. "I 100% deny the false allegation and will take the correct legal advice to prove my innocence."
Richard Garlick, Albion's Director of Football Administration, said: "As a Club we remain fully supportive and committed to backing Jay throughout this process."
A source close to the player told The Independent that Rodriguez was "deeply upset" by the accusation of racism, which he vehemently denies.
West Brom manager Alan Pardew commented after the match he found it "very difficult" to believe that Rodriguez would make a racist comment, saying: ""Jay Rodriguez claims that the allegation, whatever the allegation is, is untrue."
Footage from the match shows the pair bumping into one another and arguing, before Rodriguez holds his nose and waves his hands in front of his face as if to gesture that Bong smells.
Bong immediately complained to referee Martin Atkinson, who included the complaint in his report. Bong claimed that Rodirguez told him: "You are black and you stink."
Bong elaborated on the incident during an appearance on French television last month.
"There was a lot of tension between the players because it was an important game," he told SFR Sport.
"He was upset because I blocked him and after that he said some words. He said racist comments.
"I looked for the referee to tell him. First the referee told me to get back in position. I didn't accept that so easily. I am a black man. We're in 2018 and we cannot tolerate this. I hope there will be sanctions.'
Bong later added: "He did that because of the colour of my skin. I asked him to repeat what he said and I think he realised what he said and tried to limit the damage. And I replied to him: No, what you said was racist.
"At the end of the game he tried to say: No I didn't say that. But I said: You can't say that. Not to a human being. And most of all not to a black man, at this period, with everything that is happening in the world."
Register for free to continue reading
Registration is a free and easy way to support our truly independent journalism
By registering, you will also enjoy limited access to Premium articles, exclusive newsletters, commenting, and virtual events with our leading journalists
Already have an account? sign in
Join our new commenting forum
Join thought-provoking conversations, follow other Independent readers and see their replies