John Henry admits Anfield development 'obstacles'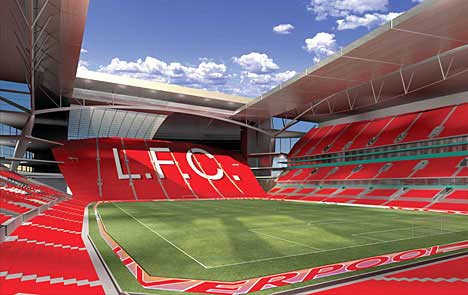 Liverpool's principal owner John Henry has admitted their preferred option of redeveloping Anfield may not be possible as there are "so many obstacles".
The issue of whether to leave their home of over 100 years has been a thorny one since it became apparent the new stadium in Stanley Park promised by former owners Tom Hicks and George Gillett was never going to materialise.
When Fenway Sports Group took control of the club last October they set about reassessing whether Liverpool could remain at a redeveloped Anfield - as their baseball franchise the Boston Red Sox had done at their historical home of Fenway Park.
But Henry has accepted there are a number of difficulties, from financial, logistical and geographical points of view, associated with revamping Anfield into a 60,000-plus capacity arena.
"Anfield would certainly be our first choice. But realities may dictate otherwise. So many obstacles..." he wrote on Twitter.
However, the club have distanced themselves from reports which suggested they were already resigned to building a new ground.
"The club's position on the stadium issue remains unaltered and no decision has been made," said a spokesman.
"We are continuing to examine both the options - the refurbishment of Anfield and the new stadium in Stanley Park.
"A huge amount of work on that is ongoing and an announcement will be made in due course."
Moving to Stanley Park would overcome many of the restrictions the club currently have to work with at Anfield as a new purpose-built stadium could provide the increased seating and hospitality opportunities required to boost matchday revenue.
And, having seen Manchester City follow the likes of Arsenal in securing a multi-million pound naming rights deal for their ground, a similar route for the Reds would help offset some of the estimated £300million building costs.
Join our commenting forum
Join thought-provoking conversations, follow other Independent readers and see their replies