The Independent's journalism is supported by our readers. When you purchase through links on our site, we may earn commission.
John Terry return will help Chelsea regroup but Juan Mata is key absentee
Swansea City 1 Chelsea 1
Steve Tongue
Monday 05 November 2012 00:00 Comments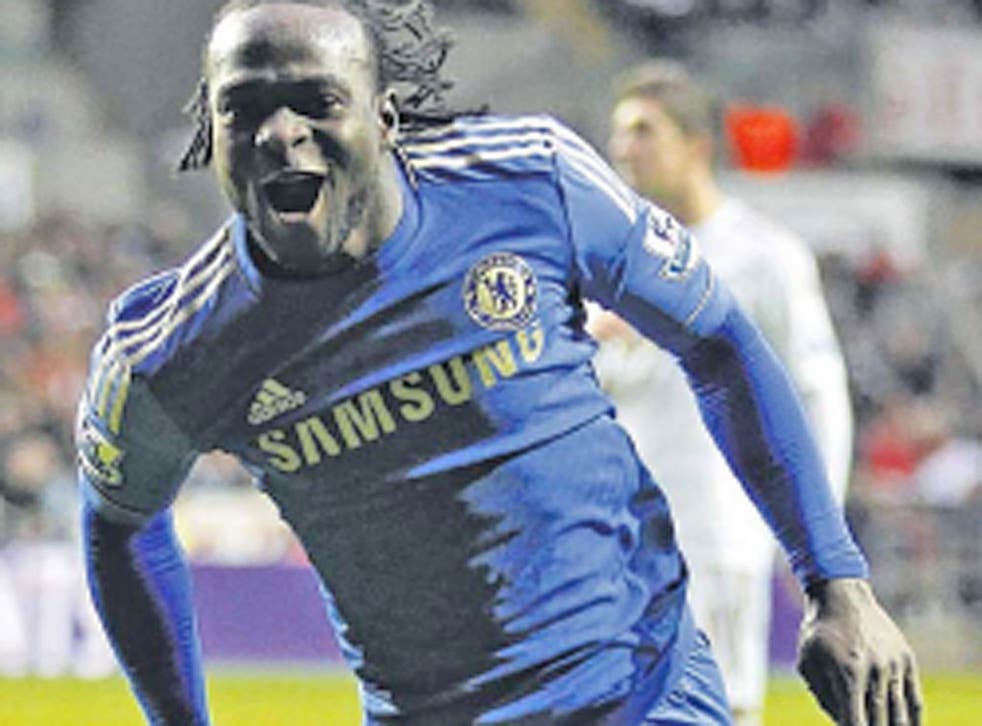 Chelsea will finally conclude one inglorious non-footballing episode this week even as another one gains momentum. Their captain John Terry's availability after ending his four-match domestic suspension puts an end at last to the saga of his abuse of Anton Ferdinand 13 months ago just as the club pursue grave allegations of their own against the referee Mark Clattenburg.
Terry is expected to play both in Wednesday's Champions League tie at home to Shakhtar Donetsk, who beat them 2-1 a fortnight ago, and then at home to Liverpool on Sunday, by which time Chelsea could have fallen four points behind Manchester United at the top of the table. Conceding a late equaliser to Swansea City's Pablo Hernandez on Saturday meant dropping two points in a 1-1 draw and allowing United to overtake them, as well as extending the run without a clean sheet to six games.
"John's a big player for us and we welcome him back," the manager Roberto Di Matteo said. "He is a fantastic defender, very influential and used to the big games like the one against Shakhtar." Di Matteo calls Wednesday's game the most important since his team somehow managed to win last season's final; they trail Shakhtar by three points and are vulnerable to Juventus, only one point behind them.
Saturday's evidence was that more important than Terry's input is that of the midfielder Juan Mata, who hopes to have recovered from a hamstring injury. Victor Moses, deputising, may have scored his first league goal for the club but is not yet at anything like the same level; Oriel Romeu was so poor he was substituted at half-time.
In the meantime Chelsea will again find players and officials being interrogated by the Football Association governance department as the Clattenburg investigation begins. As The Independent on Sunday revealed, the club felt that under the FA's own rules, they had no option but to make a formal complaint once both John Obi Mikel and Ramires claimed to have heard the former racially abused.
How straightforward in comparison is life at Swansea, where they have effected a smooth change of manager, maintained their style and beliefs and after matching Manches-ter City, Liverpool and Chelsea in the past week now need focus only on achieving better results against lowlier opposition. That task begins at Southampton on Saturday.
Champions League: Eye on the opposition
Shakhtar Donetsk maintained their 100 per cent league record with a 2-0 win over bottom club Metalurg Zaporizhya ahead of Wednesday's trip to Stamford Bridge. A Douglas Costa penalty and Luiz Adriano bicycle kick secured Shakhtar's 14th win from 14 games to keep them 12 points clear at the top.
Match facts
Swansea: TREMMEL 6/10, RANGEL 6, MONK 7, WILLIAMS 7, DAVIES 6, BRITTON 7, DE GUZMAN 7, KI 7, HERNANDEZ 8, MICHU 6, ROUTLEDGE 7
Chelsea: CECH 6, COLE 6, CAHILL 7, IVANOVIC 7, AZPILICUETA 6, HAZARD 7, ROMEU 4, OSCAR 7, MIKEL 6, MOSES 6, TORRES 7
Goals: Swa Hernandez 88. Che Moses 60. Subs: Swa Graham 7 (Britton, 65), Dyer 7 (Routledge, 65), Shechter (Michu, 79). Che Ramires 6 (Romeu, h-t), Sturridge (Moses, 72), Bertrand (Oscar, 79). Booked: Swa Britton, De Guzman, Ki, Shechter. Che Azpilicueta. MoM Hernandez. Match rating 6/10. Poss: Swa 46% Che 54%. Attempts on target: Swa 7 Che 7. Ref K Friend (Leics). Att 20,527.
Register for free to continue reading
Registration is a free and easy way to support our truly independent journalism
By registering, you will also enjoy limited access to Premium articles, exclusive newsletters, commenting, and virtual events with our leading journalists
Already have an account? sign in
Register for free to continue reading
Registration is a free and easy way to support our truly independent journalism
By registering, you will also enjoy limited access to Premium articles, exclusive newsletters, commenting, and virtual events with our leading journalists
Already have an account? sign in
Join our new commenting forum
Join thought-provoking conversations, follow other Independent readers and see their replies