Jonas Gutierrez angry with Robin van Persie over Tim Krul spat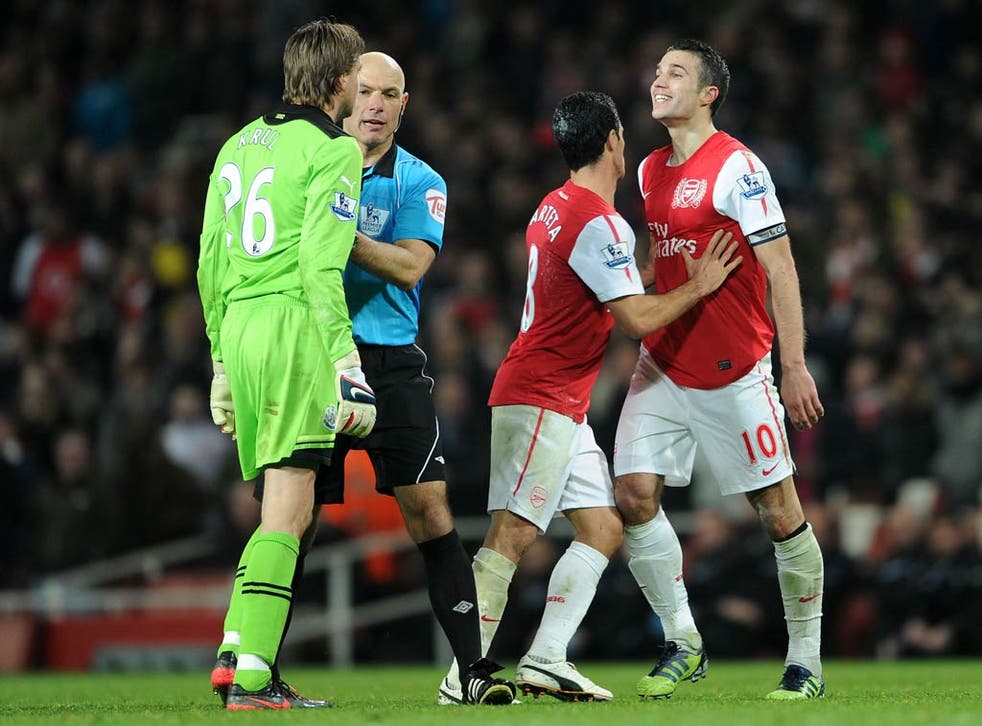 Newcastle winger Jonas Gutierrez has hit out at Arsenal striker Robin van Persie following his bust-up with compatriot Tim Krul.
A simmering row between the two Dutchmen boiled over during the closing stages of the Magpies' 2-1 Barclays Premier League defeat at the Emirates Stadium on Monday night after Thomas Vermaelen snatched victory for the Gunners in the fifth minute of injury time.
Gutierrez told the Journal: "I think Van Persie was wrong. There was no need for him to do that - they have won the game, it is finished.
"I can't understand a person like that. I think it is not right. When you feel like that, it is because you are not a good person.
"I don't care about the football, I'm talking about the person. When you have people who do that, it's not right.
"We are all used to getting kicks, it's a sport of contact. But when you have things like that, it is not right. It is not easy to accept.
"He was the only Arsenal player who reacted like that. The others were saying to him, 'Calm down, calm down'. When you do that, the fans go crazy as well, so it's no good for the atmosphere of the sport.
"It didn't help the game - both sets of fans are having a good evening, they're enjoying the game.
"He made a big mistake. I say well done to Tim for staying calm. In a second, you can lose your mind, but we have to stay focused.
"I was pleased with Tim. You have to think of the next game and the rest of the season at that moment. It is no good to have a reaction and get a three-game ban or something like that."
Van Persie, who had earlier cancelled out Hatem Ben Arfa's opener with his 33rd goal of the season, clashed with goalkeeper Krul on several occasions as the home fans jeered him for what they believed was time-wasting with Newcastle looking likely to emerge from the game with a hard-earned point.
However, the feud escalated after Vermaelen's late strike as players from both sides became involved in an angry confrontation which delayed the restart.
PA
Register for free to continue reading
Registration is a free and easy way to support our truly independent journalism
By registering, you will also enjoy limited access to Premium articles, exclusive newsletters, commenting, and virtual events with our leading journalists
Already have an account? sign in
Register for free to continue reading
Registration is a free and easy way to support our truly independent journalism
By registering, you will also enjoy limited access to Premium articles, exclusive newsletters, commenting, and virtual events with our leading journalists
Already have an account? sign in
Join our new commenting forum
Join thought-provoking conversations, follow other Independent readers and see their replies