Jonny Evans: Defender has no regrets about leaving Manchester United after almost a decade at Old Trafford
The Northern Irishman was sold last summer by Louis van Gaal, but tells Mark Ogden that he holds no grudges against the Dutchman, why the move to West Brom was the right one for his career and how he cannot wait to play in this summer's Euro 2016 finals
Mark Ogden
Chief Football Correspondent
Friday 04 March 2016 00:32 Comments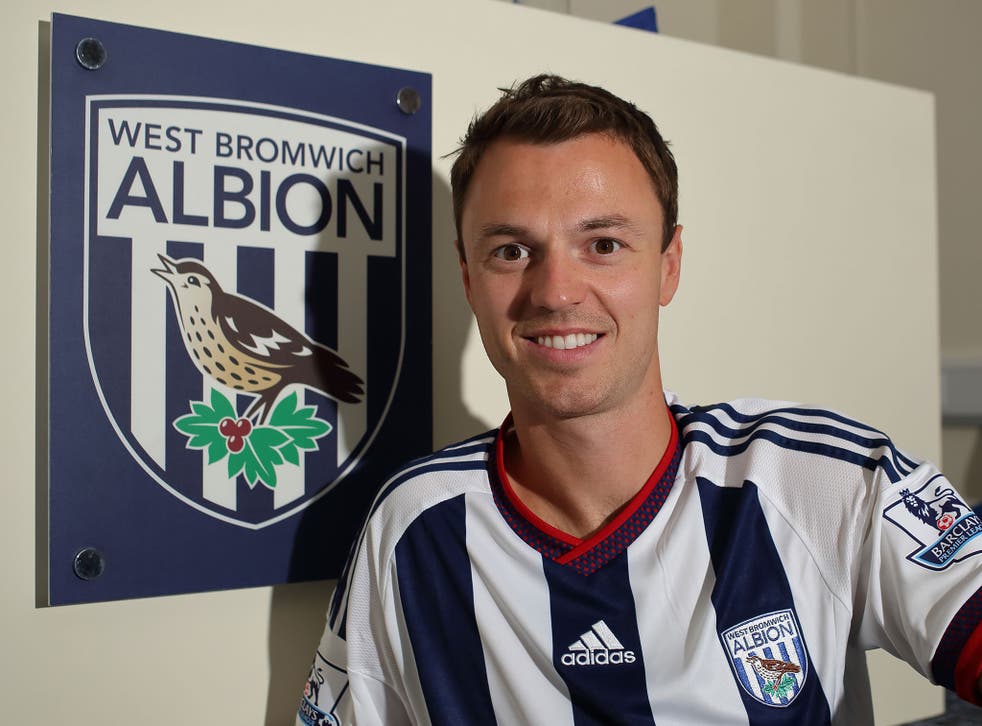 Jonny Evans has just made the 75-minute journey from West Bromwich Albion's training ground to his Cheshire home which, on a good day, is nothing more than a 10-minute drive to Manchester United's base at Carrington.
The M6 between Birmingham and Manchester is hardly one of the world's most rewarding routes, but for the 28-year-old centre-half it might as well be a road paved with gold for all the satisfaction it has brought during the six or so months he has spent travelling up and down it.
Since leaving United to complete a £6m transfer to The Hawthorns last August, Evans has made 25 appearances for Tony Pulis's team in just over six months.
It took the Northern Irishman 18 months to make his final 25 appearances for United, so as he sits back and reflects on his move over tea at the kitchen table before his former club's visit to The Hawthorns on Sunday, Evans has absolutely no qualms about taking the daily 150-mile round trip to work.
"I have to say, I have really enjoyed it," Evans says. "When you are out of the team and not playing regularly, there is always that question in your head of 'When am I going to play next?'
"I have enjoyed the feeling – players talk about it all the time – that Saturday feeling of going out and playing football, and that has been one of the biggest things. I had a fantastic time at United and I loved it, but there came a point when I had to make a decision. I wanted to play, wanted to show people what I could do.
"I have ambitions to become as good a centre-half as I can be and show people I can be as good a player as I can be and finish my career with no regrets."
Evans is fighting a losing battle to face United this weekend, having aggravated a hamstring injury during the FA Cup defeat at Reading two weeks ago. The game comes almost a year to the day since the low point of his United career, when an incident with the Newcastle United forward Papiss Cissé at St James' Park led to Evans being suspended for six games for spitting – an accusation he continues to deny.
Despite vociferously protesting his innocence, with the full support of United and manager Louis van Gaal, Evans was forced to accept his ban and any damage to his reputation it may have caused. Although the suspension cost him his place in the team, Evans does not believe that the incident cost him his United career.
"Did the ban kill me at United? No, I don't think it did," Evans says. "The manager obviously made the decision to let me go but, in the back of my head, I knew it was coming. But I had no qualms about his decision because I was already looking forward to a new chapter. I knew it was coming and I welcomed it, in a way.
"When he called me into his office at the end of last season and told me I could find another club, I just thought to myself that this is the time for me to start something fresh."
And as for the spitting incident, Evans insists it has been forgotten about, both by him and the football community. "I didn't think it [the incident] would become a problem for me long term, in terms of how people would view me or whether it would be something that would never go away," he says.
"I think it has gone and I had forgotten about it myself until you brought it up! But I honestly had no thoughts that it would hang over me or keep getting dragged up. Those things get forgotten about in football, look at Luis Suarez for example – things do get brushed aside. It will always be the case and football will always take over.
"I did try to make an effort to stop spitting on the pitch at the time, but you can't. It made me aware of it, but I haven't consciously thought about it on the pitch. There are so many things going on in a game of football that it is impossible to think what you are doing all the time."
Van Gaal's public support of Evans at the time of the Cissé incident was unwavering and the player's respect for the Dutchman is clear as he reflects on last summer and the three-month period between being told he could leave and ultimately completing his move away.
While the likes of Victor Valdes and Rafael da Silva were left behind in Manchester as United began pre-season preparations in the United States, Van Gaal allowed Evans to travel with the squad and build his fitness before any move. And although he accepts that Van Gaal is a demanding character, Evans insists it was a privilege to work with the former Ajax, Barcelona, Bayern Munich and Netherlands coach.
"Louis van Gaal is a fantastic coach and there is a lot of stuff I really liked under him," Evans says. "I feel fortunate that I have had the chance to work with him because I do think that myself, and every other player there, will have learned something from him.
"Even though I wasn't playing, I appreciated the stuff he was doing and I think he gave me a fair crack of the whip. Whenever I had the chance to play, I didn't perform to my best and I didn't believe that my performances warranted me getting back in the team. I can be honest about that. I can look at myself and analyse my performances.
"I don't think it was a case of not believing in my ability, that I couldn't reach those performances I needed to, but if I am honest about that time, maybe I didn't. But I don't have any regrets about leaving when I did. I am fortunate that I have gone now instead of maybe two to three years down the line. It was the right time for me to go and I am enjoying myself."
Playing for a team with different objectives and priorities has been a learning experience, however. "It is totally different at West Brom and it has been an eye-opener for me," Evans adds. "I have had spells at international level when you are playing against superior teams, so it is a different type of game, and that has helped me.
"But here, you have the other side of it, when you are looking at avoiding relegation and having to get the points for safety as quickly as possible. That's what we are aiming for.
"Winning games in the Premier League is such a big thing, especially for a club like West Brom, and the feeling when you achieve that is fantastic. And one thing I would say about Tony Pulis is that I have been very impressed by how he gets his team working really hard. He is a great motivator."
Barring an unlikely late-season collapse, Evans and West Bromwich will once again be fighting for Premier League points next season, but there will be no summer off for the Belfast-born defender.
Having helped Northern Ireland qualify for a major tournament for the first time in 30 years, Evans will form part of Michael O'Neill's squad at Euro 2016 in France, with a Group C campaign against Germany, Poland and Ukraine on the horizon. And, after winning 10 major honours with United, he admits that the prospect of playing on the big stage with his country will be the realisation of a dream.
"I can remember having a conversation with my dad a couple of years ago and we were talking about my career," Evans says. "At the outset, I was fortunate to go on loan to Sunderland, where we won promotion by winning the Championship, so that was a success for me.
"I also won trophies at United, but my international career had hit a plateau and I remember saying that it was the one area of my career that I didn't want to end up having regrets about.
"I wanted to be able to walk away from international football having achieved something and feel part of something special. So this summer gives me a carrot to achieve something. It is a European Championship, but the whole world will be watching.
"I definitely saw progress when Michael O'Neill took over. He changed the mentality around the set-up. He had a meeting at the end of the last campaign and set out a vision and he gave us that belief that we could go on from there.
"From that point, I remember going out of the meeting thinking, 'We have a chance,' and we ended up winning the group. And now we have Germany as our final group game, in Paris, which is amazing for us."
It is no surprise that Evans is smiling all the way down the motorway.
Register for free to continue reading
Registration is a free and easy way to support our truly independent journalism
By registering, you will also enjoy limited access to Premium articles, exclusive newsletters, commenting, and virtual events with our leading journalists
Already have an account? sign in
Join our new commenting forum
Join thought-provoking conversations, follow other Independent readers and see their replies