Everton vs Liverpool: Jordan Henderson starting to wow the Liverpool faithful
Midfielder who will face Everton today has come a long way since showing off on Soccer Am and it has been down to hard work. Now he just wants to add to the goal tally, he tells Melissa Reddy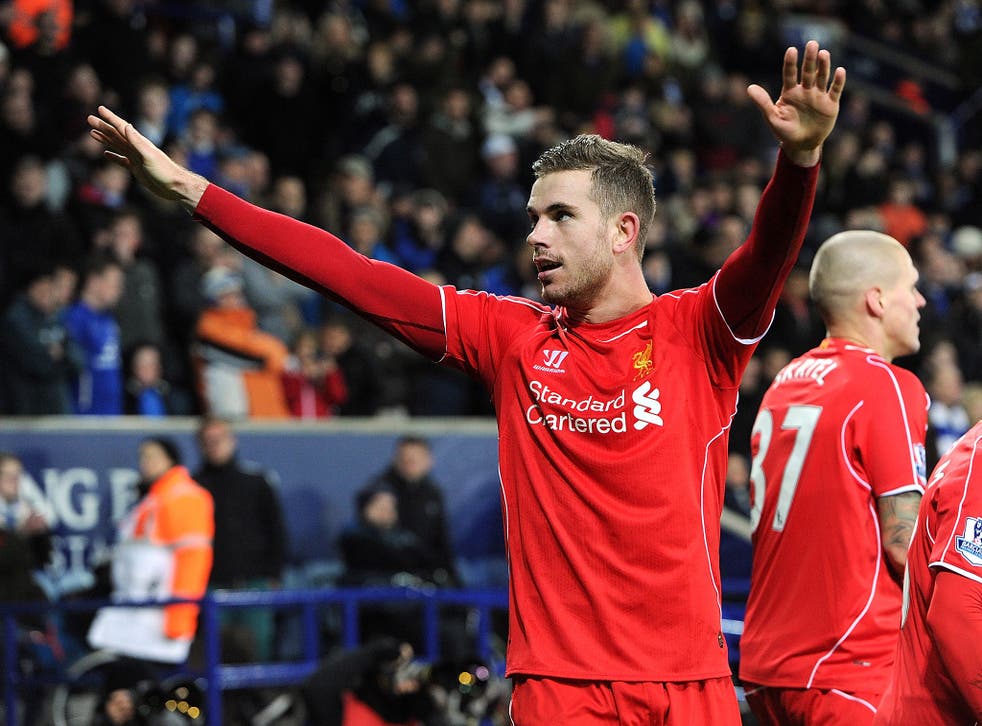 Jordan Henderson has covered quite some distance since dropping his shorts on Soccer AM's Skill Skool in 2008 to reveal a pair of underpants with "wow" scribbled on them as the climax to a ball-juggling trick. He cringes at the recollection: "We quickly had to come up with a few things that would make it more fun and entertaining," the Liverpool midfielder says. "I'm using young and stupid as my excuse."
That footage also serves as a reminder of how different it could have all turned out. Nathan Luscombe, a year Henderson's senior at Sunderland's Academy of Light, was victorious in the TV challenge. He is now registered to Celtic Nation in the First Division of the Northern League. "When you're young, no one really knows what's going to happen and how far you're going to get," Henderson, 24, adds.
That was certainly the case with Henderson, who will line up in Liverpool's midfield for the Merseyside derby today, having become a fixture in the team despite a rocky start to life Anfield: question marks have dogged him.
Could he secure a football career despite suffering from Osgood-Schlatters, a growing pains condition requiring regular treatment? Was the sport the correct choice for someone who excelled at badminton and table tennis? Could he justify the £20m fee Liverpool paid Sunderland for him? Does he really run from his knees, as Sir Alex Ferguson said?
Everyone from the Liverpool owners (so says former football director Damien Comolli) to Joey Barton to the pint army at The Albert outside Anfield have voiced concerns since his move to Merseyside – not that it bothers Henderson.
"When it's not going so well, I keep myself away from all the coverage and focus on what I need to do to fix what's wrong," he says when we meet at Melwood after training. "When you go through difficult moments, it is very hard to see through it, but it's important that you do and it comes down to mental strength, where you force yourself to look beyond what's happening now to what you want to happen.
"At the same time, when things are good and people are putting you up on a pedestal, you've got to close yourself off from that and continue concentrating on what you need to achieve."
Everton vs Liverpool combined XI

Show all 11
"Smaller and skinnier" than the other hopefuls at the Academy of Light, as its manager Ged McNamee recalled in 2011, Henderson always had to dig deeper, to show more. "He's just a smashing lad with bags of natural ability and a strong work ethic," says McNamee. "He'll always keep going and will always give you 100 per cent."
That assiduousness has ensured Henderson survived football's fascination with finding fault, especially in his early days at Liverpool. "You have to fight things like doubt and believe that all the work you do will help push you on, that's when you have to give extra – not give up.
"With the criticism, you can't take it too personally. People will always have opinions, you just have to remember who you are, what you've sacrificed and what you're working to achieve."
It is this tunnel vision that helped Henderson cope when his father was diagnosed with cancer last year. The revelation came with a request from his dad: "Try to be man of the match in every game you play." He was exactly that in four of the next five fixtures. "I wouldn't trade the downs and going through all the tough stuff, because it shapes you into a more steely person," he says.
When Brendan Rodgers took over at Liverpool, the manager was uncertain what Henderson could offer but now says he is the "moral compass of the group".
Henderson says of Rodgers: "He's been huge for me, both personally and for my career. On the pitch, he has sharpened me tactically, and off it, he's helped me so much. He was so good to me and my family when my dad was having surgery and he doesn't just manage players in a football sense, it's more than that. Even when it comes to things like leadership abilities, he's quick to spot it and work with you on improving."
Rodgers refers to Henderson as "a sponge who never tires of soaking up information" – he has sessions with Chris Davies, Liverpool's head of opposition analysis, after every game to go through what he's done well and where he can improve. It is no surprise, then, that regardless of the system Rodgers chooses, Henderson plays. He has operated in a variety of roles across midfield, as a wing-back or a more traditional right full-back, as well as in the hole.
"I'm much more rounded when it comes to positional and tactical awareness," Henderson says. "I've matured a lot as a footballer from being versatile and understanding how the game operates from different roles. Whatever position I play, I make sure I know everything that is needed from me and, when you've been used in so many, you automatically know if you're attacking centrally what the wide player on the right needs – for example, as you've played in both. I think I've fitted into different roles well and adjusted to different systems."
There is an area of his game that is flawed, though, as his manager reminds him: goalscoring. Henderson got five last season and was set a target of 10 for this campaign. He has three so far.
"That is the area of my game I have to improve. Obviously, my role changes a lot in the team [but] I have to push to add more goals. As long as I'm contributing, playing well and doing what is required of me tactically, and we're winning, then I'm happy. I know the goals will come."
But how does he know when to push on or hold position? "It depends on how I feel in the game," he says. "There's times where I have to be mindful that I need to be controlling and not looking to break beyond [the defence], so it's about sensing when it's right to go and if there is a gap to get in. It's something that you tweak game by game depending on the tactics and the situations."
While the midfielder's goal tally needs work he has crafted four of Raheem Sterling's nine strikes this season. In fact, the pair have been the team's most creative partnership, with Sterling assisting all three of his team-mate's goals. "I get on really well with Raheem," he says. "We've worked together for a few years so I know exactly where he's going to move and where I should play the ball, and it's the same with him for me.
"My job is also to find him when we're on England duty, so it's a constant supply between us and it becomes natural. We've got a superb relationship off the pitch and I think it comes across when we play."
A few more goals – a bit more "wow factor" you might say – and Henderson would be the complete footballer. Who would have thought that when they were watching TV all those years ago?
Register for free to continue reading
Registration is a free and easy way to support our truly independent journalism
By registering, you will also enjoy limited access to Premium articles, exclusive newsletters, commenting, and virtual events with our leading journalists
Already have an account? sign in
Register for free to continue reading
Registration is a free and easy way to support our truly independent journalism
By registering, you will also enjoy limited access to Premium articles, exclusive newsletters, commenting, and virtual events with our leading journalists
Already have an account? sign in
Join our new commenting forum
Join thought-provoking conversations, follow other Independent readers and see their replies