Jurgen Klopp set to leave Liverpool captain Jordan Henderson on the bench against Southampton as Porto tie looms
Klopp, meanwhile, will speak to Virgil van Dijk ahead of his return to Southampton but does not believe the conversation will need to be a long one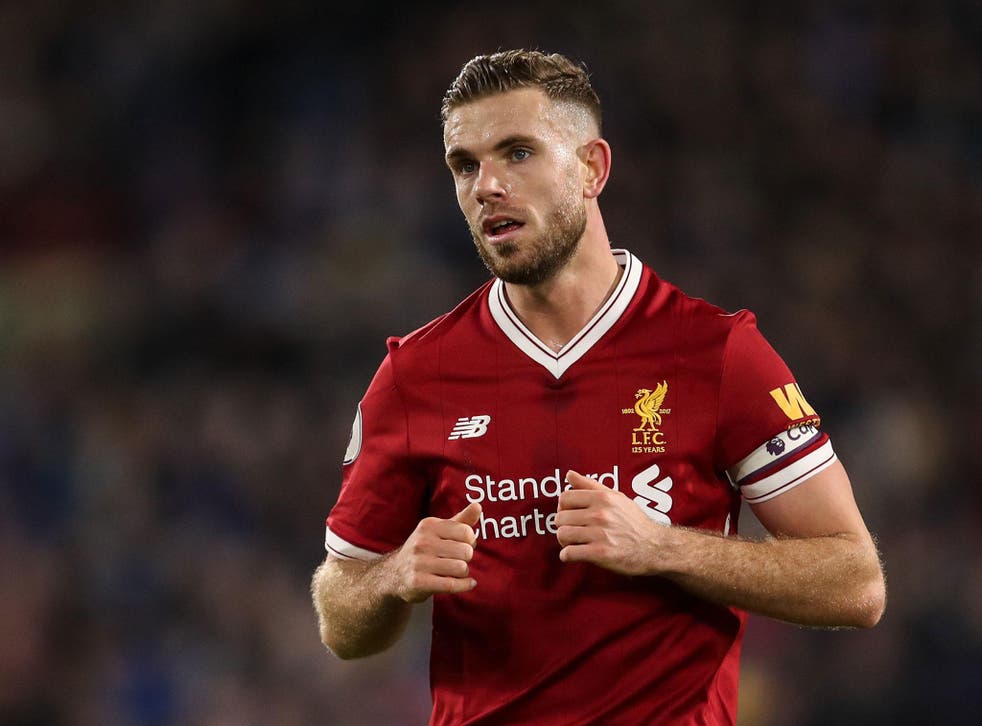 Liverpool manager Jurgen Klopp is poised to leave his captain Jordan Henderson on the bench for Sunday's Premier League meeting with Southampton as he keeps one eye on next week's Champions League tie against Porto.
Henderson has only recently returned from a hamstring injury sustained against Arsenal in December, and Klopp is wary of the midfielder playing back-to-back games in such quick succession while he is not yet fully fit.
The first leg of Liverpool's last-16 match with Porto is on Wednesday and, with the European Cup the club's only remaining hope of silverware this season, Klopp is set to save Henderson for that fixture.
"Hendo came back against Tottenham but was not 100 per cent because he was injured," Klopp said. "Can he start both games? I don't think that would make too much sense, but if we have to do it then we have to do it. It depends on all the other players.
"Jordan can always dig in and his attitude is outstanding so of course he could. That is the only thing we have to plan around but that is because he had an injury, like we do with Adam Lallana. In a normal situation it is no problem but in this specific situation after injury it would not be perfect."
Klopp, meanwhile, will speak to Virgil van Dijk ahead of his return to Southampton but does not believe the conversation will need to be a long one. The Dutchman is set to be get a hostile reception by the home supporters at St Mary's on Sunday on his first appearance against his former club following a £75m switch to the Reds in January.
Liverpool were forced to abandon their original pursuit of the Dutch international last summer and publicly apologise for an alleged illegal approach. That caused a period of uncertainty until the transfer window reopened and Van Dijk became Liverpool's record signing and the world's most expensive defender.
The drawn-out nature of the transfer was criticised by the Southampton's hierarchy and fans alike. However, Klopp appears to have sufficient faith in the 26-year-old to handle the intimidation that any advice he passes on will be brief.
"It is not that I ask 'do you want to play?' You say a few words," Klopp said. "It's not a long talk or whatever. It is nothing really special. I accept it is quite a special situation as it was the transfer of the winter transfer window so that's all.
"We have to accept it how it is: loud, not nice maybe, but still we have to play football."
Klopp admits Van Dijk is still adjusting to life at Anfield and believes the best is yet to come from him. "The club is definitely different," Klopp explained. "Liverpool is an outstanding, big club and the boys have to do a lot of things around training, more than the other clubs but it is all good.
"He has all the football tools, he is getting better and better. He was not 100 per cent fit when he arrived here but everything will be better in a few weeks. He will at one point lead this line but at the moment he is not 100 per cent used to it.
"That's how it works when you come in the middle of the season. He was not happy after the last game with the last situation. In another club, an hour after the game not a lot of people talk about it. In Liverpool, you have enough to talk about it for the whole week.
"But he is a good player and we are absolutely happy having him around. He is good and already he will be much better."
Join our new commenting forum
Join thought-provoking conversations, follow other Independent readers and see their replies