'Arsène Wenger is a failure specialist': Why Jose Mourinho chose to go public with his simmering row
Chelsea manager belatedly reopens old wounds with spiky response to Frenchman's claim his rival is afraid to fail
Sam Wallace
Saturday 15 February 2014 01:00 Comments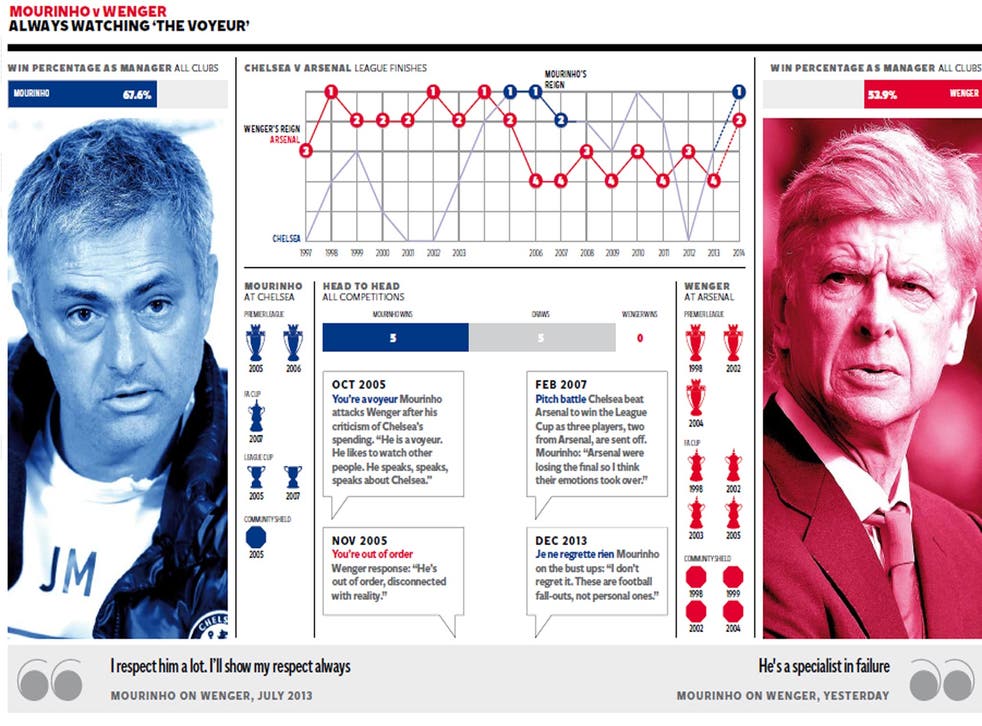 He was never going to let it go without comment. Was there anyone with even a passing interest in English football who thought that Jose Mourinho was prepared to allow a dig from Arsène Wenger to go unremarked upon, perhaps with a shrug, a smile and a conciliatory word?
There would be more chance of the Chelsea manager rolling his new sponsor's sports car into the swollen waters of the river Mole that runs past his training ground in Cobham. There would be more chance of him appointing Avram Grant as his specialist defence coach. In his eyes, the "fear to fail" remark from Wenger was the barb he had half-anticipated since he returned to Chelsea.
Yet, the curious thing about this latest round of Mourinho v Wenger was that, when Mourinho's initial anger had subsided, there was more than a trace of reluctance that he felt he had been forced to go for the jugular, and that it is likely to escalate between the pair of them.
There are many who dislike Mourinho. There are some who believe that he went over the top yesterday in calling Wenger a "specialist in failure". But the Arsenal manager will undoubtedly have known that as soon as he suggested that it was "fear to fail" that was driving Mourinho that there would be a response. That the response was spikier, harder, is simply the way it has always been with Mourinho and it would have been no different were it Sir Alex Ferguson.
That is where Mourinho has positioned himself as the title race enters its final phase and his team play Manchester City in the fifth round of the FA Cup today. He has been courteous but he is always prepared to put the boot in if he believes the moment demands it. The choice for his opponents is either to ignore him or roll up their sleeves and throw one back. Wenger has landed his fair share of punches over the years.
Yesterday at the Cobham training ground, Mourinho arrived late, apologised and within three questions was delivering his verdict on Wenger's remarks. He scarcely had to be told what they were. It was when he spoke later, in his newspaper briefing, that there was the sense that he had never wanted to go down this path with Wenger. Albeit allied with the usual certainty that once he felt under attack, he had to strike back even stronger.
It was put to Mourinho, with the television cameras off, that his assessment of Wenger would go around the world and that they were harsh words. "It also goes around the world what he said before that," Mourinho replied. Did it annoy him? "Yes". A pause, then "He [Wenger] loves to look at this football club. I thought between 2007 and 2013 was enough time for him to forget this. But it looks like he always likes to look at this.
"Am I afraid of failure? What is that? I believe at the end of the day I'll be [perceived as] the impolite guy, the one who's aggressive in his words. But of course not. He is saying we're not candidates because we're afraid of failure. Failure of what? Not winning a title this year? Or in two years? I have a lot of respect for him. Failure is not winning a title in seven or eight years. That's failure. Am I aggressive in my words? I don't know."
It was those last words that articulated the regret that it had come to this. Pledging respect for Wenger is an unlikely counterpoint to the thrust of Mourinho's attack but he said it with sincerity. In pre-season he had tried to dampen any sense that the old hostilities still existed, recounting how he and Wenger recently had dinner together at a Uefa conference. "When you are not playing against each other, it is easier to know people, it is easier to go deeper," Mourinho said in June. "It is easy to speak about football. He's a very nice guy."
He also said then that he would "not bet for one single problem" between the two of them, and the fact that the first explosion has come in February is probably an achievement of sorts. Yesterday Mourinho was also asked whether this latest attack was comparable with his infamous "voyeur" remark in 2005. He left no room for misunderstanding on that score. "I'm sorry for that [comment]," he said. "So sorry for that."
It is the notion of failure that rankles Mourinho most. It goes to the very heart of what he believes he is, the image he projects to the world, and most crucially his players. He was asked whether he would stay at a club eight years without a trophy. "If I don't win a trophy in four years, I don't want a new contract. It's as simple as that. I don't think a manager should be embarrassed when he gives everything, tries everything, dedicates himself to the club, the project and the collective dream.
"If you don't get results, that's football. But for my mentality, there is a limit. And you have to be strong enough and proud enough to admit when it's enough. The club gave me a four-year contract. And that's the period where I want to give everything and try to get results. If I don't, I think that [quitting] is normal in football."
It overshadows a cup tie that is big enough in its own right, and pits Mourinho against a City side that he has beaten twice already in the league. Without both John Terry, who has a glute strain, and Gary Cahill, who has a calf injury, he is missing two of the key performers in the recent league win at the Etihad. Ashley Cole will come back into the side. Cesar Azpilicueta will move to right-back. Branislav Ivanovic goes across to centre-back.
"If Chelsea win, they [City] can't win four trophies," Mourinho said, "like their manager said was their target for the season." The prospect of a City quadruple appears to haunt him somewhat. But after yesterday's exchange, one can be sure that, more than ever, it is the Premier League title that he covets the most. Even if he will not admit the possibility of winning it.
Register for free to continue reading
Registration is a free and easy way to support our truly independent journalism
By registering, you will also enjoy limited access to Premium articles, exclusive newsletters, commenting, and virtual events with our leading journalists
Already have an account? sign in
Join our new commenting forum
Join thought-provoking conversations, follow other Independent readers and see their replies