Jose Mourinho: Combative Chelsea manager hits back at 'frustrated' Sky Sports pundits Graeme Souness and Jamie Carragher
Carragher has 'forgotten everything he did on the pitch,' says Chelsea boss
Sam Wallace
Friday 13 March 2015 14:40 Comments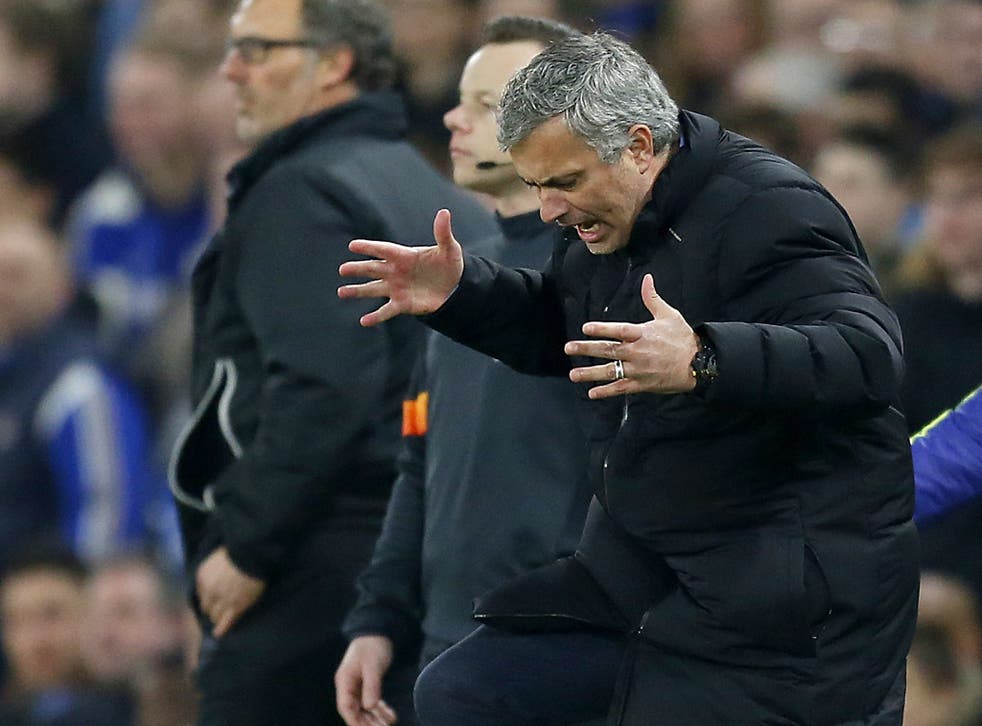 Jose Mourinho came out fighting yesterday following his Chelsea team's Champions League elimination and he could not resist turning his anger on pundit Graeme Souness who he described as an inferior manager and "a frustrated man".
In an extensive press briefing at the club's Cobham training ground, Mourinho said that his belief in his players was "unshakeable" and that his regard for them would not change "like the wind" – although he saved his most cutting words for those who had criticised his team.
Souness, a serial winner in his Liverpool playing days, including three European Cups, had been particularly condemnatory about the Chelsea players surrounding the referee in the build-up to the red card for Zlatan Ibrahimovic in the 2-2 draw with Paris Saint-Germain. In the Sky Sports studio on Wednesday he called the Chelsea players "pathetic" for their response.
Asked whether there was a friction between him and Souness, who managed Rangers, Liverpool, Blackburn and Newcastle among others over 20 years of coaching, Mourinho said that the two of them had a fundamentally different outlook on life as a consequence of their management careers.
Mourinho said: "The difference between me and Souness is this. Souness as a player? Up there. Jose as a player? Down here. Jose as a manager? Up here. Souness as a manager? Down there. With another difference: I was not a frustrated man because I was not a top player. He is clearly a frustrated man [about his management career].
"[Souness was a] fantastic player. I have lots of respect, in spite of some episodes, for a fantastic player with a fantastic career in a fantastic club with a top generation. Lots of respect."
Earlier, Mourinho had referred back to the one team the two have in common, Benfica, and what he might know about Souness' time in charge there between November 1997 and May 1999. Mourinho's first job in management in 2000 was with the Lisbon club, where he was sacked after less than three months following the election of a new president.
"I coached Benfica," Mourinho said, "I know a lot about him [Souness], so much about him. But I have a certain kind of education, not just in football but in life, and I prefer to laugh. Envy is the biggest tribute that the shadows do to the man. It's about life."
Mourinho had also hit back at Jamie Carragher, another Sky Sports pundit who was critical of the Chelsea players' crowding of the referee Björn Kuipers on Wednesday night. Mourinho said: "Jamie stopped playing a couple of years ago and, in two years, he forget everything he did on the pitch."
While Mourinho was unable to prevent himself responding to the critics, it was his analysis of some of the more specific failings in his team in recent weeks that gave an insight into his faith in his players. In particular Cesc Fabregas' form which has tended to fall away in the second half of the season in recent years at Arsenal and Barcelona.
There have been no goals or assists from Fabregas in his past nine games, in keeping with a trend that has affected him over the last five seasons. For Barcelona last season he managed 16 goals and assists combined in the first half of the season, which fell to five in the second half. This season there were 15 in the first half of the season and two in the second half so far.
Mourinho said that a combination of injuries and suspensions to Fabregas and his midfield partner Nemanja Matic had disrupted their season. "Fabregas was injured and, for me, it's not [the fault of] Fabregas. We lost Matic suspended with five yellow cards, so he didn't play Newcastle. Then we lost Fabregas one match suspension with five yellow cards. Then we lost Diego Costa with a suspension against Liverpool. Then we lost Fabregas again, for three matches, injured against Liverpool. Then we lost Matic suspended against Burnley.
"It's not Fabregas. This is a [typical] season. I wouldn't expect the same team to play Burnley in the first game and to play the last game without being interrupted. An injury is normal. A suspension is normal. An accumulation of yellow cards is normal. Form going up and down is normal.
"Every player who comes back after a muscular injury, despite the work we do to re-adapt, there's always a break. It's normal that we lost a little bit of our fluidity, our confidence, so our numbers in terms of goals scored, chances created [went down]."
Chelsea 2 PSG 2 player ratings

Show all 24
Mourinho said that there would not be wholesale changes to the team against Southampton tomorrow in the light of the elimination at the hands of PSG. He said that he had held a team meeting on Thursday morning at which many players had spoken and that they had now "closed the chapter" on PSG.
Mourinho said: "One thing is to be disappointed – another thing is to lose belief in the players. These are the same players who have been top of the league since day one. Not yesterday, or in August and since then up and down. [Top] since day one. Zero defeats in the Champions League."
Register for free to continue reading
Registration is a free and easy way to support our truly independent journalism
By registering, you will also enjoy limited access to Premium articles, exclusive newsletters, commenting, and virtual events with our leading journalists
Already have an account? sign in
Join our new commenting forum
Join thought-provoking conversations, follow other Independent readers and see their replies