Jose Mourinho joining Manchester United sets up the prospect of a great managerial shootout
All the big gunslingers are in the Premier League town next season for what could prove to be an explosive title race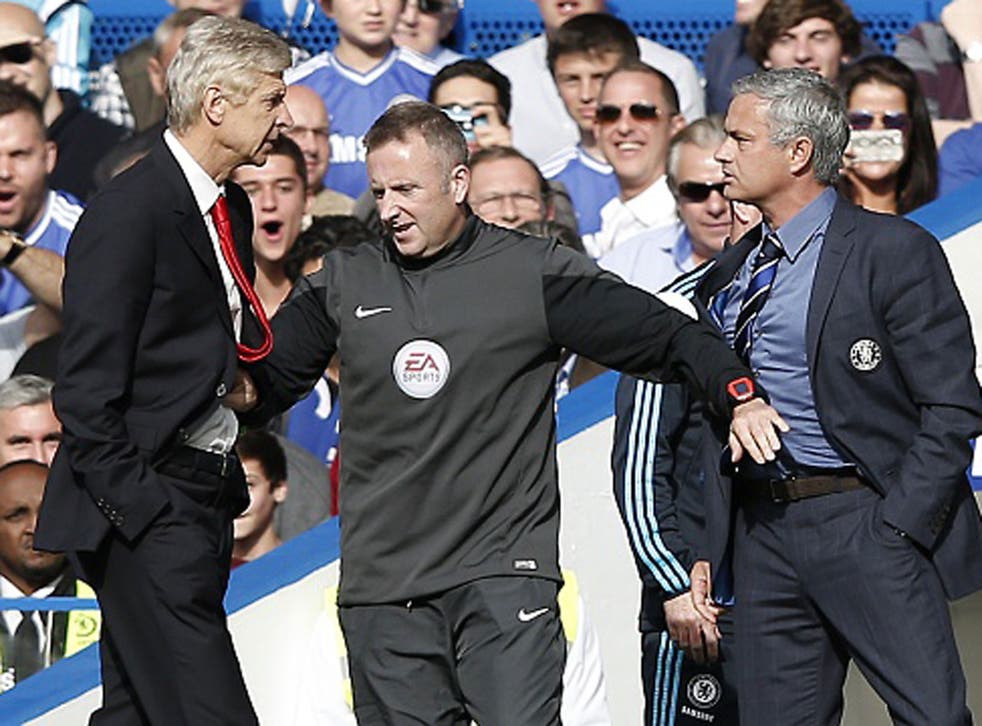 It would be stretching a point to suggest that Jose Mourinho had it easy on the two previous occasions that he walked into a Premier League job, but 11 years after striding into English football as the Special One, life at Manchester United will begin with the Portuguese having to assert his authority among a managerial magnificent seven next season – and only one can come out on top.
Back in 2004, when he arrived at Stamford Bridge having won his first Champions League with Porto, Mourinho had to overcome Arsene Wenger's Invincibles to secure Chelsea's first domestic title for half a century, but with United in transition under Sir Alex Ferguson and Liverpool failing to punch their weight, the competition was hardly intense.
And on his return to Chelsea in 2013, United and Manchester City were under new management and Arsenal still searching for their first title since 2004, so while it took two seasons to regain the Premier League crown, there was always a sense of inevitability that year two would bring the silverware that has defined Mourinho's career in management.
United will be the 53-year-old's biggest challenge, however, and that is not merely due to the rebuilding work still required at Old Trafford, three years on from Ferguson's retirement.
If he had a free ride in 2004 and time to build in 2013, the formidable cast list of rivals waiting to claim their own piece of the Premier League action in 2016 may even force the two-time Champions League winner to get used to second billing at United.
Mourinho timeline - How the Special One made it to Manchester United
Mourinho, Pep Guardiola, Jurgen Klopp, Antonio Conte, Arsene Wenger and Mauricio Pochettino will all be expected to challenge for, and win, the Premier League next season, while Leicester City's incredible 2015-16 title success ensures that Claudio Ranieri also earns his place among the seven big-hitters aiming to come out on top next season.
One of them will win, two or three others will enjoy relative success by delivering Champions League qualification and perhaps a domestic cup, while three of them will suffer the ignominy of failure.
One of them may even finish seventh and miss out on Europa League qualification and, almost certainly, find themselves paying the price with the sack.
But it is a cast list with the majority of members accustomed to top billing and glory, so the battle for supremacy will be extreme and it will, undoubtedly, boil over with too many managerial alpha males fighting for dominance.
The tale of the tape between the seven most high profile managers offers an extraordinary insight into the quality of coaches now plying their trade in the Premier League, with perhaps only Carlo Ancelotti and Diego Simeone missing from the party.
Mourinho, at 53, has amassed the greatest collection of silverware, with the new United manager winning eight domestic titles, seven domestic cups, one Uefa Cup and two Champions Leagues during a career spanning four of Europe's biggest leagues.
Guardiola, who will go toe-to-toe with Mourinho in Manchester when he takes charge of City, is eight years younger than his one-time close friend, but has still stacked up six domestic titles with Barcelona and Bayern Munich, four domestic cups and two Champions Leagues.
The Catalan will arrive at the Etihad having won the Bundesliga in each of his three seasons with Bayern, so failure will not be an option, regardless of the competition.
But Antonio Conte, currently preparing to manage Italy at Euro 2016, will not arrive at Chelsea harbouring any kind of inferiority complex in the Premier League.
The 46-year-old secured the Italy job in 2014 after guiding Juventus to a hat-trick of Serie A titles, having previously earned promotion from Serie B with Bari and Siena.
Conte is accustomed to winning, which is a useful quality to have when employed by an owner as hungry for success as Roman Abramovich.
But after twice going close to silverware with Liverpool since taking charge at Anfield last October, Klopp will believe that the near misses in the Capital One Cup and Europa League will imbue his squad with the taste for bigger and better things.
The 48-year-old succeeded Brendan Rodgers on Merseyside after winning two Bundesliga titles and a domestic cup with Borussia Dortmund, at the same times as restoring the club's status as one of Europe's most respected teams.
While his CV lacks the stellar achievements of Mourinho and Guardiola, Klopp is a proven winner and there is optimism at Liverpool that the German will be the man to deliver the club's first league title since 1990.
But will the intensifying competition finally spark the best from Wenger and Arsenal and see the club reclaim its position at the summit of English football?
Now 66, and approaching the 20th anniversary of his appointment this autumn, Wenger has delivered three Premier League titles and six FA Cups to Highbury and the Emirates and consistently secured Champions League qualification – an achievement once derided as a sign of reduced expectations, but something which the likes of United, Chelsea and Liverpool would dearly love to regard as the formality it has become at Arsenal.
And then there are Ranieri and Pochettino, the two surprise managerial stars of last season.
Ranieri confounded the doubters by leading Leicester to the title with a combination of steely nerve and panache, while Pochettino, although failing to claim his first piece of silverware as a manager, highlighted his ability to produce a vibrant team of young Englishman at Tottenham who many observers believe can win the Premier League next season.
But in a field of such class and pedigree, each of the contenders must climb to new heights to ensure that they retain their blue-chip status.
Can Mourinho prove that he remains the Special One, will Guardiola continue his unstoppable success machine, will Conte surprise them all with his Italian nous and winning mentality?
Whatever the outcome of next season's title race, none of the managerial superstars can start in August carrying a guarantee of success and that is why it promises to be the most explosive title race of the Premier League era.
There are so many big beasts, but not all of them will survive.
Join our new commenting forum
Join thought-provoking conversations, follow other Independent readers and see their replies