Jose Mourinho latest: Chelsea manager may be hit with further FA sanctions
Mourinho was sent to the stands during his side's 2-1 defeat to West Ham
Miguel Delaney
Sunday 25 October 2015 19:45 Comments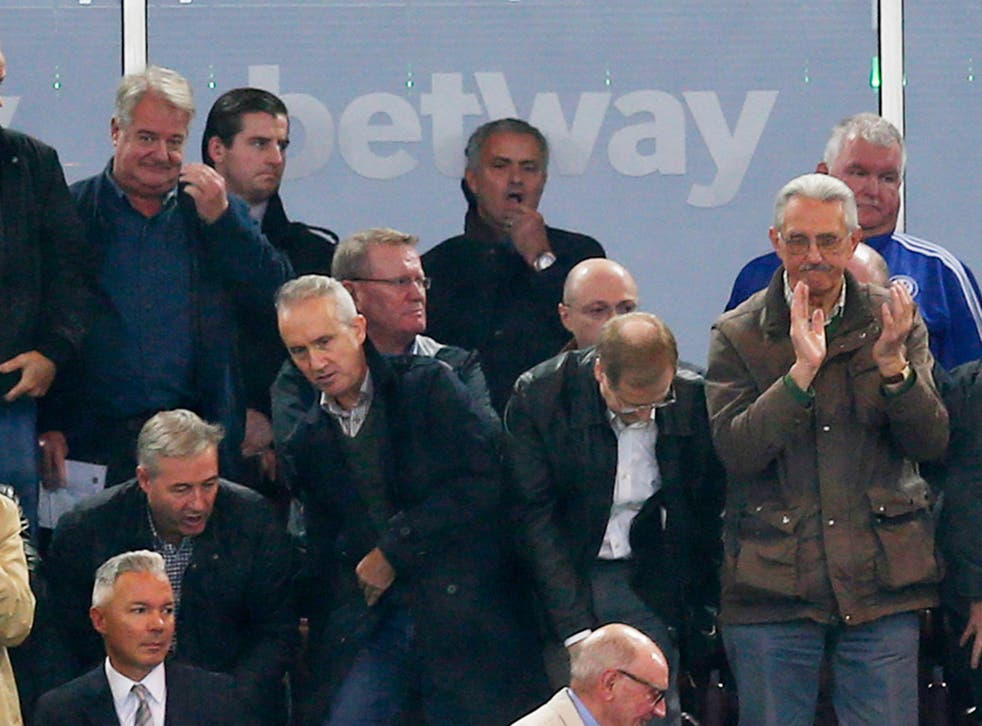 Jose Mourinho and Chelsea are anxiously waiting to hear whether they will face further sanctions today for "intimidating officials", after the manager's actions during the 2-1 defeat at West Ham United on Saturday plunged an already disastrous season deeper into controversy. The Portuguese was sent to the stands during the half-time break at the Boleyn Ground, and the Football Association will on Monday assess referee Jonathan Moss's report to decide whether to take action.
Mourinho will be hit with another fine if he is found to have been intimidating the referee, although it is possible he was merely sent to the stands so as to subdue what had been a fiery situation – with Chelsea having had both Nemanja Matic and coach Silvino Louro sent off, as well as Cesc Fabregas and John Terry booked for remonstrating.
If the Portuguese is fined, it is unlikely to trigger his suspended stadium ban which was given to him after the 3-1 defeat to Southampton, as that is related to media comments. This would be an unrelated offence.
There have been conflicting reports over what happened in the tunnel at half-time, although West Ham defender James Collins confirmed he saw Mourinho waiting for the referee. Chelsea themselves have only said there was then a "discussion", after which the Portuguese was in the stands. Prior to that, the Chelsea manager had stayed conspicuously calm on the sideline, despite the chaos unfolding before him in the five minutes prior to half-time. That was all sparked when Matic received a second yellow card, for a foul on Diafra Sakho, bringing furious protests from Chelsea. Mourinho only offered a cynical smile, however, as two of his players were booked and Louro sent off.
West Ham vs Chelsea - player ratings

Show all 23
Collins described that as "a mad five minutes". Asked whether he had seen any confrontation between Mourinho and Moss, the defender said "nothing", but did notice the Portuguese waiting for the referee. "We walked out and someone said he'd been sent off. I could see he was waiting to speak to the ref. It's not going too well for him with the refs and the decisions at the minute."
The irony is also that the excuse of decisions going against Chelsea is the one thing Mourinho has in his defence right now. It has become such a common refrain, the only explanation he ever seems to be able to offer after bad results. That in itself is worrying, because it is as if he has nothing else he can say, which makes it all the more conspicuous that he refused to speak to media after the game on Saturday.
The reality is that there remains a lot more wrong with the champions than just bad luck or bad refereeing. For one, as Slaven Bilic said immediately after the game, the decisions at West Ham were mere matters of interpretation rather than obvious mistakes. The one many at Chelsea were most aggrieved by was the offside call that led to a Fabregas strike being ruled out just before Matic's red. That in itself was marginal, though, and goalkeeper Adrian had also stopped once the whistle sounded.
It should be of much greater concern for Chelsea that this was the sole chance they created from open play. Otherwise, they only ever looked in any way threatening from hopeful long shots or set pieces, such as Kurt Zouma's header or Gary Cahill's eventual goal.
That has been another common trend of this season. Chelsea's forwards do not seem to interchange or play off each other in a way that indicates a distinctive attacking plan.
That has been a constant of Mourinho's career – with some players privately saying that his attacking ideas are rather basic, in contrast to the rest of his sophisticated coaching – but it has generally been overcome with defensive resilience and an intensity that means they can overpower teams.
At Chelsea right now, there is none of that defensive resilience, nor is there any of the intensity. The biggest concern of all is that, in a game in which the team were a goal down and in a pressure situation, there was no grand siege, none of the qualities you would associate with Mourinho champions. There are no real signs of any of this changing either.
Even earlier in the game, Fabregas and Eden Hazard were so easily beaten in 50-50s. It is impossible not to wonder whether Mourinho's psychological hold over this squad has gone, whether the intensity he needs to initially bring results has again naturally burnt out. One story has it that many players began to raise their eyebrows when Mourinho would "obsessively" go on about the treatment of Diego Costa by pundits and officials last season. It is not a leap to think moments like that are when the aura around someone they used to consider an authority starts to evaporate.
Many of the squad are also known to be more questioning of Mourinho than ever before. The Portuguese still is not providing the responses the club's owner, Roman Abramovich, would have expected after the recent vote of confidence.
Register for free to continue reading
Registration is a free and easy way to support our truly independent journalism
By registering, you will also enjoy limited access to Premium articles, exclusive newsletters, commenting, and virtual events with our leading journalists
Already have an account? sign in
Join our new commenting forum
Join thought-provoking conversations, follow other Independent readers and see their replies