Jose Mourinho says young players are 'brats' as he bemoans the lack of maturity in future stars
In an extraordinary interview Mourinho has reflected on the growing immaturity of highly-paid young players, and how he wishes they would take a leaf out of Frank Lampard's book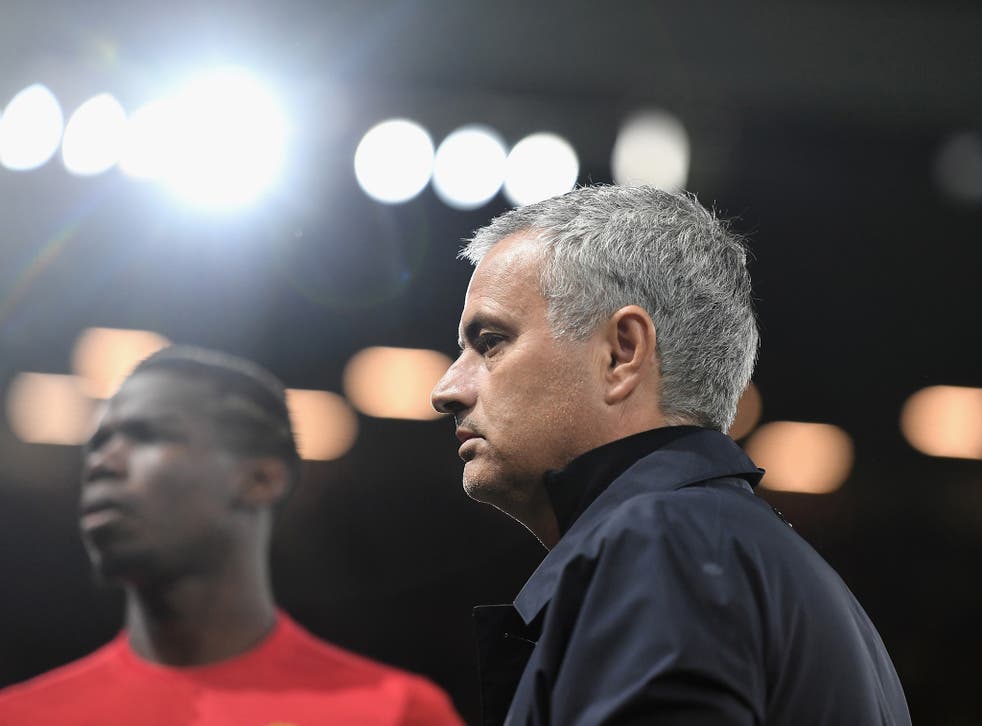 Manchester United manager Jose Mourinho has said players with the maturity of Frank Lampard are a disappearing breed – and that most 23-year-olds in the game today are "brats".
However, he says he has been forced to adapt his management style to cope with immature younger players because he does not want to risk being left in the "stone age".
Mourinho worked with Lampard for four highly-successful seasons at Stamford Bridge, first working alongside him during Chelsea's title-winning 2004/05 campaign.
Sir Alex Ferguson on Jose Mourinho

Show all 13
And Mourinho thinks that in the decade since young players with a comparable level of maturity have all but disappeared from the game, blasting 23-year-olds in the game today as "brats" who do not deserve to be called "men".
"I have had to adapt to a new world and what young players are like now," Mourinho said in an interview with France Football.
"I had to understand the difference between working with a boy like Frank Lampard who, at the age of 23, was already a man – who thought football, work, professionalism – and the new boys today, who at the age of 23 are kids.
"Today I call them 'boys' and not 'men'. Because I think that they are brats and that everything that surrounds them does not help them in their life nor in my work. I had to adjust to all of that.
"Ten years ago, no player had a mobile phone in the dressing room. That is no longer the case. But you have to go with it, because if you fight that you are bringing about conflict and you risk putting yourself in the stone age."
Mourinho, 54, added that his young son and daughter have helped him to understand the mind-set of young players in the modern game, and their passion for social media.
"I admit that having a son and a daughter at that sort of age has helped me to understand the way they function and what the world is today," he said. "If you stop a player from doing something, even something a little stupid, on social media, you are going against nature."
The growing immaturity of younger players is not the only way the game has changed since Mourinho first arrived in England, having led Porto to Champions League glory in 2004.
Mourinho: Authorities don't give a s**t about English teams in Europe
Mourinho has said that his position at Manchester United has been made much more difficult by "the new era of English football", which has seen United's increasingly wealthy Premier League rivals able to keep hold of their best players, as the traditional top four morphed into a top six.
"The financial strength in English football is enormous and it does not exist only among two clubs, like in Spain, not among one club like in Germany, not among one or two clubs like in France," he said. "In England, it is spread out.
"Here, everyone is powerful now. The scenery has changed. If I want to buy a player from Tottenham, I can't. Nor can I buy a player from Manchester City or Arsenal. That was not the case before.
"At Chelsea, I brought in Shaun Wright-Phillips, who was the best player at Manchester City or Ashley Cole from Arsenal. Sir Alex, when he wanted the best player from Tottenham, he bought Michael Carrick and then Berbatov.
"In England now, the clubs are so powerful financially that the market is open to all."
Mourinho also used the interview to discuss the mounting pressure on football managers in the modern game and how loyalty is now a thing of the past.
And in his opinion, Arsenal manager Arsene Wenger is the last of a dying breed of football managers given the time to succeed by their club, and to develop a long-term project.
"Wenger will be the last one," he said. "When he leaves Arsenal, we won't see again, in the decade that follows, a manager staying in the same club for more than seven years, ok, maximum ten. It has become impossible.
"Even in this country, which is home to tradition and stability, everything is in the process of becoming screwed up. The clubs are owned by foreign investors, no longer by traditional English people with the policies that came with that.
"Last season, I was sacked by Chelsea six months after becoming champion. The same of Ranieri this season with Leicester. This job is becoming crazy!"
Register for free to continue reading
Registration is a free and easy way to support our truly independent journalism
By registering, you will also enjoy limited access to Premium articles, exclusive newsletters, commenting, and virtual events with our leading journalists
Already have an account? sign in
Register for free to continue reading
Registration is a free and easy way to support our truly independent journalism
By registering, you will also enjoy limited access to Premium articles, exclusive newsletters, commenting, and virtual events with our leading journalists
Already have an account? sign in
Join our new commenting forum
Join thought-provoking conversations, follow other Independent readers and see their replies