Jose Mourinho insists there is still 'hope' in the Premier League title race despite Manchester United's loss to Chelsea
Mourinho is confident United can make up ground when some of their injured players return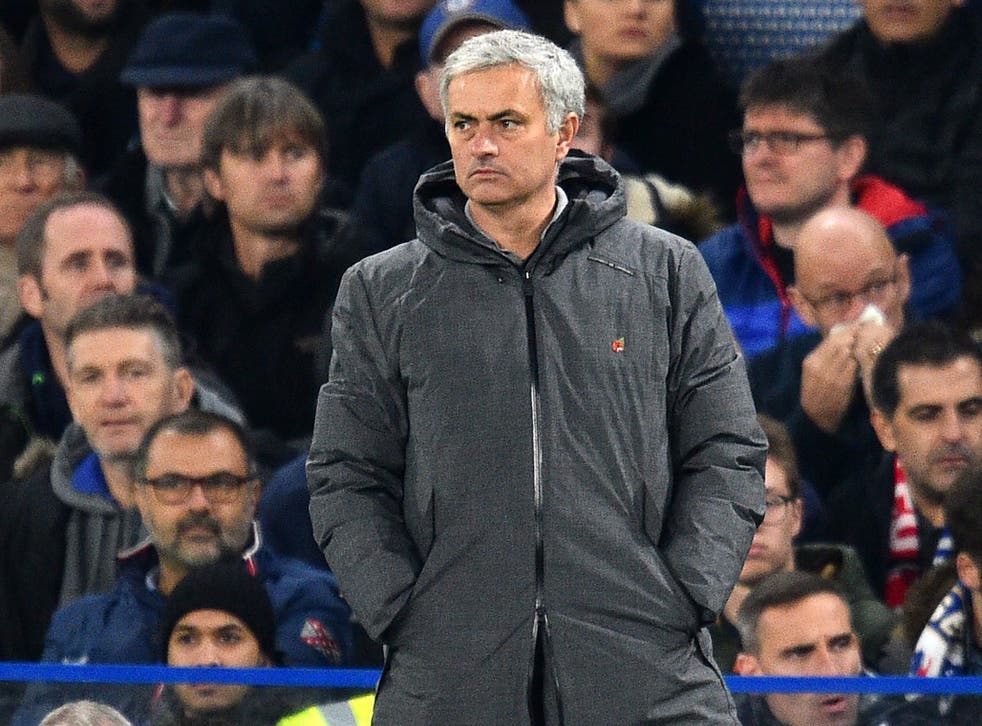 Jose Mourinho insisted there is still "hope" in the title race despite Manchester United falling eight points behind Manchester City following a 1-0 defeat at former club Chelsea, stressing that things can yet change when his side gets back to "maximum strength".
The Portuguese was again without Paul Pogba in a match where United struggled for attacking cohesion, but Mourinho was not concerned by the nature of the defeat, saying it was down to fine details.
"We are worried [about the gap], but there are 18 teams more worried than us because we are second," Mourinho said.
Chelsea vs Manchester United: Player ratings

Show all 23
"Eight points in the Premier League is not the same as eight points in the Portuguese league, La Liga or the Bundesliga. Eight points in the Premier League, there's still a lot to play [for].
"I hope that in the busy period starting late November that will be at our maximum strength with Pogba, [Marcos] Rojo and Ibra [Zlatan Ibrahimovic] back, with everyone who has been missing for the last few months, so probably we can be in a high."
Mourinho felt the match at Stamford Bridge, that came immediately after Manchester City's 3-1 win over Arsenal, was decided by who blinked first.
"I think it was a big game. A big game. It was a powerful team against a powerful team. Tactically, emotionally, physically. And of course we missed some important players, especially the quality and physicality of some of them who couldn't be available for such a big game.
"The team that scored first was always likely to win, because both teams are very good defensively. Being in front will always be an advantage. But they scored before us, and then they were in a more comfortable position.
"But I think we lost emotionally a few minutes after the goal. For a few minutes we were in trouble but then we had a good reaction. They had space to counter-attack, but we had initiative, courage, dynamism and the chances to equalise, which would have been a fair result.
"But this is not about what I think it is. Or whether it's fair or not. One goal, three points, congratulations."
Mourinho meanwhile downplayed any controversy about his lack of a handshake with Conte, saying it was just down to where they were at the final whistle and there's "no problem".
"You want me to go and chase him in the middle of the pitch? I was there," he said.
"I shook hands with the people who were there. I think one of them was his brother, the assistant, so I feel that by shaking the hands of his brother and the other assistants that I did my duty. I cannot go and run to chase him."
"Why should I wait? He doesn't have to wait. There is no problem with it at all. You are always worried with these things... no problem."
Join our new commenting forum
Join thought-provoking conversations, follow other Independent readers and see their replies