Jose Mourinho blames his Manchester United team for 'failing to follow pre-game plans' in Tottenham defeat
The United boss was appalled with Tottenham's 'ridiculous' first goal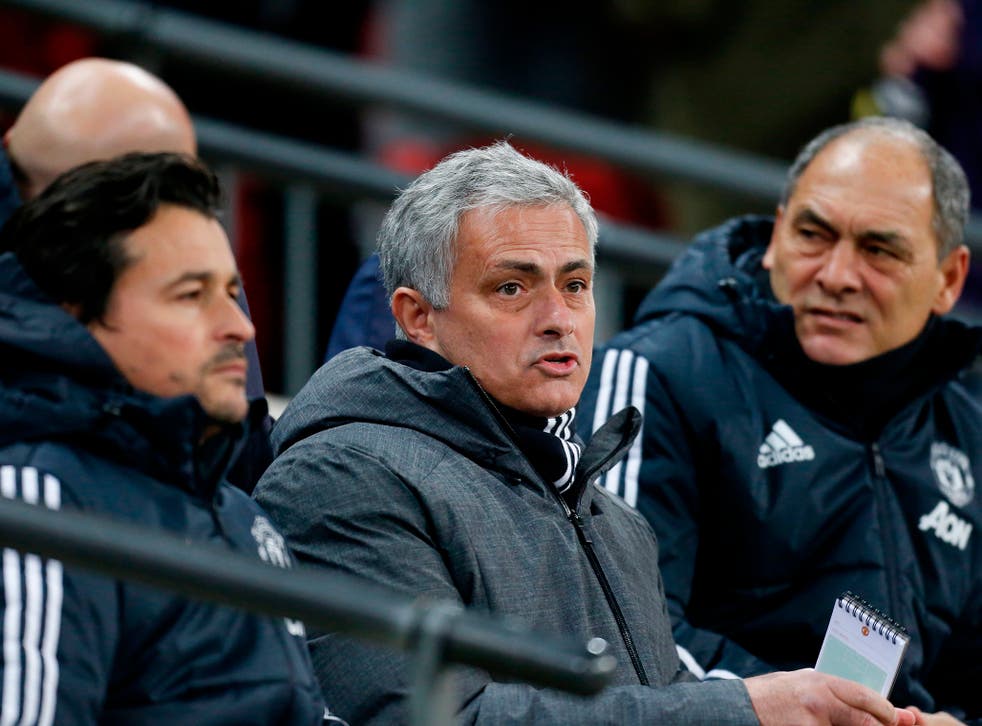 Jose Mourinho said his Manchester United side lost at Tottenham Hotspur because of a "ridiculous" goal that brought a remarkable "four mistakes" in just 10.5 seconds, as he criticised players for failing to follow any of their pre-game plans.
Christian Eriksen scored the third quickest goal in Premier League history to set a brilliant 2-0 win, but the Portuguese said they came from atrociously self-inflicted errors, and tactically set up Mauricio Pochettino's side to do what they do best. The match became so one-sided that Mourinho eventually hauled off Paul Pogba and admitted new signing Alexis Sanchez dropped too deep on his Premier League debut, but said Marouane Fellaini's substitution - after a mere six minutes - was down to injury.
It really did just add to how insulted the United boss looked and sounded by that opening goal, that came straight from kick-off.
"I don't think it's very normal to concede a goal like we did after 15 seconds," Mourinho said. "We did that last season at Stamford Bridge, this season we had one that was after one minute, from a free-kick but after kick off is ridiculous, especially ridiculous because the players watch it before, we analyse opponents, we work on their dynamic, routines, the players knew the long ball, that Harry Kane is normally inside the opponent's half before kick-off, we knew everything and then… we don't press the ball.
"One mistake. We don't win the ball in the air. Second mistake. We don't win the second ball on the ground. Third mistake. We don't cover inside, the full-back inside when Eriksen comes. Four mistakes. Four mistakes after 15 seconds and you are losing 1-0 against a good team.
"And then a good reaction, we played in their half, we create something, the feeling was we are in the game but the second goal I don't say ridiculous I say unlucky. It's a different thing than ridiculous and after that Tottenham has the game in their hands and they are very good in counter attack, they press well."
United were being so overrun in the midfield that Mourinho took off Pogba after just 63 minutes, only to then take off his replacement Fellaini just six minutes later, but put the latter down to injury.
"Injured. I think it's the same, continuously the same injury, the first time, second time and now the third time, it's always lateral ligament. [Pogba] just change for Fellaini, try different qualities with different players."
It made for a miserable Premier League debut for Sanchez.
"He worked hard," Mourinho said. "But, again, the transformation the game had, the game was not for him and in the second half I try to give him a position where he could be more close to [Romelu] Lukaku but then he felt the need to drop too much and he was dropping too much to try to organise.
"But he gave everything, good effort and is a good feeling for me to know a player is available with that spirit."
Wednesday's Premier League action in pictures

Show all 31
Mourinho re-iterated that the title is barely worth talking about, instead pointing to the race for the top four is much more relevant as it became so much more congested, in contrast to the 15-point gap from United to Manchester City. The gap between United and fifth-placed Tottenham meanwhile is now just five points.
"I always thought that when the leader is with a certain distance - I have been there a few times - you are calm, you are relaxed, you do not feel the pressure, you know your opponent, sooner or later, is going to drop at least a couple of points and you are completely in control.
"So yes, we play match after match, yes the Premier League finishes for us last match in May versus Watford but we knew, you knew, the distance to the leader was already considerable before this match.
"Now we have us, Chelsea, Spurs, Liverpool, Arsenal, we will be there fighting for positions."
Join our new commenting forum
Join thought-provoking conversations, follow other Independent readers and see their replies