Jose Mourinho's miserable Monday: Stadium ban follows Eva Carneiro legal claim against Chelsea manager
Given one-match stadium suspension and a £40k fine, branded a 'selfish' manager by Pellegrini, is subject to individual legal claim from Carneiro
Pete Jenson
Monday 02 November 2015 21:49 Comments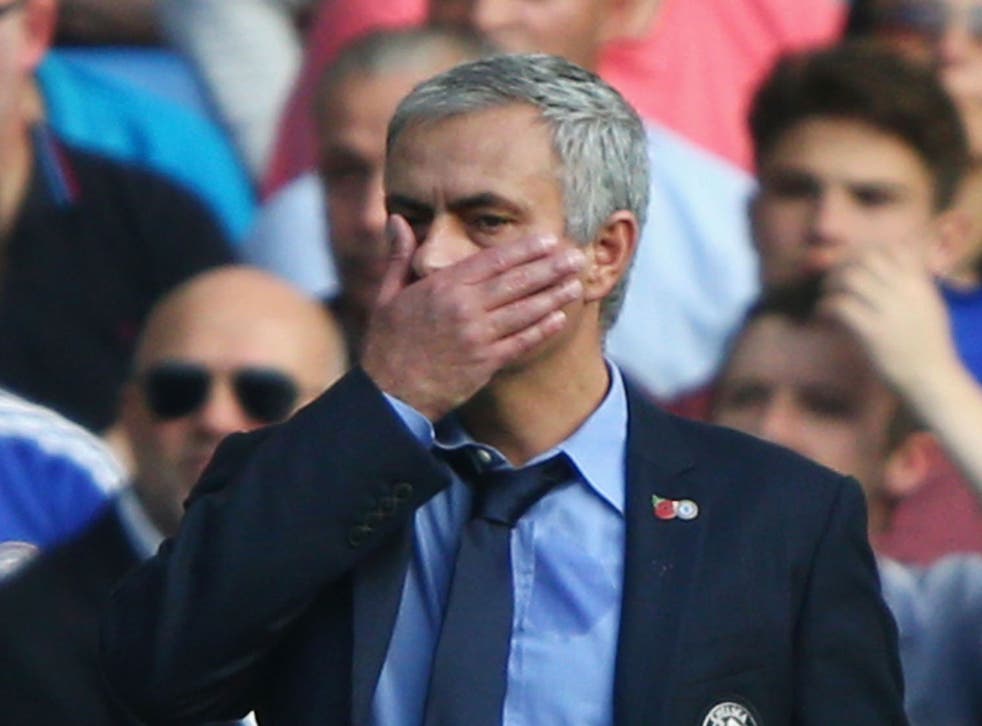 Jose Mourinho came under attack from all angles on Monday, with the Football Association, Eva Carneiro and Manuel Pellegrini all adding to the beleaguered Chelsea manager's problems.
The Portuguese was handed a one-match stadium ban by the FA with immediate effect relating to his language and/or behaviour towards the match officials during his side's 2-1 defeat by West Ham United on 24 October, when he was sent to the stands during half-time after hurling abuse at the referee Jon Moss at Upton Park and refusing to leave the officials' dressing room.
To add to his miserable day, his long-standing rival Pellegrini described his Chelsea side as "selfish" and the former team doctor Eva Carneiro launched an individual legal claim against him, following her acrimonious departure from the club.
Mourinho will be unable to attend the Premier League match against Stoke City at the Britannia Stadium this Saturday or to have any contact with his coaching staff. The reigning Premier League champions are in a wretched run of form and lie 15th in the table at present, having lost six out of 11 matches.
It is the second time this season Mourinho has faced sanction by the FA, having been fined £50,000 and given a suspended ban following comments after his side's fourth league defeat of the season to Southampton.
Meanwhile, ahead of tomorrow night's Champions League home game against Dynamo Kiev, Mourinho is criticised by Pellegrini in a new book about Manchester City's Chilean coach.
In The Pellegrini Method, written by Francisco Sagredo and published this week in the City manager's native country, Mourinho's brand of football is labelled "selfish" because of its disregard for entertainment value.
Pellegrini says: "It used to be said that Mourinho's Chelsea were boring. I don't think that's true at all. Chelsea are selfish not boring. It's a team that puts a lot of emphasis on what they do without the ball. And in my opinion that concept of football doesn't respect the spectacle of the game.
"There are millions of people watching, [some] paying very high prices for tickets. You are seeing great players defending instead of trying to attack the opposition's goal. It is a valid [way of playing] and if you win the league then it is even more valuable but it bears no relation to the spectacle. That is why I believe they are a selfish team, the only thing they want is to win."
Who could replace Jose Mourinho as Chelsea manager?

Show all 14
When it is put to Pellegrini that winning is exactly what the supporters want, he replies: "Yes, the fan wants to win for sure. But it is different if you do so by playing well. That is where I differ. I am not a critic, I just believe in a different way of getting the result. What I am critical of is people who are willing to do anything to win."
City's manager, whom Mourinho replaced at Real in 2010, fell out with Mourinho over comments he made when he took over at the Bernabeu. Pellegrini had moved on to manage Malaga and when Mourinho was asked if he feared that one day he would be sacked just as Pellegrini was, he replied: "If Madrid sack me I will not end up managing Malaga. If Madrid sack me I would go to a big club in England."
In the book Pellegrini does praise the spirit of Mourinho's teams, saying: "What never changes is how competitive he makes his teams regardless of the players he has." And on his relationship with Mourinho he adds: "We do not have each other's telephone numbers, neither are we going to invite each other round for dinner but we are not enemies."
Pellegrini also admitted that the two men had different ideas when it came to projecting a public profile: "Mourinho brings an awful lot to the show that surrounds football. He is in constant conflict, willing to go down a level if they are attacking him with a particular question and sometimes coming out with a brutal answer."
Carneiro is already bringing a case against Chelsea for constructive dismissal but now she is set to serve the club's manager with legal papers this week as part of a related but separate claim.
Mourinho could settle out of court with the aggrieved former team doctor – who yesterday was offered a role at Charlton Athletic when she has settled her dispute with Chelsea – but if he chooses not to then he will have to attend a tribunal in person and could be personally liable for damages if victimisation or discrimination can be proved. The claim against Mourinho will be based on the suggestion that he was effectively responsible for her being demoted from first-team duties.
Diego Costa will not face retrospective action from the FA over an incident against Liverpool in which he clashed with Martin Skrtel.
Register for free to continue reading
Registration is a free and easy way to support our truly independent journalism
By registering, you will also enjoy limited access to Premium articles, exclusive newsletters, commenting, and virtual events with our leading journalists
Already have an account? sign in
Register for free to continue reading
Registration is a free and easy way to support our truly independent journalism
By registering, you will also enjoy limited access to Premium articles, exclusive newsletters, commenting, and virtual events with our leading journalists
Already have an account? sign in
Join our new commenting forum
Join thought-provoking conversations, follow other Independent readers and see their replies