Jose Mourinho and Pep Guardiola is a one-sided rivalry - where one has moral courage the other shows only fear
City and United have the same resources but the reality is that only one of their managers is interested in putting in the type of structure that looks to enhance his players' attacking qualities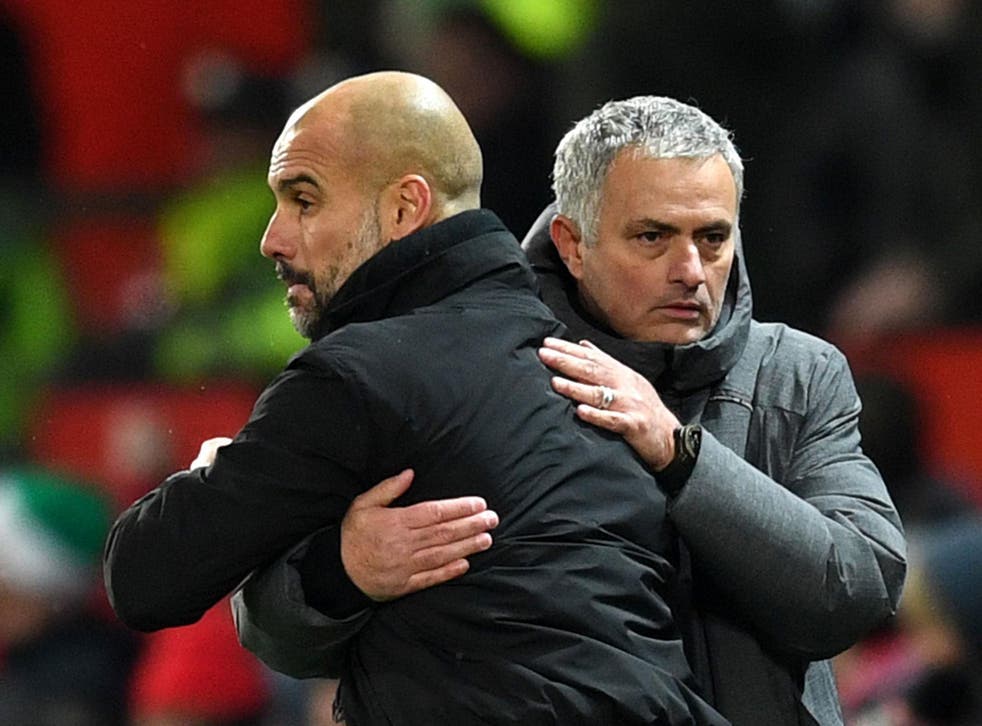 His side had no real answer to Manchester City on the pitch, so it of course meant Jose Mourinho had one main answer to all questions about why the derby at Old Trafford went as it did. The Manchester United boss relentlessly tried to reduce all discussion about his team's indisputably deserved 2-1 defeat to a highly disputable penalty claim.
"You can speak about anything you want, you can bring any football theory, you can bring the stats, the ball possession, you can bring everything you want - but like last season it is a huge penalty in a crucial moment of the game," Mourinho said of Ander Herrera's second-half fall, a moment the midfielder got booked for.
To that, there was only one possible response from Pep Guardiola. "Last season was the same," the City boss began. "We won because we were better in all departments."
Manchester United vs Manchester City player ratings

Show all 22
The Catalan then used the rest of his own press conference to delve into those departments, and also indirectly answer Mourinho - and a few other critics - back in some more ways.
Theirs is a managerial rivalry that has probably been more discussed than any other in history bar Sir Alex Ferguson-Arsene Wenger and Don Revie-Brian Clough, and probably goes to deeper levels because of a profound philosophical difference - the "football theory" that Mourinho talked about - and it sometimes does offer deeper explanations about the football that is actually practised. It isn't all just pantomime noise, as Guardiola made clear.
Most pointedly, there was the Catalan's actual elaboration on Mourinho's statement and the somewhat ironic - if not hypocritical - pre-game accusation that City players go down too easily.
"For me, it is not a penalty first of all because the intention of [Nicolas] Otamendi is not to bring him down," Guardiola said. "Secondly, the message was the same in Barcelona that our players were 'diving'.
"When a team has the courage to have 65, 70, 75 per cent ball possession it is because it's an honest team, it's because they want to try to play and that is what we have done."
It was one interesting digression for two main reasons. First of all, it was impossible not to wonder whether this was a pointed but somewhat subtle dig at Mourinho's reported belief - if not outright football philosophy - that to possess the ball is more damaging because it will just lead to more mistakes. The implication of course is that one way is the football of fear and the other is the football of bravery.
There is secondly the connected reason of Guardiola's musing on "honesty", and the equally subtle linking of how they play to a certain "morality". The City boss was effectively echoing age-old football arguments put forward by patriarchs of the sport like John Giles and Bill Shankly, that the real key to the game is a "moral courage"; to have the bravery to believe in what you are doing, to take the ball on, to express yourself.
This, it has to be said, is what City do better than anyone in Europe right now - and that not long after it was widely felt it just couldn't be done in England. That was something else that Guardiola just couldn't resist pointing out.
He really was using the final score to settle a few other scores, and it was difficult to blame him.
"I am happy because so many people say you cannot in England playing like this."
This in itself also points to one major reason as to why City are a record 11 points clear at this stage of the season, why he has such a vastly superior record against Mourinho in their head-to-head, and why there was such a chasm between the sides on Sunday even though the prospective champions didn't actually seem at their best.
City and United have broadly similar resources but the brutal reality is that only one of their managers is interested in putting in the type of structure that looks to enhance his players' attacking qualities, and actually coach them to be higher-quality attackers too, of having the courage to build a somewhat risky proactive approach that does require some faith. The other is more interested in limitation, in playing the percentages rather than going at everything 100%.
This match - and effective title-decider - absolutely screamed this, and these are the questions Mourinho should really be answering. There was instead some more irony, as he remarkably bemoaned the lack of beauty in City's goals.
"I think when you see Manchester City play, you expect Manchester City to score great goals not to score two disgraceful goals," Mourinho said. "They are the last goals you expect to concede against a quality team like Manchester City, two very bad goals.... with rebound and incredible lucky or unlucky depending on perspective. Yes they had much more of the ball, yes they had that apparent control of the game but the biggest save is the double save of their goalkeeper [Ederson against Romelu Lukaku] and the biggest decision of the game is the unlucky decision of Michael [Oliver]."
Neither of them, however, are the biggest reason as to why United lost and City are now set to win the title so commandingly.
That is instead down to something that warrants even more words, in this increasingly one-sided managerial rivalry.
Join our new commenting forum
Join thought-provoking conversations, follow other Independent readers and see their replies