Juan Mata: Why Jose Mourinho would want rid of Manchester United playmaker
The former Chelsea manager would reportedly look to sell the midfielder if he moves to Old Trafford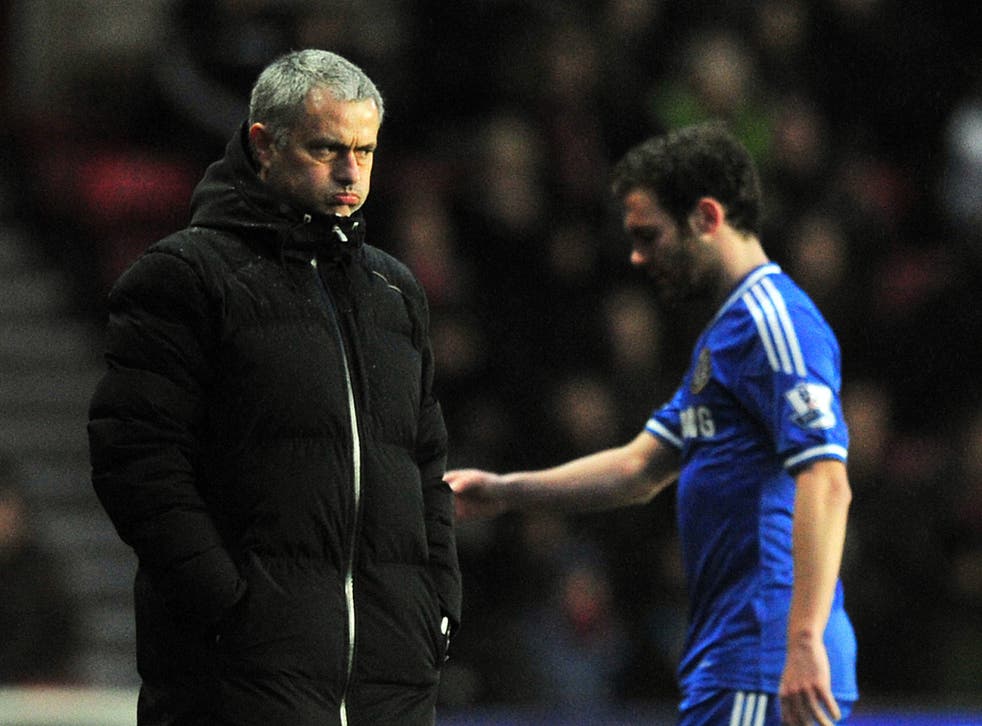 Jose Mourinho is reportedly preparing to axe Juan Mata if he is given the Manchester United job.
The former Chelsea manager revealed that he would look to sell the midfielder, as well as Marouane Fellaini, during talks with United's executive vice-chairman Ed Woodward, according to a report by the Daily Mail.
Mourinho, who is expected to replace Louis van Gaal in the Old Trafford dugout from next season, previously sold Mata to United in 2014, during his time at Stamford Bridge.
Although the Spaniard had won Chelsea's player of the year award for two consecutive seasons, Mourinho regularly left him out of his starting line-up and eventually authorised his £37million departure to their Premier League rivals.
What exactly does Jose Mourinho have against Juan Mata?
He doesn't play his way
During his first season back at Chelsea, Mourinho favoured Eden Hazard, Oscar and Willian to play behind his lone striker. Mata, in his opinion, did not do necessary defensive work and he would not play him regularly until he did.
When asked about Mata's limited opportunities in October 2013, he said: "It is one thing to play with Ramires and Oscar closing down opponents on each side, and Mata as a No10 behind a striker with his clever assists, clever passes and fantastic actions because he has great talent."
"But it is another thing to adapt to the way we want to play," he added. "In this moment, Oscar is my No10 and, if anyone tells me Oscar has not been Chelsea's best player this season, I'd have to disagree. I have to prove to the fans that I am good. Now [Mata] must do the same."
They had no relationship at Chelsea
By the end of Mata's time at Stamford Bridge, he and Mourinho were not on speaking terms. The midfielder revealed as much in an interview with Spanish newspaper El Pais
"For better or for worse, we had no relationship," he said. "There was no dialogue. I was not happy, but always gave the most respected and my colleagues. You never know what will happen in life."
Who might Mourinho try to sign at Man Utd?

Show all 11
The normally mild-mannered Mata let his frustration show in his final appearance for Chelsea. When substituted by Mourinho during the 3-0 victory at Southampton, he ignored his manager and complained to team-mates on the bench about his treatment.
He's a 'player with status'
After Mata's transfer to Old Trafford, Mourinho praised the player's conduct and insisted that it had 'hurt' him to leave the midfielder out of his side. Mourinho being Mourinho, however, he couldn't resist one little barb.
"It's difficult for me to leave him out of the team. It's difficult for me to decide that Oscar is going to be my number 10 and that I'm going to build my team around that decision," he said.
"And it's difficult for him to accept the situation," he added. "He's a player with status."
Mark Ogden - Jose Mourinho 'perfect' for Man Utd
He's a 'luxury player'
There is no evidence of Mourinho ever using the term 'luxury player' in direct reference to Mata, but it is clear that the Spaniard's flamboyance was the chief reason why he moved him out of Stamford Bridge.
Mata responded directly to the 'luxury player' tag in an interview with The Times a few months ago, claiming: "If a luxury player is a player who scores and assists and has good stats, then I'm happy to be a luxury player.
"I want luxury players in my team. I like creative players and players who do different things. It's easy to say certain players are luxuries, especially when you've lost a game.
"When you lose a certain kind of player - the creative players - always get the blame.
Register for free to continue reading
Registration is a free and easy way to support our truly independent journalism
By registering, you will also enjoy limited access to Premium articles, exclusive newsletters, commenting, and virtual events with our leading journalists
Already have an account? sign in
Register for free to continue reading
Registration is a free and easy way to support our truly independent journalism
By registering, you will also enjoy limited access to Premium articles, exclusive newsletters, commenting, and virtual events with our leading journalists
Already have an account? sign in
Join our new commenting forum
Join thought-provoking conversations, follow other Independent readers and see their replies