Jurgen Klinsmann offers backing to Tottenham manager Mauricio Pochettino as Emanuel Adebayor asks fans to stop booing
The Spurs manager is coming under pressure following the 2-1 defeat to Stoke on Sunday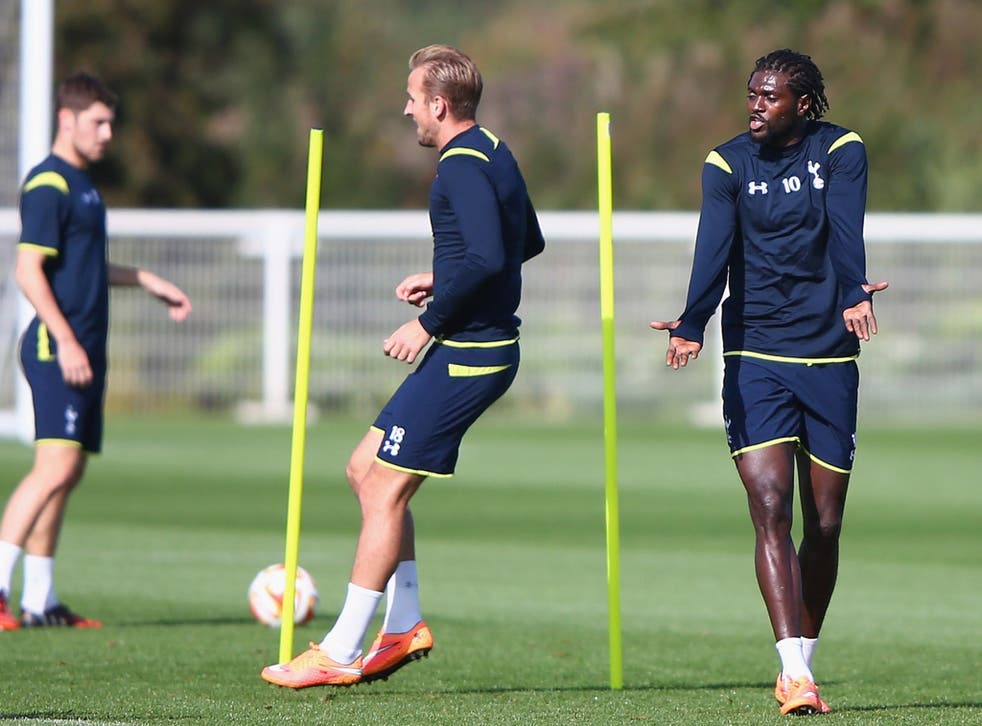 Tottenham Hotspur striker Emmanuel Adebayor would rather play away games than at home because of the poisonous atmosphere at White Hart Lane. Spurs have lost four times at home already this season and Adebayor believes they are better away from their own negative fans.
"It's kind of hard when you know the first bad ball you make the fans are going to boo you," Adebayor said after Sunday's 2-1 defeat to Stoke.
"When you are playing in front of your own crowd you want them to support you. But now it is like going through a sad moment and your family not welcoming you home. That's the worst thing ever because you have nowhere to go. At the moment I don't know whether we should play at home or whether we should play away."
Adebayor urged the Tottenham fans to be more vocal in their support of the team, and said that the players were scared to play the game because of the response of the crowd. "Instead of booing people, which will make it even worse, I think it is sometimes better to support them and give them what they need to perform on the pitch," he said. "And right now, to tell you the truth, I think a lot of players when they put on the shirt and go out on to the pitch, are finding it hard in the head."
"Obviously I was on the bench against Stoke and I could see that nobody wanted the ball. It's hard for the players. It's not their fault and it's not the fans' fault either because the fans want to see a result, the fans want to see a response and things are not going our way at the moment. We just have to fight as a team and as a club to find a solution. The quicker the better."
Adebayor backed head coach Mauricio Pochettino and said that everyone had to rally behind him despite the club's poor start to the season. "This is the third or fourth manager in two or three years so we just have to stop it now being about the manager," he said. "He's a good manager and we just have to find a way so that we can try to understand what he wants to tell us and how he wants us to play and put that on the pitch."
Tottenham - the latest match in pictures

Show all 121
Tottenham legend Jürgen Klinsmann backed Pochettino yesterday and said that coaches could only be judged over the long term. "I wish Mauricio only the best," said Klinsmann, whose United States team plays Colombia at Craven Cottage on Friday. "I think he's a tremendous, talented coach. He's shown that already. He's got a smart brain.
"Every coach needs time to put his mark on an environment, on a club, on a national-team programme. Wherever you work, it's only going to happen over time. Unfortunately, professional football is driven by short-term results.
"In order for Mauricio to put his stamp on Spurs he needs time, he needs probably also needs a couple of transfer windows over time to build the team he has in mind, to put the puzzle together that he envisions."
Register for free to continue reading
Registration is a free and easy way to support our truly independent journalism
By registering, you will also enjoy limited access to Premium articles, exclusive newsletters, commenting, and virtual events with our leading journalists
Already have an account? sign in
Register for free to continue reading
Registration is a free and easy way to support our truly independent journalism
By registering, you will also enjoy limited access to Premium articles, exclusive newsletters, commenting, and virtual events with our leading journalists
Already have an account? sign in
Join our new commenting forum
Join thought-provoking conversations, follow other Independent readers and see their replies