Does anyone fancy some marking, Liverpool? That's what Ronnie Moran would have wanted to know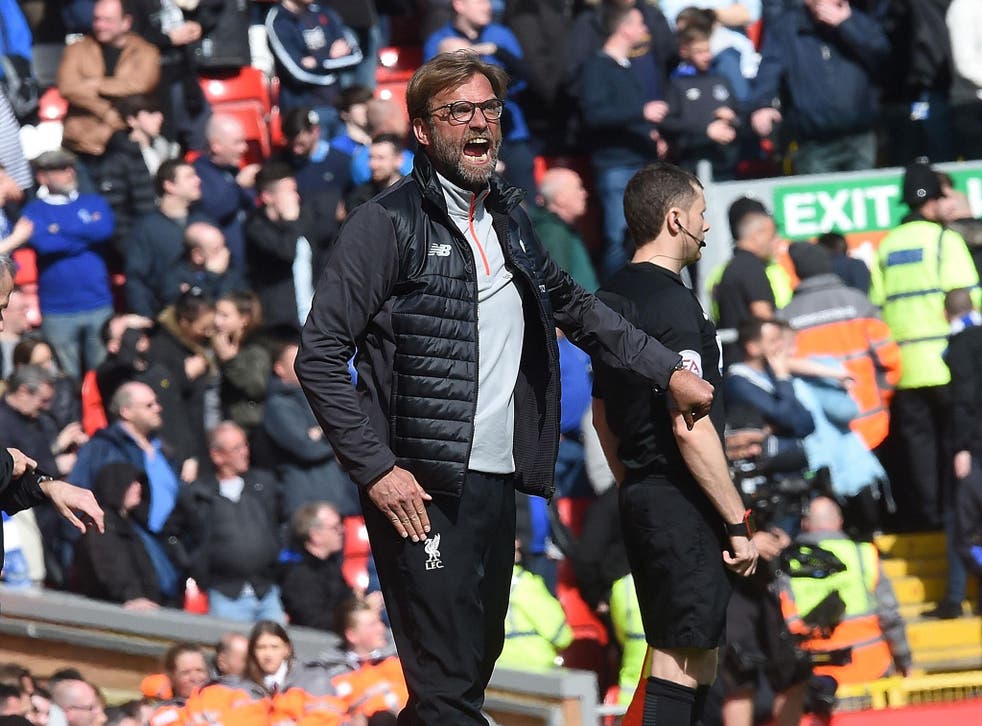 Ronnie Moran, whose life and work were celebrated at Anfield on Saturday, was part of a management team which obsessed about fixing weaknesses and hated to talk about winning, so it is reasonable to reflect on what there was to worry about in the victory which extends Everton's winless run at Anfield to 18 years.
Jurgen Klopp was surprisingly frank about the problem. Set-pieces were "still a question for us to find a real answer for" he said. "You can really be sure we are on this and working on this with a lot of different things, but it is not our best skill of our skills."
Schalke's Bosnian left back Sead Kolasinac, out of contract this summer, has been tracked by Liverpool but a more radical solution may be needed. Saturday represented one of the most ineffectual Everton performances in all of those 18 years and yet Liverpool's embarrassment might easily have extended beyond the corner from which they conceded a painfully soft equaliser. There were times in the second half when their zonal marking was not fit for purpose. There was also that perennial sense you get with them that a standard cross into the box at any time can give any opponent cause for hope.
Liverpool 3 Everton 1 player ratings

Show all 22
A free-kick early in the second half had already almost brought Everton at 2-2 before Mason Holgate was given the freedom of Liverpool to leap for a Leighton Baines cross, which he somehow conspired to head over. As the Liverpool Echo memorably put it: "Does anyone fancy some marking?" Moran, former left back and club captain, didn't go in for technical defensive tuition during the years when Bob Paisley's side brushed all others aside. The philosophy was that you didn't need to be told if you played for Liverpool. It certainly feels like the side needs a new defensive anchor in there to lead the line and sort out the mess.
Injuries have been a problem. This was only the 13th time that Klopp has been able to field Dejan Lovren and Joel Matip together this season and there have been over 20 different defensive combinations in all. One of Paisley's articles of faith was a central defensive pairing who knew each other. Yet there is no disguising the muddle. "The organisation was ok, but someone blocked Lucas," Klopp acknowledged. "One step, it is too quick and then Joel couldn't make this step because it became his space. At the end it was a good set piece."
By most indicators – tackles, blocks and interceptions - Liverpool are the Premier League's sixth best side, though that is not good enough, of course, for a club seeking one of the precious Champions League places and who – after Bournemouth's arrival this week - travel to Stoke City and West Bromwich: both of whom will look to exploit this weakness.
They will be without Sadio Mane for at least this midweek and Klopp's prickliness when asked how he would cope demonstrated what a concern this is, with the hope being that Daniel Sturridge might be able to step in.
"Yes we missed his speed," Klopp said of Mane. "When I came in I was not that happy because he was injured, but I did not think about all this. Know you have given me this mind set and I feel really bad. What should we do now? How can we find a solution to replace Sadio Mane – I would really like it if you thought about your questions…"
Everton's injury problems for Tuesday's visit to Old Trafford are considerably worse, given what a scorching baptism of fire Saturday was for Matty Pennington in the depleted defence. The usually plain talking Koeman offered an exaggerated and frankly ridiculous post-match assessment of his side's "face to face" combat with the enemy and briefly threatened to end the press conference. It was presumably his means of protecting the youngsters he had thrown in and who had suffered.
They've started flying a '1999' banner at the Kop end and chant that year now, seizing on the psychological burden which is attaching itself to Everton's long years without a win. It's akin to the ticker at the Old Trafford Stretford End that taunted Manchester City about their lack of trophies. But United were busy winning championships while they were ridiculing the neighbours. Moran, the attack dog of Paisley's back room team, would have been to first remind the red fraternity that local honours are satisfying but national prizes carry the real significance. You need a serviceable defence to claim those.
Register for free to continue reading
Registration is a free and easy way to support our truly independent journalism
By registering, you will also enjoy limited access to Premium articles, exclusive newsletters, commenting, and virtual events with our leading journalists
Already have an account? sign in
Register for free to continue reading
Registration is a free and easy way to support our truly independent journalism
By registering, you will also enjoy limited access to Premium articles, exclusive newsletters, commenting, and virtual events with our leading journalists
Already have an account? sign in
Join our new commenting forum
Join thought-provoking conversations, follow other Independent readers and see their replies