Where are the Asian footballers in the Premier League? Kashif Siddiqi on where the problems still lie and why it might take a Rooney Rule to fix it
Only three south Asian players have graced the Premier League, and with Wolves' Danny Batth set to become a top-flight captain next season, it's clear things need to change sooner rather than later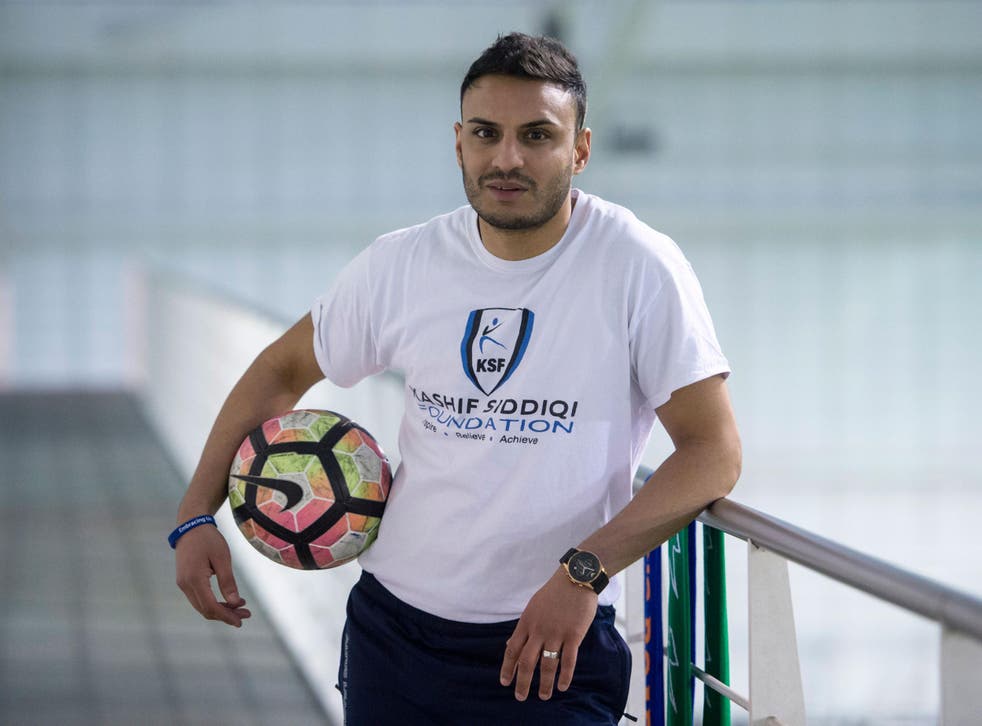 Despite making up seven per cent of the United Kingdom's population, only 11 British South Asians have played professional football in England. Neil Taylor, now at Aston Villa, is the last to have done so in the Premier League. Before him, only Michael Chopra and Zesh Rehman had reached the top division.
It is a damning statistic, and one that sits at the forefront of Kashif Siddiqi's life. Siddiqi is one of the 11, having spent the 2013-14 season on the books of Northampton Town after spells in Dubai, the United States and at non-league level.
It is off the field, however, where the Hammersmith-born, former Pakistan international has made his name. He set up the Kashif Siddiqi Foundation to bring football into under-represented communities, working to break down the social barriers responsible for an ever-expanding divide between British South Asian families and the sport.
"It's the million-dollar question," he says of the lack of progress in improving participation levels. "The FA did a big study about 10 years ago about why there are no Asians in football and if you look at it now, they are still asking the same question. There appears to be a gap widening between grassroots and professional football."
The Altus League – Siddiqi's latest initiative – has focused on rectifying that. The PFA-backed competition involved youth teams made up of 70 teenagers from East London and Bradford, with the final taking place at St George's Park, the FA's national football centre. The programme's objective is simple for Siddiqi, whose work has led to him being honoured by figures including the Duke of Cambridge and the Pope.
"The Altus League is very much about development through football and giving young people the opportunity to get to the next stage," he explains. "We want to give these children and young people these opportunities and take them to the home of football, where they probably would not have a similar opportunity.
"I think there are three different issues facing young British Asians in football. Firstly, I think there is a lack of role models for families to push on because, realistically, if there are no role models why would people want their children to be in that sport? Secondly, I think there needs to be a lot more education on health and nutrition. Finally, there is still a massive lack of opportunities."
For Siddiqi though, despite the sport moving away from past tropes of hooliganism and racism, a stereotype of British South Asians still exists. Dispelling this label is one of the Altus League's principal aims, with it due to be expanded nationwide across other under-represented areas.
"If you're making it as a professional footballer over here as a Pakistani or an Indian, the general feeling is that you must be amazing," he says. "It's not a level playing field. If you're South Asian and you've made it into the system, then it's assumed that you must be a Messi or a Ronaldo. Why can't we just be South Asian footballers?"
The result of the almost complete absence of representation is a general reticence from families to push for change. There is, Siddiqi admits, a fear of racial abuse.
"I've had issues at clubs that I've played for with fans – all kinds of stuff," he says. "You have to stay strong. The changing room environment is never easy and being a Muslim footballer, I don't drink. But I'd still go out and socialise with the lads. It's hard for a young boy coming through to really embrace that culture. There needs to be an education on both sides.
"I've had tweets saying things and I've seen stuff on the internet. It's sad but it comes as part of the package. Of course, it shouldn't be that way.
"Crucially for me, my mother has always been my role model and she's always been there to give me that boost when I was younger and not getting picked for teams and being pushed to the side.
"That's one of the most important things here – that parents understand this as well. If you're getting pushed back, you need to push back even harder. Life is all about risks, so you have to take risks. Whereas, when you look at children within faith establishments that are isolated from sport and integration, when they are faced with that difficult situation they don't know how to deal with it."
It is this struggle that Siddiqi is looking to transform through the Altus League, highlighting football's ability to break cultural divides. Whenever he speaks, he makes a point of emphasising the power of sport to generate change. In an industry desperately short of British Asian role models, he raises the example of Wolves captain Danny Batth. In all likelihood the defender, who is of English and Sikh Punjabi descent, will be a Premier League captain next season.
The story's significance is not lost on Siddiqi – a British Asian in the world's most prominent league can only improve the situation. However, he is well-aware that Batth is an exception rather than the rule. He would become the Premier League's fourth British Asian in a quarter of a century, highlighting the importance of Altus in looking to bridge the gap.
"I think there is a lot of work being done," Siddiqi says. "But I think the real question is whether the right work is being done. Players that have lived and breathed the system could possibly get involved and become more of a voice."
The plight of British Asian players is not dissimilar to the challenge faced by ethnic minority managers and for Siddiqi, a Rooney Rule equivalent would be welcomed.
"As bad as it sounds, nothing else is working," he says. "We probably have to twist a few arms in order to make it work. History shows us that what we are doing at the moment is not working. You can't blame anyone for it – the South Asian community has to take responsibility for it as much as mainstream society.
"It's so important to highlight the amount of passion that does exist for football in the British Asian community. There's so much passion to take that love for the sport to the next stage. That's what Altus tries to do."
Register for free to continue reading
Registration is a free and easy way to support our truly independent journalism
By registering, you will also enjoy limited access to Premium articles, exclusive newsletters, commenting, and virtual events with our leading journalists
Already have an account? sign in
Register for free to continue reading
Registration is a free and easy way to support our truly independent journalism
By registering, you will also enjoy limited access to Premium articles, exclusive newsletters, commenting, and virtual events with our leading journalists
Already have an account? sign in
Join our new commenting forum
Join thought-provoking conversations, follow other Independent readers and see their replies