Kenny Dalglish sacked as Liverpool manager
Simon Rice
Wednesday 16 May 2012 17:23 Comments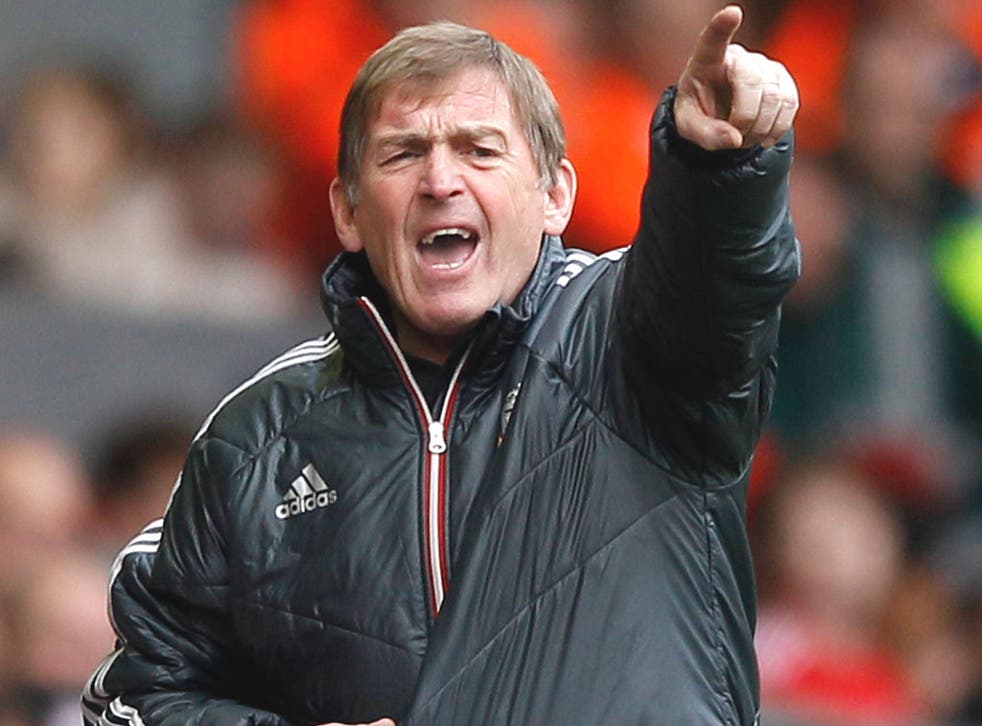 Liverpool have confirmed that Kenny Dalglish has been sacked as manager, just 16 months after returning to the role.
A statement on the offical website read: "Fenway Sports Group (FSG) and Liverpool Football Club announced that Kenny Dalglish is to leave his post today as Manager after having his contract terminated.
"After a careful and deliberative review of the season, the Club came to the decision that a change was appropriate. It is not a decision that was reached lightly or hastily."
The Scot flew back to Britain yesterday having travelled to Boston in the United States for talks with the club's principal owner John W Henry and chairman Tom Werner.
Without any announcement or public reassurances over his future following that meeting, speculation that Dalglish would leave the club has been mounting. That speculation has now turned into reality.
Dalglish released a statement this afternoon, expressing his disappointment at the decision.
"It has been an honour and a privilege to have had the chance to come back to Liverpool Football Club as Manager. Of course I am disappointed with results in the league, but I would not have swapped the Carling Cup win for anything as I know how much it meant to our fans and the Club to be back winning trophies," he said.
"Whilst I am obviously disappointed to be leaving the football club, I can say that the matter has been handled by the owners and all concerned in an honourable, respectful and dignified way and reflects on the quality of the people involved and their continued desire to move the football club forward in the same way as when they arrived here.
"I would like to thank all of the staff at the Club for their effort and loyalty. I said when first approached about coming back as Manager that I would always be of help if I can at any time and that offer remains the same.
"Finally, I want to put on record my heartfelt gratitude to Liverpool's fans, who have always given me and the Club their unwavering support. Without them neither the Club nor I would have achieved anything."
Dalglish's daughter, the sports broadcaster Kelly Cates, tweeted earlier: "Devastated for Dad but incredibly proud of the job he's done. Thanks for all the lovely messages already. Have a good summer x"
Liverpool have endured a difficult season, with the club finishing eighth in the Premier League, their lowest position for 18 years. Meanwhile their points tally of 52 was their lowest since 1953-54 (assuming three points for a win in every season). The Merseyside club did win the Carling Cup and reached the FA Cup final, which they lost to Chelsea - but those runs were clearly not enough for the owners. In total Dalglish won 35 of his 74 games in charge.
Fenway Sports Group, the owners of Liverpool, have invested heavily since taking over from Tom Hicks and George Gillett - sanctioning the signings of Andy Carroll, Luis Suarez, Stewart Downing and Jordan Henderson - arrivals that all cost in excess of £20m. Qualification for the Champions League would have been seen as a minimum requirement if the owners are to recoup their investment, and having fallen well short, the Americans decided to act.
Principal owner John W Henry said: "Kenny will always be more than a championship winning manager, more than a championship winning star player. He is in many ways the heart and soul of the club.
"He personifies everything that is good about Liverpool Football Club. He has always put the Club and its supporters first. Kenny will always be a part of the family at Anfield.
"Our job now is to identify and recruit the right person to take this Club forward and build on the strong foundations put in place during the last 18 months."
Chairman Tom Werner added: "Kenny came into the Club as Manager at our request at a time when Liverpool Football Club really needed him. He didn't ask to be Manager; he was asked to assume the role. He did so because he knew the Club needed him. He did more than anyone else to stabilize Liverpool over the past year-and-a-half and to get us once again looking forward. We owe him a great debt of gratitude.
"However, results in the Premier League have been disappointing and we believe to build on the progress that has already been made, we need to make a change.
"We are committed to delivering success for our supporters and our ambition remains resolute to return this great Club to the elite of England and Europe, where it belongs."
Dalglish replaced Roy Hodgson, who is now the England manager, in January last year. Initially Dalglish was appointed on a caretaker basis, but was given a three-year deal last summer. It will be seen as an irony that on the day Hodgson announced his first England squad, Dalglish was shown the door at Anfield.
In the 61-year-old's first spell as manager of Liverpool between 1985 and 1991, he delivered the old First Division three times and the FA Cup twice, and his return last year was hugely popular among fans. Those same fans are unlikely to take this decision to fire the former Liverpool player lightly, and will be eager to see FSG has a plan.
Before being appointed manager last year, Dalglish was working behind the scenes with the youth academy and in an ambassadorial role. It is unclear at this stage if he will retain a role at the club, although the statements today suggest a position will be found.
FSG have been conducting an array of cost cutting measures of late, with director of football Damien Comolli one of those recently shown the door.
Among the contenders to replace Dalglish will be Wigan's Roberto Martinez, former Anfield boss Rafael Benitez and former England manager Fabio Capello.
The statement on the club's website finished: "The search for a new Manager will begin immediately."
Twitter: @simonrice
Register for free to continue reading
Registration is a free and easy way to support our truly independent journalism
By registering, you will also enjoy limited access to Premium articles, exclusive newsletters, commenting, and virtual events with our leading journalists
Already have an account? sign in
Join our new commenting forum
Join thought-provoking conversations, follow other Independent readers and see their replies