Kevin Mirallas is settling into Everton role in time for Manchester United trip
Injury-plagued Belgian international is raring to go at Old Trafford while Rooney is also fit and ready to face his former club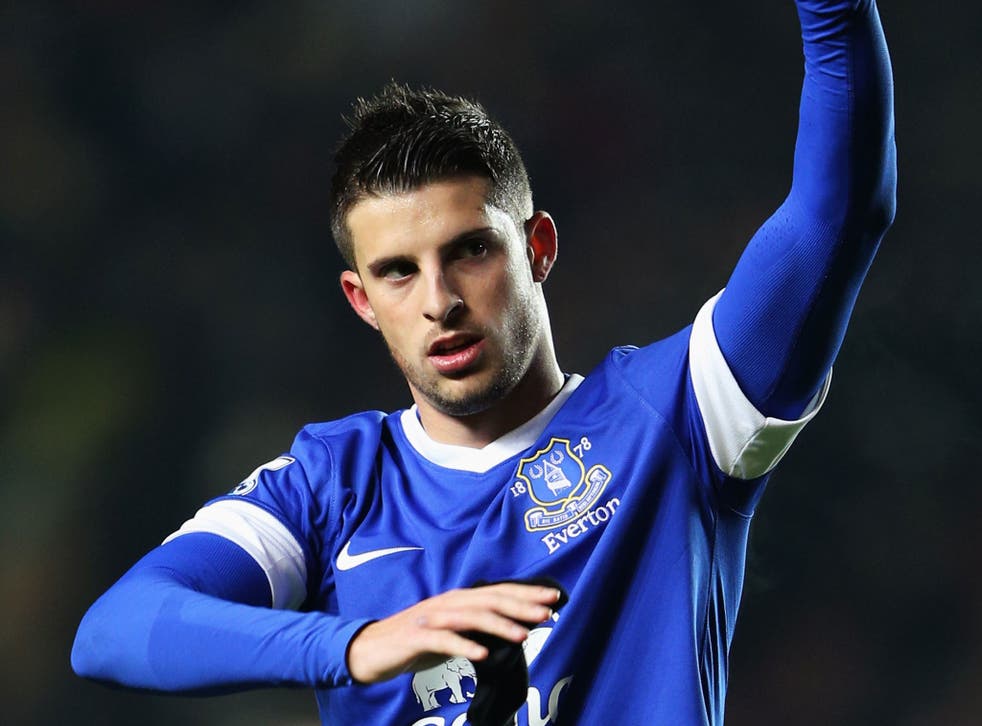 It is hard enough settling into English football even at full fitness. When the same injury problem occurs three or four times, doubts inevitably intrude.
"Hamstring" was a word that peppered more conversations than Everton's Belgian international forward Kevin Mirallas would have wished in the first six months of his career on Merseyside after signing from Olympiacos last summer. Consequently Evertonians are reserving judgement, for all the promise of adding some real pace to the attack, which began with having a goal disallowed on his debut in August, plus scoring twice and adding an assist in the Capital One Cup victory over Leyton Orient.
A useful first Mersey derby debut was then cut short by an already familiar injury. By Christmas, the club were sufficiently concerned to agree he should travel to Germany to see Hans Müller-Wohlfahrt, the Bayern Munich doctor who had been recommended by his best friend in football, the former Manchester City defender Daniel van Buyten. Müller-Wohlfahrt, who has also treated Usain Bolt and the England captain, Steven Gerrard, is renowned for some unusual remedies, including injections derived from calf's blood, and Mirallas claims to be feeling the benefit.
"From the very first injection, I started to feel an improvement – it was incredible," Mirallas said. "I don't know what it was, but it's worked so far. Let's hope the injuries are finally behind me and I can get a run of games together again. I decided to turn to Hans because if he's on the staff of Bayern Munich, he's there for a reason. He did a good job for me and it's been a case of so far, so good."
Mirallas hopes to play against Manchester United at Old Trafford today, although he will be aware that it was after he came off at home to Aston Villa last weekend that Everton recovered from 3-1 down to equalise with two goals from his better-known compatriot Marouane Fellaini. The pair played together at the European Under-21 Championships in 2007 and Mirallas says Fellaini was instrumental in persuading him to move from Piraeus to Merseyside. Now he is concerned that their partnership should not be broken up this summer.
"I had a few offers from other clubs but the most important thing was coming to a club who really believed in me. A club which had total confidence in me and would allow me to play games," he said.
"I have known Marouane for a long time and he convinced me of all of those things and that Everton would be the place for me. We count on him and we definitely want him to stay. A few clubs have shown an interest, and if someone made Everton a big offer he could leave because that's how football works. But definitely we want him to stay."
As ever, Wayne Rooney will be a centre of particular interest against his old club, albeit suffering less abuse than in away games back at Goodison. "When he first went to Goodison, the crowd was giving him a lot of stick and maybe it did affect him a little bit," Sir Alex Ferguson said. "He's missed a couple through injury at Everton, he scored last season against them, but I don't think it will be a problem at Old Trafford."
United's manager was for once content to see a United player have a full 90 minutes for England in midweek, having suggested that Rooney tends to need three matches or more to return to his best after injury. "I spoke with the manager through the week and wanted to play the full game because I feel in a good run of form at the minute and I tend to play better when I'm playing all the games," Rooney said.
Manchester United v Everton is on Sky Sports 1 today, kick-off 4pm
Rooney: Wilshere is just like my idol, the young Paul Gascoigne
The tributes being paid to Jack Wilshere's maturing talents have continued, with Wayne Rooney saying the Arsenal midfielder is the closest thing he has seen to his own idol, Paul Gascoigne. Rooney, who was thrilled to train with Gascoigne as a young Everton player, said: "Probably the closest thing I've seen to him is Jack, where he gets the ball and runs at players. He's a lot quicker and a lot stronger than people realise."
England's first goal against Brazil was a good example of those qualities, owing much to Wilshere's driving run at the defence and perfectly placed through-pass to Theo Walcott, whose shot was pushed out by the goalkeeper, Julio Cesar, only as far as Rooney. "It's great to see such a young player come in, against a team like Brazil and put in a performance like that," he added. Gascoigne's present problems — he has checked into a US rehab clinic — have touched Rooney, who recalled: "I was only 14 or 15, but for Everton to sign a player of that stature was incredible. To see some of the stuff he could do with the ball. It was towards the end of his career, but he still had a big impact on games."
Register for free to continue reading
Registration is a free and easy way to support our truly independent journalism
By registering, you will also enjoy limited access to Premium articles, exclusive newsletters, commenting, and virtual events with our leading journalists
Already have an account? sign in
Register for free to continue reading
Registration is a free and easy way to support our truly independent journalism
By registering, you will also enjoy limited access to Premium articles, exclusive newsletters, commenting, and virtual events with our leading journalists
Already have an account? sign in
Join our new commenting forum
Join thought-provoking conversations, follow other Independent readers and see their replies