Kevin Mirallas penalty: 'Small galactico' wanted to grab the glory for Everton during draw with West Brom
The Belgian international took the spot-kick duties away from regular taker Leighton Baines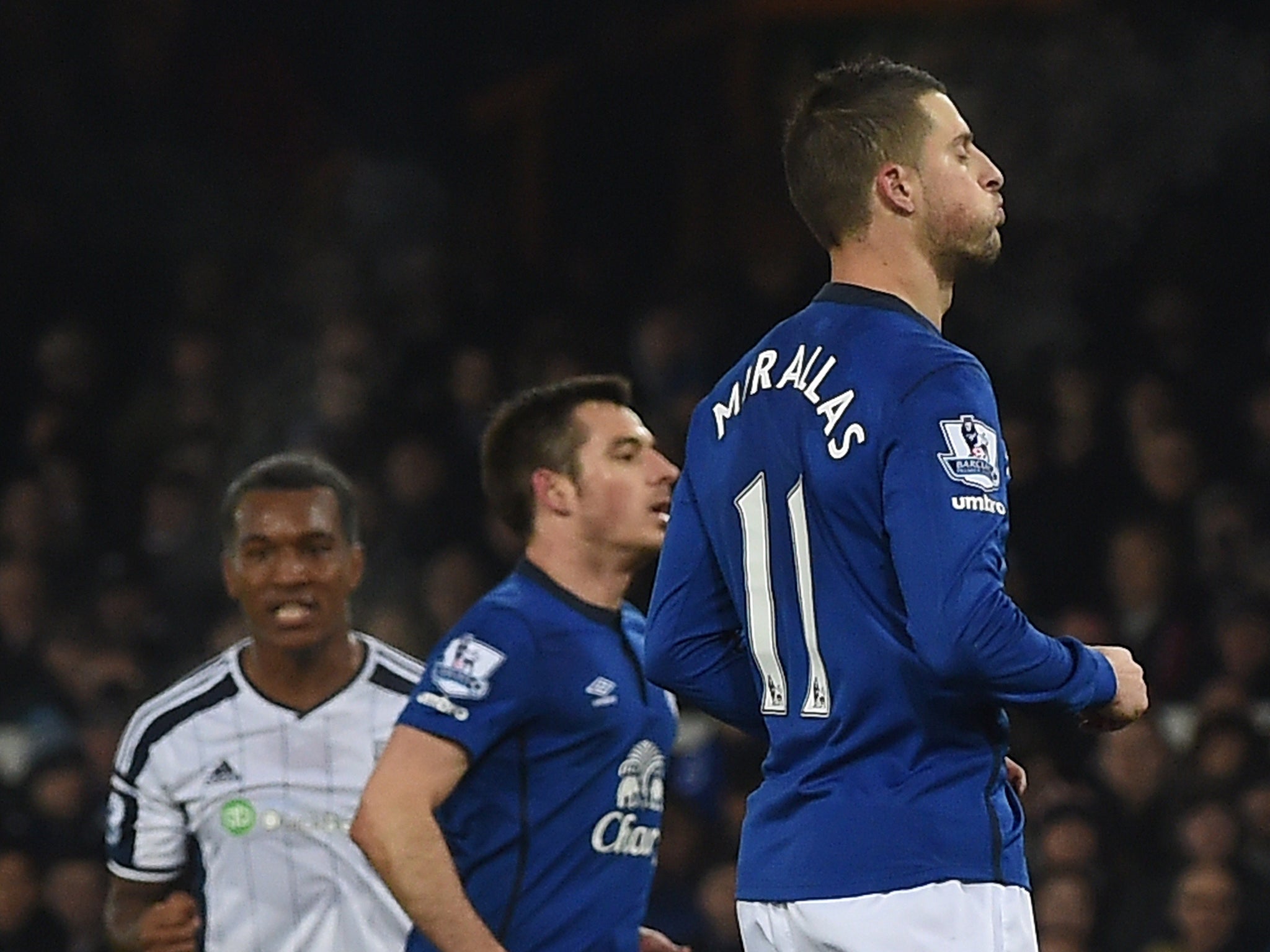 Kevin Mirallas is desperate to move on from Everton, though his insistence on taking the penalty he missed against West Bromwich Albion on Monday night appears to have been a failed bid for glory rather than an attempt to force his exit from Goodison Park.
It is understood the 27-year-old feels his time at the top of the game is running out. With an inquiry about him from Tottenham Hotspur already declined by Everton in the transfer window, plus Atletico Madrid and Borussia Dortmund potentially interested, Mirallas perceives his last big move as a chance to earn a lucrative contract. That is why his representatives have put off negotiations over a new deal with Everton until the summer. They have close connections with Atletico, while the Dortmund coach, Jürgen Klopp, is a long-time admirer of the winger.
But though his own sense his Everton days are coming to an end may have influenced his brazen attitude on Monday – when regular penalty taker Leighton Baines ought to have been given the kick in the goalless draw – a self-centred streak in Mirallas's character is thought to go further towards explaining a decision Sky Sports analyst Gary Neville described as "despicable". The Belgian has always been a single-minded and self-confident player and that bred the kind of egoism witnessed at Goodison. "A small galactico," is how one compatriot who knows him well described Mirallas on Monday.
It is a theme which has run through his career. In the Belgium youth set-up, Mirallas was encouraged to think more about team spirit as he tended to focus on his own performance rather than on the side. The national coaches would often ask his opinion, and treat him as an adult, in an attempt to make him think more collegiately, though the egocentric streak has continued to materialise intermittently through his career.
Those who know Mirallas speak of his affable personality off the field and describe him as a family man who can separate football from the rest of his time and enjoy life. He is also a popular member of Roberto Martinez's squad.
However, a different Mirallas can take over on the pitch and he has needed the influence of his far less egocentric compatriot – and best friend – Daniel van Buyten at times. Yet for all that, it is thought that the reaction to his decision to seize the ball when Baines should have taken the penalty will affect him. He will have learnt a lesson.
Everton flew to Qatar on Monday for a week of warm weather train, leaving Martinez – who claimed Mirallas's half-time substitution was due to a hamstring injury – to lament the absence of his other midfielders.
"We are missing a little magic and those moments we have seen so many times from Leon Osman and Steven Pienaar and even Aiden McGeady – they have real quality in finding space," he said. "The second half [against West Bromwich] we all got frustrated, the players to the crowd and that can be vice versa from the crowd to the players."
Join our commenting forum
Join thought-provoking conversations, follow other Independent readers and see their replies