King Kenny Dalglish loses grip on the poisoned chalice of Liverpool
The Anfield icon's second coming was doomed at a club where the lessons of history have never been learned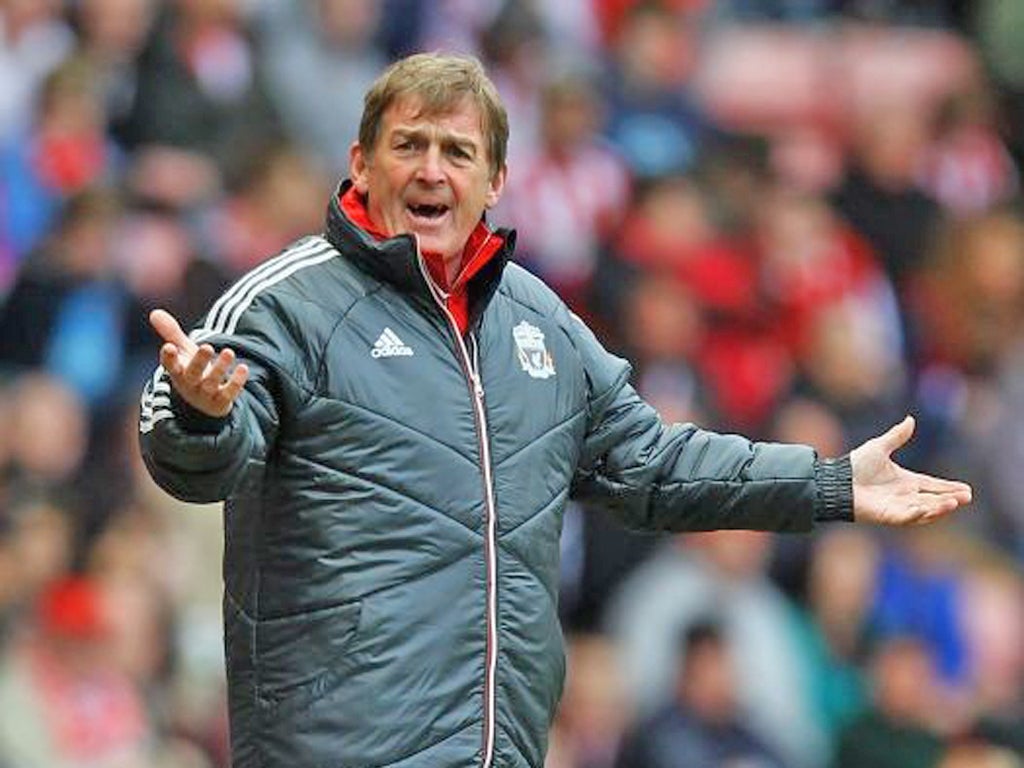 By one of those supreme football symmetries, Roy Hodgson was sitting in the national-team manager's chair, explaining all the advice Kenny Dalglish had provided about the Liverpool players in his new England squad, at the moment Dalglish returned to the foreign holiday mode he abandoned when Anfield interrupted his Gulf cruise with an SOS call 18 months ago. Hodgson was leaving through the back door, cut to the raw by his experience, as Dalglish walked through the front. Which only goes to show that a year and a half is a very long time in football.
It was regrettable that the news of Dalglish's departure yesterday did not arrive a mere two hours earlier, because it would have been instructive to observe Hodgson's reaction. They were both Liverpool caretaker managers, in their way. Hodgson provided the diplomacy and modernity to shepherd the club through a toxic takeover and salve a state of civil war, but he didn't understand what Anfield expects in its football. Dalglish knew about the football but did not understand diplomacy and modernity. In the 20 years he had been out of the club, the world – and football – moved on to a place where the mildest perception, from an opposition player, that someone in a Liverpool shirt had used a racially offensive term required immediate repair from the manager.
The fact that he did not appreciate the subtleties of a 21st-century race row, nor the type of media storm which has accompanied it, was only a part of the problem. More fundamental was the absence of some individual to stand up to him and point out that he was wrong.
Dalglish was fond of explaining of how, back in the day, the great Liverpool administrator Peter Robinson and chairman Sir John Smith guarded the Liverpool keys and how he worked for them. "I wasn't equipped to be involved in other parts of the club," he said of those times. The same rule should have applied to the past 18 months, when Liverpool's failure to stop him from sinking during some very excruciating moments caused the name of a very proud club to sullied. Yesterday's press statement, explaining Dalglish's departure, detailed disappointing results but the excoriating New York Times report of Luis Suarez's failure to shake Patrice Evra's hand at Old Trafford in February hurt the Fenway Sports Group just as much. "Another ugly incident mars Liverpool's good name," read the headline.
The dismal results of the last season – six home wins, the third-lowest goals total in the club's history and Liverpool's lowest league finish since they were promoted to the old First Division in 1962 – also contributed to this outcome. It was certainly very hard to envisage the club establishing a sharp upward trajectory in August.
But Liverpool have been struggling in other ways. In a desperate attempt to justify the £105m outlay of FSG money, Dalglish has had to forego the philosophy, extolled by the ousted director of football Damien Comolli many months ago, that there should be a seamless procession from the academy to the first team for Liverpool's young talents, because all teams play the same way. This is the Barcelona way, the Swansea City way and the Wigan Athletic/Roberto Martinez way. Liverpool's Kirkby academy was encouraged in Dalglish's first half-season that the manager, who had spent a year working among them, was seeing players like Martin Kelly and Jon Flanagan into the first-team ranks. This season, that procession stopped.
Martinez would put that right and in many ways be an excellent successor for Dalglish. Henry probably knows a bit more about the Wigan name than you might imagine. Billy Beane, the general manager of Major League Baseball's Oakland Athletics, whose Moneyball tactics have made Henry a big enthusiast of his, likes to compare his own club to Wigan. Yet Martinez would be perceived by a large section of Liverpool's fan base as a small-club manager and if FSG learns from the lesson of Hodgson it will know what the pressure looks like when an individual not seen as matching up to the Liverpool name begins to fail.
The question is whether FSG will have the strength to go with the instinctive belief that a young man would be ideal, one they had when they took over the club – when Andre Villas-Boas and Ralf Rangnick, who had recently resigned from Hoffenheim – were first touted.
Dalglish has been damaged by his attempt to return and repay the debt he has always felt he owed Liverpool for leaving them in 1991. The contrast between his departure then – "Kenny Quits" stated the black Liverpool Echo headline above an image of Dalglish, shattered and diminished in the aftermath of the Hillsborough disaster, during which his presence was colossal and heroic – and yesterday's meagre paragraphs on a press release bearing his name was sad to behold.
Whoever succeeds him will have the most difficult job in the Premier League. Its demands include the owners' expectations of Champions League football, the supporters' expectations of titles and a certain type of football, plus the ever widening commercial chasm between Liverpool and those clubs that have been run wisely in the past decade.
Dalglish may be better off without this task and even Hodgson, yesterday stepping into the blinding scrutiny attached to his new job, has reason to give thanks for what is now behind him.
King Kenny's two reigns
Kenny Dalglish struggled to replicate the success of his first time in charge at Liverpool, with good runs in the cups coming at the expense of league form.
First spell at Anfield (1985-91)
P299 W182 D76 L41 Win% 60.87
Trophies First Division 1986, 1988, 1990; FA Cup 1986, 1989
Second spell (2011-12)
P74 W35 D17 L22 Win% 47.30
Trophy Carling Cup 2012
Odds on Dalglish's replacement
2/1 R Benitez; 5/2 R Martinez; 9/2 F Rijkaard; 8/1 S Clarke; 10/1 P Lambert; 11/1 B Rogers; 12/1 F Capello; 14/1 A Villas-Boas; 16/1 M O'Neill, J Mourinho, C Ancelotti; 20/1 D Deschamps, M Lippi, J Klinsmann.
Join our commenting forum
Join thought-provoking conversations, follow other Independent readers and see their replies