Late developer Jamie Vardy revels in a true rags to riches tale
Livewire striker Jamie Vardy only broke into the Stocksbridge  first team at the age of 21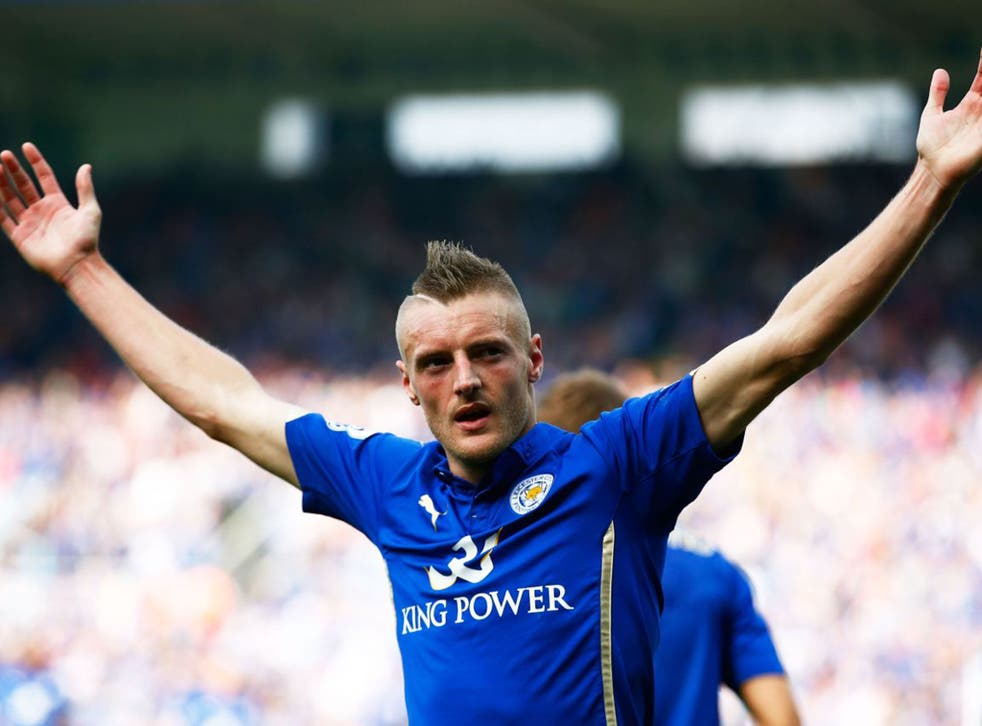 When Leicester City defender Liam Moore described Sunday's events at the KP Stadium as "something surreal", it was impossible to argue – and nothing summed up a surreal afternoon more than the sight of Jamie Vardy running the Manchester United defence ragged.
Here was a 27-year-old making his first start in the Premier League who – with one goal, two assists and two penalties won – overshadowed a United attack worth over £100m. In an era of expensive imports and well-stocked academies, this kind of rags-to-riches story is no longer meant to happen but for Allen Bethel, chairman of Stocksbridge Park Steels, it was no surprise at all to see Vardy rise to the challenge.
Stocksbridge are the Northern Premier League club where Vardy, fresh from rejection by Sheffield Wednesday, arrived at 16 and soon showed he would not be daunted by anything. "At 17 he played a local cup final in Penistone, and the opposition, a village side, decided they were going to try and sort him," Bethel recalls. "They tried to stop him physically for most of the game but he got up after every tackle. That convinced me he had the attitude even though he could be a bit of a naughty boy. It didn't faze him."
What makes Vardy's impact in Leicester's 5-3 triumph all the more remarkable is the knowledge that he only broke into the senior side at Stocksbridge, an old steel town on the edge of the Peak District, aged 21. By that age, Esteban Cambiasso, another City player who made his Premier League debut on Sunday, was a full Argentine international; Vardy, by contrast, had three years in Stocksbridge's second team in Sheffield's County Senior League and the unwanted distraction of an assault charge.
Bethel recalls: "He had a big bust-up in a pub and got tagged. He had to be back at 6.30 at night so it was difficult for away matches. He would play half a match sometimes."
On the pitch, meanwhile, he "went through a phase where he got sent off every so often because he was a classic two-foot tackler. Sheffield United came eight times to watch him but he got sent off twice."
Yet the talent and dedication were always there. Bethel says that Vardy, who earned £100 a week at Stocksbridge, would be "the first on the training pitch and always the last off" and says that the pace that terrified United was always his prime asset. "He was terrifically fast over five yards, 10 yards and he had terrific energy. He was an athlete but he was very small. He had a [great] right foot and left foot and he could climb even at 17 and head a ball brilliantly."
After helping Stocksbridge win promotion to the top flight of the Northern Premier League – the eighth tier of the English pyramid – his reward was a £15,000 move to Halifax and within 12 months he was at Fleetwood Town where his 31 Conference goals in 2011-12 earned him a £1m transfer to Leicester.
His captain at Fleetwood, Jamie Milligan, believes that Vardy's rawness is an asset. "Sometimes now the kids coming through the academies are robots in a way, but there is something a bit different with Vardy. He was a raw talent; he just plays off the cuff and is a nightmare for defenders – like you could see against United.
"You could see how hungry he was as soon as he came in – every game, every training session, he would work hard and harass people, he would be running the channels, he would be playing on your shoulder, he would be coming to feet. If it weren't for him I don't think we'd have got promoted."
Milligan laughs at the memory of Vardy running around naked on the training ground – "that was most days!" – and his nickname at Leicester suggests nothing has changed. "He's known as 'The Cannon' as he's always lively," says Moore. "He's always bubbling around and up to mischief." That mischief was clearly too much for United.
Register for free to continue reading
Registration is a free and easy way to support our truly independent journalism
By registering, you will also enjoy limited access to Premium articles, exclusive newsletters, commenting, and virtual events with our leading journalists
Already have an account? sign in
Register for free to continue reading
Registration is a free and easy way to support our truly independent journalism
By registering, you will also enjoy limited access to Premium articles, exclusive newsletters, commenting, and virtual events with our leading journalists
Already have an account? sign in
Join our new commenting forum
Join thought-provoking conversations, follow other Independent readers and see their replies