One England cap is all Patrick Bamford asks – it's no more than he deserves
Leeds striker has been overlooked by Gareth Southgate ahead of upcoming international fixtures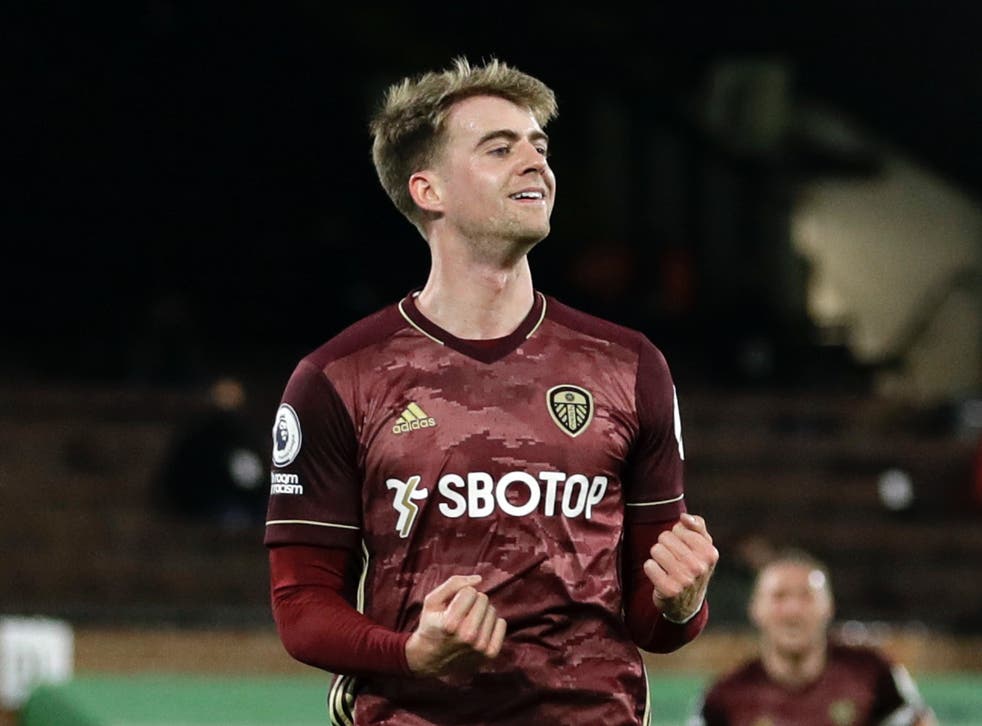 A dart to the near post, having occupied one defender before stealing a march on another. A swish of his left foot, an arrow into the bottom corner. As striker's finishes go, you'll find few better last weekend than Patrick Bamford's opener against Fulham on Friday. 
Except, well, Bamford did not see it that way. "It was a crisp finish… straight off my shin!" he joked at the end of the match he had won for his team with that goal and a smart assist for Raphinha. A performance helping Leeds United to a 2-1 win over Fulham for their 12th win of the season. One greeted with spoonfuls of humility. 
It was humility Bamford had to draw on early in the week after a maiden England call-up did not materialise. In response came this display of energy and craft that had opposition manager Scott Parker singing his praises as one of the best attacks in the Premier League.
"He's right up there," said Parker. "The work he puts in is pretty incredible. Added to that is his goal record and him scoring goals, which has been very good this year. A step up for him – I know he's scored goals in the Championship for some time for different clubs, but now showing his quality in the big league." 
Naturally, Bamford was asked of his England snub in his post-match media engagements. "I might be in with a shot – who knows?" was his take on where he stands in relation to this summers European Championships. It was the juiciest nugget from an otherwise composed post-match briefing in which he spent as much time lamenting himself for a back-heel to Tyler Roberts when he had an early sight of goal.
It was a sentiment reciprocated by Leeds coach Marcelo Bielsa after the match on Friday night when asked if his leading man was spurred on by his international snub. A "here's what you could have won" performance.
Read more:
"I don't think he had that spirit," said Bielsa. "Like every player he plays to be picked, but I don't think he had the spirit of trying to prove them wrong. The fact that he was considered has a lot of value already. He made a very big effort, and I saw him play a very valiant game and I saw him play well, generous apart from that."
That Bielsa is in tune with Bamford's phlegmatic disposition is no surprise. You could argue it's how the two came into each other's lives. Bielsa wanted sharp feet and a sharp mind. Bamford simply wanted to be wanted but has forever been willing to put in the work to earn it. In the summer of 2018, he was brought in from Middlesbrough as one of the Argentine's first signings at Elland Road. 
We know a lot of the Bamford backstory by now, and that in itself is a testament to how far he has come. Because all of it – the private schooling, the Harvard placing he spurned, the temerity to speak a foreign language and that damn violin – have not so much been flipped, but turned to wine for fools. All wispy irrelevances to get drunk on as he continues to leave them behind, sprinting on, looking to make a difference any which way he can. In a way, that's what makes this particular England snub all the more exasperating. 
Because from a narrative point of view, we're left considering the ways in which the overlooked Bamford is right to feel dismayed, especially when set against the immediately countable output of Ollie Watkins who nipped into the squad ahead of him. Bamford has 14 goals to the Aston Villa striker's 10, and leads six to three on assists. So that clearly isn't it. 
Watkins, though, is more productive with the ball, with 32 chances created so far to Bamford's 20. Watkins is second in the Premier League for duels won by forwards (200). Bamford is 38th. It doesn't mean one is working harder than the other: those stats are crude measures that don't quantify off-the-ball work, at which Bamford excels. But, working backwards, they might matter. Probably not. But maybe? 
Even the framing of Bamford v Watkins serves no purpose beyond denigrating one of two of the season's most engaging attacking talents. Yet in the black and white of it all, Bamford is the loser of this phoney war. 
And with the utmost respect, Bamford may continue being a "loser" for some time. That is as close as he ever has been to international honours, the result of a spate of injuries to Gareth Southgate's preferred options. All of Tammy Abraham, Callum Wilson, Danny Ings and Jason Sancho – spot rivals as much as positional ones – are injured ahead of fixtures against San Marino, Albania and Poland.
The respective age profiles don't immediately give the 27-year-old a boost among his rivals. Wilson is 29, Ings 28 and Abraham 23, while Watkins (25) and Dominic Calvert Lewin (24) in the current set-up sit on the right side of the "potential" argument. Even in the immediate term, the return of one of those on the injured list bumps him further away from contention. Southgate's loyalty to those he has already worked with also does not bode well for Bamford's prospective summer plans either.
Here we go again, talking about the years Bamford does not have and the counsel he may not keep. Southgate, by contrast, was philosophical about the situation: "He's very unfortunate and who knows? We could be sitting here in a few days' time, having had a problem, and Patrick's a player we're very much looking at as well."
The important thing in all this is that it seems Bamford is staying level. His performance against Fulham had no vengeful tinge. His contributions lifted Leeds to 11th, on the cusp of the top half, a dream scenario for their first season back in the top flight after 16 years. In turn, he equalled Manchester United's Bruno Fernandes for involvement in goals away from home this campaign (13).
Even amid this purple patch, one that could see his season ended tomorrow in a freak accident at home and would still rank as his career-best, he has a right to feel dismayed. As per this extract from an interview with him in the Mail on Sunday last month: 
"The idea of being selected for England is a dream. I thought about it before the last squad was announced and I didn't sleep properly the night before because I was wondering whether it was going to happen or not. I am probably a bit down the pecking order, but I just have to keep doing my thing. If I got one England cap in the whole of my career, I'd be over the moon with that and it would be something I'd cherish." 
Perhaps it's right to finish this with another presumption upon Bamford. Because it's hard to read that and not accept, once and for all, that Bamford is not only like the rest of them, but the rest of us, too. 
One cap, that's all we laymen and women would ever ask. It's all he wants and whether he gets it for the Euros or even in 2021 remains to be seen. No doubt there will be more tireless running, sleek interplay, Leeds wins and further sleepless nights before the call comes. In this form, how can it not?
Join our new commenting forum
Join thought-provoking conversations, follow other Independent readers and see their replies