Leicester vs Manchester United: Marc Albrighton using football to help heal wounds
Winger has had traumatic year as his girlfriend lost her mother in Tunisia's terror attacks. He tells Simon Hart how he is finding some release with high-flying Leicester, who take on United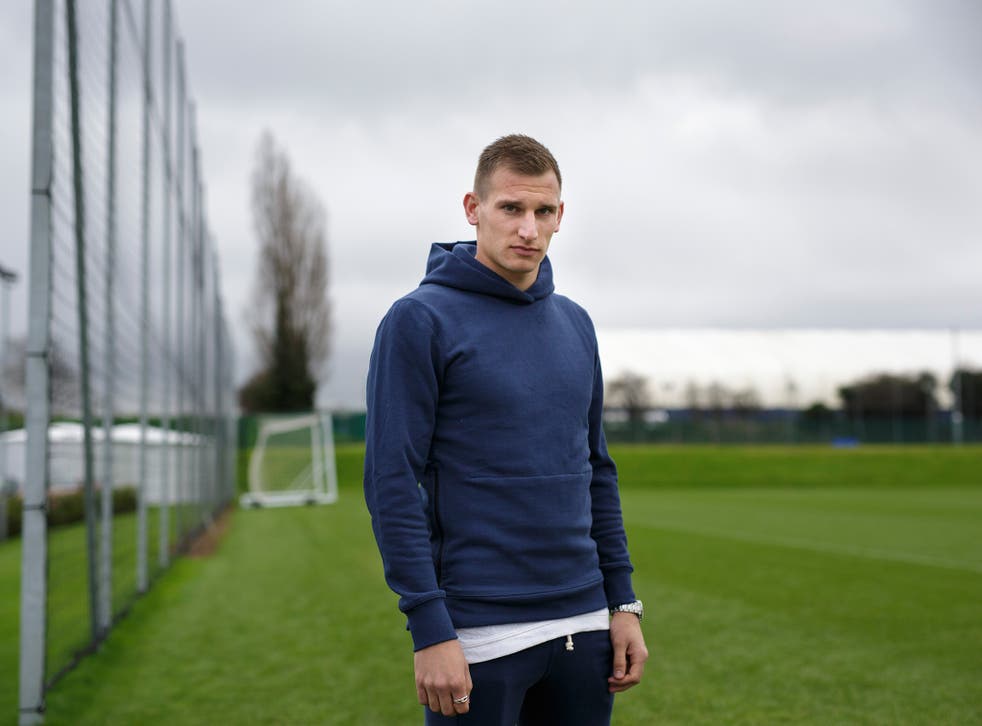 Marc Albrighton is sitting at a table at Leicester City's training ground recalling the moment of this already memorable season that is guaranteed to stay with him forever.
This may sound premature given Leicester's position at the top of the table and the possibility of Jamie Vardy creating a piece of Premier League scoring history against Manchester United Saturday evening, but for Albrighton nothing will match the meaning of the opening day of the campaign when he learned something about football that many of us only truly discovered in the past fortnight.
It was a lesson about the importance a mere game like football can hold in the bleakest of moments, one made manifest in the wake of the Paris terror attacks but which Albrighton had already experienced directly after the death of his girlfriend Chloe's mother, Sue Davey, in the Tunisia beach shootings in June.
When he scored in Leicester's 4-2 victory over Sunderland in August and pointed to the skies in tribute to Sue and her partner, Scott Chalkley, who also perished, it was a moment not just for himself but for his anguished loved ones. "My whole family were there and all of Chloe's family were in the stand too and it was special to take a horrible traumatic summer and just have a little bit of joy even if it is for 30 seconds, just a smile to get a bit of happiness back into your life," he remembers.
Albrighton speaks calmly as he reflects on the release that football can bring. "I know it is a cliché but when you step on the football pitch all you think about is football, there is nothing else you think about. The summer just gone was the worst I have ever experienced and probably will ever experience. I can come into training every day and escape it for a couple of hours a day and then on a weekend I have that thrill of playing in front of 30, 40, 50 thousand people.
"At least I have got that, whereas the other members of my family haven't. From a selfish point of view that is my getaway. We are all still to this day devastated and can't really believe what actually happened."
For the 26-year-old winger and his family, events in France two weeks ago brought it all back. "With what is happening in Paris we sat up until two in the morning that night and were so sorry for the families. It is something I wouldn't wish on my worst enemy.
"You realise what is important in life," he adds. "The day before we were travelling back from Disneyland Paris with my two little girls and we were phoning Chloe's mum saying what a nightmare we were having – the taxis were on strike and we couldn't get to the airport and the two kids were playing up and we were stressed and were having a right moan. Little did we know that the day after, all that was going to happen."
Albrighton is not religious but relates that after Sue's death, he and Chloe felt signs of her presence. "It was strange. We kept seeing feathers. I was seeing them on football pitches before games and Chloe would see them around the house. We have never seen anything like that before. I never believed in stuff like that but I certainly believe she is looking down at us now."
Amid the emotion Albrighton felt as he looked up to the heavens in that opening game on 8 August, the Aston Villa academy graduate could not have envisaged it would provide the launchpad for the best period of his club career to date. Leicester face United today as the unlikely league leaders with all eyes, understandably, on Vardy as he looks to break Ruud van Nistelrooy's record by scoring in his 11th successive game. "It is only probably really in the last couple of weeks that we've taken notice and thought he has actually got a very good chance of beating this," says Albrighton. "With it being against Man United it does feel like it's written but he will just go out with the same mentality as he always does and do his job for the team and that will hopefully lead to a goal for him."
What Vardy typifies is the pace of this exciting Leicester side, who according to one recent statistic have three of the Premier League's five fastest players in Vardy, Jeffrey Schlupp and Albrighton himself. "I'd fancy Jeff to win a race," he smiles, before highlighting why Vardy's speed is so vital. "[With] Vards it is just raw pace and probably people don't look at him and expect him to be as quick as he is. He probably deceives people at times. He will give anyone in the league a good race and for defenders that must just be a nightmare.
"You get players who have got the pace but are not willing to make those channel runs whereas Vards will make them for 90 minutes solid, he will just keep going and going. If you're in trouble you've always got that out ball down the channel, he will run down, he will chase and he will make something out of it."
If any single goal highlighted this, it was Vardy's sprint from the halfway line which led to his goal at West Bromwich Albion, a match in which Albrighton underlined his own contribution with perfect crosses for Riyad Mahrez to score twice. He explains he is under orders from manager Claudio Ranieri to get balls into the box and is relishing playing for the Italian, who has already given him more starts than he had last season under Nigel Pearson. "He said from day one: 'I love playing with wingers and I like my wingers to get the ball and put the ball in the box'. At Villa I was more willing to take players on, whereas this year I am getting half a yard and putting more balls into the box. It has changed in that sense and I do think the quality of the crosses I am putting in has improved."
One of the striking features of the Leicester story has been the seamless transition overseen by Ranieri, who has continued the momentum built up by his predecessor Pearson during last season's climb to safety. What has the Italian brought? "Confidence is definitely one thing – he feels we can compete with most teams in the league and we are proving that. As well, there's the fact he has not changed much. He could have come in and changed the whole mentality and structure of the club but he has not done that. He recognised we did well at the end of the year and kept that and just brought in his little touches with the experience he has got. He has kept a lot of the coaching staff and backroom staff as well."
And right now, Albrighton adds, Leicester fear no one. "We are going into games and feeling like we are not going to lose them. We came in at half-time 1-0 down at West Brom and the lads turned to each other and said 'We shouldn't be 1-0 down, we will still go on and win, it's not a problem'. And we did."
He highlights this confidence with his response to the suggestion the clock might strike midnight for Ranieri's Cinderellas in the coming month, with its home fixtures against Chelsea and Manchester City and trips to Everton and Liverpool. "Not at all, no. We have looked at the fixtures and [starting with] Man United at home, why shouldn't we fancy ourselves there? We beat them last year, we are flying high at the top, we are above them in the league. We should fancy ourselves."
Life could not be more different, of course, for his old club Villa, the team he supported, signed for as a primary schoolboy and only left after Paul Lambert's decision not to award him a new deal two summers ago. "I had come to the end of my contract and they just turned round and said there wasn't a new one on the table," he explains, adding: "I am delighted we are top of the league but obviously I have grown up a Villa supporter and it isn't nice to see where they are. I am hoping they escape. It is going to be difficult for them but I do hope they get out of it. My family are all Villa, my partner's family are all Villa but just lately they'd rather come and watch me. I am trying to convert them into Leicester fans but I don't think it is going to happen."
Maybe not, but for a few cherished moments on that first day of the season, they were all united under the banner of Leicester blue.
Register for free to continue reading
Registration is a free and easy way to support our truly independent journalism
By registering, you will also enjoy limited access to Premium articles, exclusive newsletters, commenting, and virtual events with our leading journalists
Already have an account? sign in
Register for free to continue reading
Registration is a free and easy way to support our truly independent journalism
By registering, you will also enjoy limited access to Premium articles, exclusive newsletters, commenting, and virtual events with our leading journalists
Already have an account? sign in
Join our new commenting forum
Join thought-provoking conversations, follow other Independent readers and see their replies