Leicester City vs Manchester United: Five things we learned as Jose Mourinho wins first trophy - but Juan Mata fallout looms
Manchester United deserve their win in an entertaining game, but disagreement between Jose Mourinho and Juan Mata could be a bad omen for the future.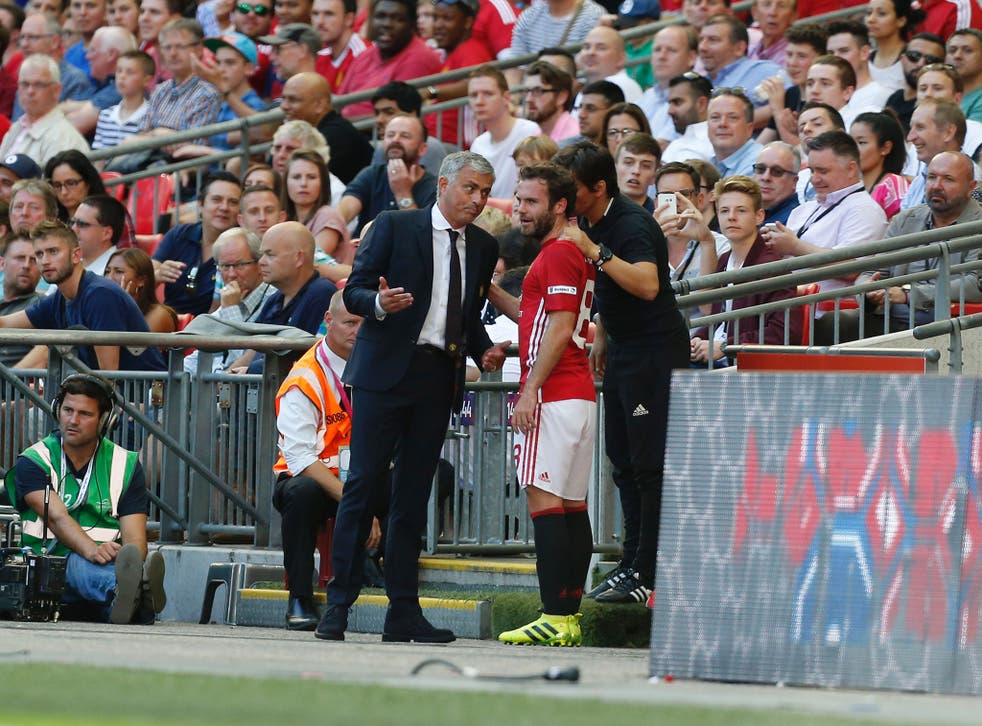 1. United desperate for Pogba's pace
Every team in the world would be improved by Paul Pogba, so it means nothing to say that Manchester United need him. But this was still a United team that needed more spark and pace, especially through the middle of the pitch. Aside from Jesse Lingard's first half goal, they were predictable in midfield. Marouane Fellaini and Michael Carrick is a slow midfield pair, Zlatan Ibrahimovic and Wayne Rooney just as slow a strike partnership.
Pogba will bring pace and athleticism - as well as all his technical skills - in the spine of the team. No wonder they are spending £90million on him.
2. Mourinho and Mata fall out already
Jose Mourinho sold Juan Mata within months of returning to Chelsea. Mourinho thought that he did not have the pace or athleticism to play as a number 10, or to do the defending demanded of him in wide areas. It is worth keeping an eye on how Mata and Mourinho get on at United, and this was not a promising start.
Mourinho brought Mata on after 62 minutes and then took him off 30 minutes later as he tried to see out the win. It was a public humiliation for the Spanish midfielder and he looked furious, exchanging angry words with Mourinho and his team.
3. Musa could improve this Leicester team
How do you improve a side coming off the best season in their history? Well Leicester certainly seem to have added a new dimension with the signing of Ahmed Musa from CSKA Moscow. The Nigerian forward is a dangerous counter-attacker, who looks even quicker than Jamie Vardy. He turned the game when he came on at half-time and caused United real problems at the back.
It was his fast break down the left that led to Vardy's equaliser, and he had a great headed chance at the end. He will, presumably, take Shinji Okazaki's place up front and when he gets fully settled he will be a very useful asset indeed.
4. Eric Bailly has eventful debut
It is not easy to move into English football as a centre-back, and Eric Bailly will have to do a lot of adjusting to get him up to speed in the Premier League. Here there were more good than bad signs. He is clever powerful, assertive, with a good sense of where the danger is coming from.
But like Nicolas Otamendi, who Manchester City signed from Valencia last summer, he is too quick to dive into tackles. He was booked and sometimes let Vardy or Musa escape because he was lying on the ground.
5. Luke Shaw returns to action
Luke Shaw's last competitive game was on 15 September 2015, almost 11 months ago. It has been a long road back from his broken leg but here he looked comfortable: secure in the tackle, timing his runs well and delivering one good first-half cross for Wayne Rooney. If he has returned to full fitness that is very good news for him, for Jose Mourinho and of course for Sam Allardyce.
Register for free to continue reading
Registration is a free and easy way to support our truly independent journalism
By registering, you will also enjoy limited access to Premium articles, exclusive newsletters, commenting, and virtual events with our leading journalists
Already have an account? sign in
Register for free to continue reading
Registration is a free and easy way to support our truly independent journalism
By registering, you will also enjoy limited access to Premium articles, exclusive newsletters, commenting, and virtual events with our leading journalists
Already have an account? sign in
Join our new commenting forum
Join thought-provoking conversations, follow other Independent readers and see their replies