Tireless N'Golo Kante prepares to return to old club Leicester in pursuit of another title with Chelsea
Exclusive: Kante could be the first ever player to win consecutive Premier League titles with two different clubs, and he tells The Independent how happy he is with life at Chelsea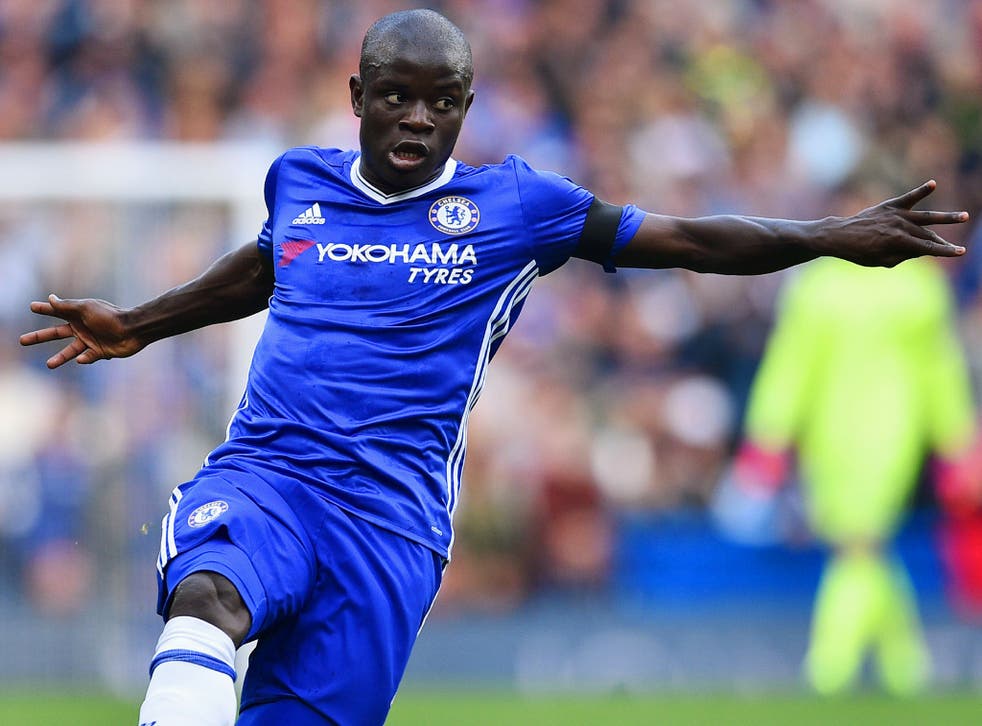 The last time Chelsea went to Leicester City in the Premier League, it was the last game of the second Jose Mourinho era, and the team that was collapsing in on itself was torn apart by Claudio Ranieri's history-makers.
Leicester had plenty of brilliant players that night but none was better than N'Golo Kante, their little French midfielder who was still, just before Christmas, going under most people's radars, yet to explode into public consciousness. But he ran Chelsea ragged, dominating the midfield, doing the work of two men alongside Danny Drinkwater and then Andy King in the middle. It was a super-human performance in a season full of them.
Leicester, of course, went on to win the Premier League and Kante could legitimately claim to be as important to that win as either Jamie Vardy or Riyad Mahrez. Without his energy they could never have afforded to play that 4-4-2 with as much midfield control as they did. Drinkwater looks half the player this season without Kante alongside him to do so much running.
Just over one year on, Kante returns to Leicester on Saturday night at the top of the league again, this time with Chelsea. The positions of the two clubs, in fact, have been inverted over the last year. His £30million switch to Stamford Bridge last summer is not the only explanation for that, but it is certainly an important part of both stories.
Having won the title last season, Kante is determined to do the same again at Chelsea this year. Seven other players have won the Premier League title with more than one club, but Kante would be the first outfield player to do so with different clubs in consecutive seasons - his former Leicester teammate Mark Schwazer being the only other man to do so in the Premier League era.
"Last season at Leicester was a beautiful season, I felt very good," Kante said this week. "Today at Chelsea I feel very good as well. The team is playing very well and we had a beautiful run with the 13 consecutive victories. I am very happy here, and I hope we can be champions."
Kante clearly enjoys playing for Conte as much as he did for his compatriot Ranieri last season. "Conte is a great coach and he knows what he wants from the players," Kante said. "I am enjoying it here at Chelsea with him."
Everyone knows how the change from 4-1-4-1 to 3-4-3 transformed Chelsea's season, setting them on the record-equalling winning run that is likely to take them to this year's title. But the importance of Kante to the change is often misunderstood. It is players that win games, after all, and not systems. What the change did is go from playing a midfield three to a midfield two, freeing up Kante to make the most of his running, his most important attribute.
Kante has wrongly pigeon-holed in the past as the new Claude Makelele but he is much more than a sitting midfielder. Playing in a pair again, with Nemanja Matic his new Drinkwater, he can cover so much ground that Chelsea do not lose out because of their lack of numbers. That has been the secret to their recent success, the reason why they can make the 3-4-3 work.
Back in October, when Conte had first switched to the new system, he explained why Kante's running was the crucial part to that type of football. "N'Golo has fantastic stamina and covers a lot of ground," Conte said on 14 October. "This is very important for the balance when you play offensive football, to have a player who recovers the ball back very well. He is a fantastic player who can play in a three or a two in midfield."
Chelsea potential summer 2017 transfers

Show all 9
Conte football is about hard work, energy and carrying out instructions. Even if Chelsea win the title this year, he is sure to push for more Kantes this summer. "This type of player, who puts the team before himself, I like a lot," Conte said in October. "I want this type of player."
Join our new commenting forum
Join thought-provoking conversations, follow other Independent readers and see their replies