Liverpool 2 Chelsea 2 match report: Dependency on villain Luis Suarez cripples Brendan Rodgers' aim
Chelsea drop valuable points after late goal at Anfield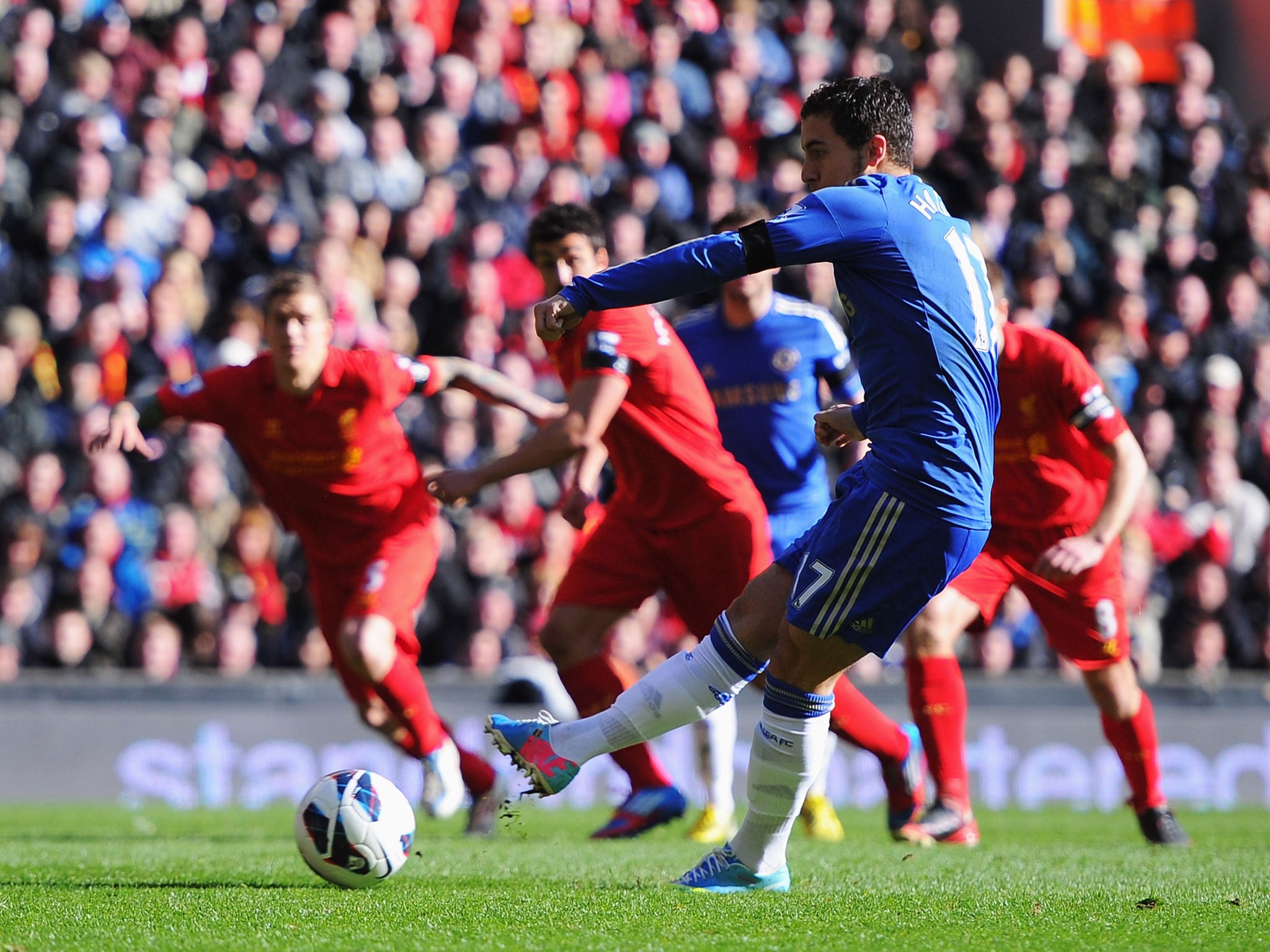 The really dangerous part of all this is the Luis Suarez dependency around here. It was Graeme Souness who observed tonight that Liverpool are "not blessed with a lot of world class players at this time" and the game which kept Chelsea's pursuit of a top four place in their own destiny, despite the concession of the late goal, bore that out.
There was nothing much more engaging than the choreography of Rafael Benitez's return, in the first half. The Kop waited fewer than two minutes to issue their first chant for him and it was unfortunate that a diplomatic, though notably less vocal, song for Rodgers was drowned out by the boos for Fernando Torres, the pantomime villain whose 'welcome to Anfield' encounter with Jamie Carragher was engaging. No-one could blame Liverpool's faithful for some sentimentality about Benitez since Ramires, Juan Mata and Oscar delivered a level of invention and pace entirely absent in the home side's over–elaborate system, which in the first half lacked any incision. Chelsea were worth their lead, attributable to Carragher allowing Oscar, the smallest man on the pitch, to pivot and head in from a corner - peeling away to the right edge of the penalty area before the defender could react, with no defender on the post to block the ball.
The extraordinary immediacy of Daniel Sturridge's impact, arriving in place of the ineffectual Phillippe Coutinho after half time, made a mockery of the prettified first half precision play, though the 23-year-old's place on the bench was actually a consequence of his own struggle to make inroads since his dynamic start to his Liverpool career in January. Sturridge had already bombed in from the right to send in Steven Gerrard against Petr Cech – the goalkeeper saved smartly with his foot – and spun away from Eden Hazard to strike a 30-yard shot against the post – before he seized on a beautiful one-touch Suarez lay-off to equalise.
Even then, the saint and sinner were there in the Uruguayan, who closed his eyes, raised a hand and conceded the penalty which Hazard converted, right-footed, to put Chelsea back ahead. For Rodgers, the only encouragement to take from another sorry afternoon was Sturridge's continual presence as a force. He deftly flicked back a ball which Jordan Henderson – for whom this was a fairly wretched afternoon – sent on for substitute Jonjo Shelvey to graze a post with. A criminal waste. It was also Sturridge who provided the well measured cross which Suarez headed in for the equaliser at the death.
Both goalscorers were the subject of controversy. Sturridge might have been dismissed for going in over the ball on Ryan Bertrand in a second half which grew increasingly ill-tempered. Rodgers was unhappy about Torres leading with his arm into a challenge on Carragher, in which he caught him in the face.
The game's footballing messages struggled to be heard.
But the overwhelming impression was how far these sides have fallen since Benitez waged battle with Jose Mourinho from the home dugout here.
Match facts
Liverpool: REINA 6, JOHNSON 7, CARRAGHER 6, AGGER 6, ENRIQUE 6, GERRARD 6, HENDERSON 5, LUCAS 6, COUTINHO 5, SUAREZ 0, DOWNING 5
Chelsea: CECH 8, BERTRAND 6, IVANOVIC 6, LUIZ 5, AZPILICUETA 6, OSCAR 7, RAMIRES 7, MATA 8, MIKEL 6, HAZARD 6, TORRES 6
Goals. Liverpool: Sturridge 52, Suarez 90. Chelsea: Oscar 26, Hazard pen 57.
Substitutions: Liverpool Sturridge 8 (Coutinho, HT), Shelvey (Downing, 80). Chelsea Benayoun (Hazard, 78), Moses (Oscar, 83), Lampard (Mata, 90).
Bookings: Liverpool Carrager, Henderson, Shelvey, Lucas, Suarez. Chelsea Azpilicueta, Torres.
Man of the match Sturridge.
Match rating 6/10.
Possession: Liverpool 50%. Chelsea 50%.
Attempts on target: Liverpool 12. Chelsea 6.
Referee K Friend (Leicestershire).
Attendance 45,009.
Join our commenting forum
Join thought-provoking conversations, follow other Independent readers and see their replies